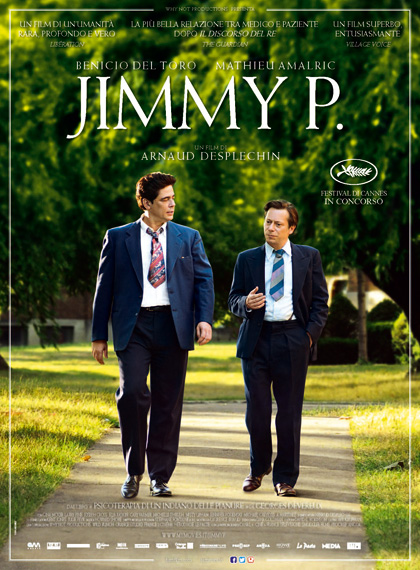 Language:
| Size: 1.47 GB | Seed: 739 | Leech: 65
Description:
Titolo originale: Jimmy P: Psychotherapy of a Plains Indian Nazione: Francia, U.S.A. Anno: 2013 Genere: Drammatico Durata: 114' Regia: Arnaud Desplechin Sito ufficiale: Sito italiano: www.mymovies.it/jimmyp Cast: Benicio Del Toro, Mathieu Amalric, Gina McKee, Larry Pine, Joseph Cross, Gary Farmer, Michelle Thrush, Misty Upham Produzione: Why Not Productions, Worldview Entertainment Distribuzione: Bim Film Data di uscita: Cannes 2013 20 Marzo 2014 (cinema) Trama: Alla fine della seconda guerra mondiale, Jimmy Picard (Benicio Del Toro), nativo americano della tribù dei Blackfoot, che ha combattuto in Francia, è ricoverato all'ospedale militare Topeka in Kansas, un istituto specializzato in malattie mentali. Jimmy soffre di numerosi sintomi: vertigini, cecità temoranea, perdita di udito... In mancanza di una causa fisiologica, la diagnosi è schizofrenia. Tuttavia la direzione dell'ospedale decide di consultare Georges Devereux (Mathieu Amalric), un antropologo francese, psicoanalista ed esperto in cultura dei nativi americani. Jimmy P è la storia dell'incontro e dell'amicizia tra due uomini che non si sarebbero mai incontrati in circostanze normali e che in apparenza non hanno nulla in comune. Insieme intraprendono l'esplorazione della memoria e dei sogni di Jimmy, un esperimento che conducono come due investigatori e con crescente complicità. 6,0/10 IMDB Parole chiave: dramma
Language:
| Size: 1.4 GB | Seed: 4 | Leech: 0
Description:
Descripción: Título: Jimmy P. Título original: Jimmy P. País: USA, Francia Estreno en USA: 14/02/2014 Estreno en España: 21/03/2014 Productora: Why Not Productions, Worldview Entertainment, Orange Studio Director: Arnaud Desplechin Guión: Arnaud Desplechin, Julie Peyr, Kent Jones Reparto: Benicio Del Toro, Mathieu Amalric, Gina McKee, Larry Pine, Joseph Cross, Gary Farmer, Michelle Thrush, Misty Upham, Jennifer Podemski, Michael Greyeyes, A Martinez, Arnold Agee, Jesse Arehart-Jacobs, Elya Baskin, Anton Bassey Género: Drama | II Guerra Mundial. Medicina SINOPSIS: Al final de la II Guerra Mundial, Jimmy Picard, un indio blackfoot que combatió en Francia, es ingresado en el hospital militar de Topeka, un establecimiento especializado en las enfermedades del cerebro. Jimmy sufre de varios trastornos: vértigo, ceguera temporal, pérdida de audición... Sin causas fisiológicas, el diagnóstico que se impone es la esquizofrenia. La dirección del hospital decide sin embargo pedir la opinión a un etnólogo y psicoanalista francés, George Devereaux, un especialista en culturas amerindias con el que "Jimmy P." establecerá una emocionante e inolvidable relación de amistad a lo largo de varios años que cambiará las vidas de ambos hombres. Relaccionados
Language:
| Size: 112.7 MB | Seed: 0 | Leech: 0
Description:
Language:
| Size: 1.19 GB | Seed: 877 | Leech: 78
Description:
Título: Jimmy's Hall Título original: Jimmy's Hall País: Reino Unido, Irlanda, Francia Estreno en USA: 03/07/2015 Estreno en España: 21/11/2014 Lanzamiento en DVD (alquiler): 18/03/2015 Estreno en DVD (venta): 17/04/2015 Estreno en Reino Unido: 30/05/2014 Estreno en VOD: 13/03/2015 Productora: Sixteen Films, Element Pictures, Why Not Productions Director: Ken Loach Guión: Paul Laverty Reparto: Barry Ward, Simone Kirby, Andrew Scott, Jim Norton, Brian F. O Byrne, Francis Magee, Karl Geary Calificación: No recomendada para menores de 12 años Género: Drama | Basado en hechos reales. Años 30. Política SINOPSIS: En 1921 El pecado de Jimmy Gralton fue construir un salón de baile en un cruce de caminos rurales en una Irlanda al borde de la guerra civil. El Pearse-Connolly Hall era un lugar donde los jóvenes podían venir a aprender, a discutir, a soñar... pero sobre todo para bailar y divertirse. Mientras la popularidad de la sala crecía, su reputación socialista y de espíritu libre atrajo la atención de la iglesia y los políticos, que obligaron a Jimmy a cerrar la sala y huir. Una década más tarde, en el apogeo de la Gran Depresión, Jimmy vuelve a casa desde los EE.UU. para cuidar de su madre e intentar vivir una vida tranquila. La sala se encuentra abandonada y vacía, y a pesar de las súplicas de los jóvenes locales, permanece cerrada. Sin embargo, mientras Jimmy se reintegra en la comunidad y descubre la creciente pobreza y opresión cultural, el líder y activista en su interior resurge. Pronto tomará la decisión de reabrir la sala y afrontar lo que pueda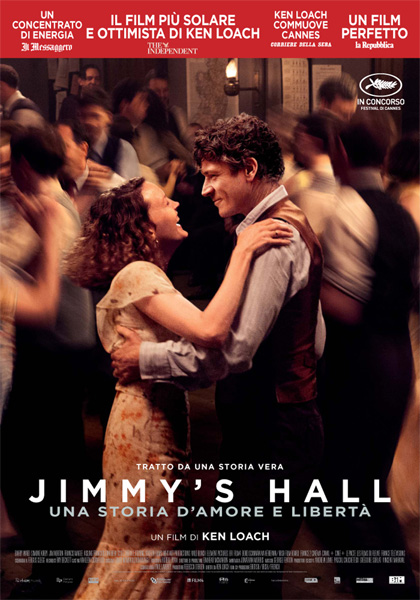 Language:
| Size: 1.78 GB | Seed: 859 | Leech: 56
Description:
Titolo originale: Jimmy's Hall Nazione: Regno Unito Anno: 2014 Genere: Drammatico Durata: 109' Regia: Ken Loach Sito ufficiale: Cast: Barry Ward, Simone Kirby, Andrew Scott, Jim Norton, Brian F. O'Byrne, Francis Magee, Karl Geary, Aisling Franciosi, Denise Gough Produzione: Sixteen Films, Element Pictures, Why Not Productions, Wild Bunch Data di uscita: Cannes 2014 18 Dicembre 2014 (cinema) Trama: Nel 1921, il peccato di Jimmy Gralton è stato quello di avere costruito una sala da ballo a un incrocio di campagna, in un'Irlanda sull'orlo della Guerra civile. La Pearse-Connolly Hall è un locale dove i giovani possono andare per imparare, discutere, sognare... ma soprattutto per ballare e divertirsi. Giorno dopo giorno, il locale diventa sempre più affollato e popolare, finché la sua fama di ritrovo di socialisti e liberi pensatori arriva alle orecchie della Chiesa e dei politici, che alla fine costringono Jimmy a fuggire in America e la sala da ballo a chiudere. Dieci anni dopo, nel pieno della Grande Depressione, Jimmy torna nella Contea di Leitrim per prendersi cura di sua madre, deciso a condurre una vita tranquilla. La sala da ballo è sempre lì ma abbandonata, e nonostante le pressioni dei giovani del posto resta chiusa... Display resolution 1024 x 552 Parole chiave: drammatico
Language:
| Size: 84.51 MB | Seed: 0 | Leech: 1
Description:
Language:
| Size: 92.78 MB | Seed: 636 | Leech: 38
Description:
mp3 a 192 kbps audio di qualità a 95 db Tracklist 01 - St. Teresa.mp3 (8 MB) 02 - Man In The Long Black Coat.mp3 (7.38 MB) 03 - Right Hand Man.mp3 (7.56 MB) 04 - Pensacola.mp3 (6.92 MB) 05 - Dracula Moon.mp3 (9.40 MB) 06 - One Of Us.mp3 (8.02 MB) 07 - Ladder.mp3 (6.49 MB) 08 - Spider Web.mp3 (8.27 MB) 09 - Let's Just Get Naked.mp3 (7.72 MB) 10 - Help Me.mp3 (7.74 MB) 11 - Crazy Baby.mp3 (9.65 MB) 12 - Lumina.mp3 (5.01 MB)
Language:
| Size: 99.62 MB | Seed: 0 | Leech: 4
Description:
Language:
| Size: 101.69 MB | Seed: 0 | Leech: 1
Description:
Language:
| Size: 2.92 GB | Seed: 498 | Leech: 35
Description:
Tiitle: Joanas Life Genre: Adventure Platform: Windows Multiplayer: No Year: 2016 Type of publication: Language of the game: EN Crack: Available Description : Synopsis In a peaceful part of the town, a series of deaths occur, seemingly random at first, but gruesome in their nature. One day, you find an object that doesn't belong in your house. An old, worn- out, stained mirror. That is the very moment when you'll discover that the simple mirror isn't the only thing that is out of place. Explore the thriving streets of the small suburban area, search through the abandoned houses stained by gruesome past, and find out what haunts you through the silver pane of glass. For more info go to : http://store.steampowered.com/app/513740/ 1. Extract release 2. Mount ISO 3. Install the game 4. Play! System requirements:
Language:
| Size: 112.02 MB | Seed: 0 | Leech: 0
Description:
Language:
| Size: 125.68 MB | Seed: 40 | Leech: 20
Description:
[img]http://i.imgur.com/KUoTzgV.jpg[/img] Artist...............: Joao Gilberto Album................: Joao voz e violao Genre................: Bossanova Source...............: CD Year.................: 2000 Ripper...............: EAC (Secure mode) / LAME 3.92 & Asus CD-S520 Codec................: Free Lossless Audio Codec (FLAC) Version..............: reference libFLAC 1.3.1 20141125 Quality..............: Lossless, (avg. compression: 41 %) Channels.............: Stereo / 44100 HZ / 16 Bit Tags.................: VorbisComment Information..........: TntVillage Ripped by............: Leonenero on 06/02/2017 Posted by............: Leonenero on 07/02/2017 News Server..........: news.astraweb.com News Group(s)........: TNTVILLAGE Included.............: NFO, M3U, LOG, CUE Covers...............: Front Back CD --------------------------------------------------------------------- Tracklisting --------------------------------------------------------------------- 1. Joao Gilberto - Chega de Saudade [03:26] 2. Joao Gilberto - Desde que o Samba E Samba [03:54] 3. Joao Gilberto - Voce Vai Ver [02:56] 4. Joao Gilberto - Eclipse [03:04] 5. Joao Gilberto - Nao Vou pra Casa [02:56] 6. Joao Gilberto - Desafinado [03:27] 7. Joao Gilberto - Eu Vim da Bahia [02:34] 8. Joao Gilberto - Coracao Vagabundo [02:08] 9. Joao Gilberto - Da Cor do Pecado [02:29] 10. Joao Gilberto - Segredo [03:15] Playing Time.........: 30:13 Total Size...........: 125,13 MB Music, as all other arts, has creators, imitators and developers. Of the second category there is little to say; they basically jump the wagon and profit whatever they can from the creator, while the developer tries his best to make the original creation grow further. In Brazil, samba had been around for ages, but it took the genius of Bahia-born João Gilberto to develop the local beat and blend it with elements of cool jazz, thus creating a whole new style, Bossa Nova, which swept the planet during the late fifties and early sixties, and still influences a great number of musicians, from Charlie Byrd and Stan Getz in their time to George Michael and Tuck & Patty nowadays. Pray silence now, for the man who created the whole thing, with the support of Antonio Carlos Jobim (who ,against his own will took the credit for himself), Vinicius de Morais and others has just released a new studio album, eight years after 1992's "João" and three after the live "Eu Sei Que Vou Te Amar" (all titles, are, by the way, available in the U.S.). And this time, alas, he plays by himself. Just the man, his guitar and his voice, and no audience sounds. The album, properly titled "Joao Voz e Violao (Joao, Voice and Guitar )opens with Caetano Veloso-penned "Desde Que O Samba É Samba" (Ever Since Samba Was Samba). Veloso,also a son of Bahia, wrote the song in 1993 as a tribute to samba and Bossa-Nova. In João Gilberto's voice, the the lyric is taken to a whole new dimension: A tristeza é senhora/ Desde que o samba é samba é assim/ A lágrima clara sobre a pele escura A chuva fria que cai lá fora Solidão apavora Tudo demorando em ser tão ruim Mas há uma coisa no tanto agora em mim Cantando mando a tristeza embora... (Sadness is dominant/Ever since samba was samba it has been like that/the clear tear over the dark skin/The cold rain falling on the outside/Solitude is frightening/Bad things taking so long/ But there is something inside me/By singing I send sadness away...) Caetano Veloso,who produced the album, is an innovator in his own right; he was the co-founder of of yet another wave in Brazilian popular music which blended Bossa Nova and other elements of Brazilian sounds with the influence of late sixties psychedelics and came up, in 1968, with a whole new sound, labeled "tropicalism." With time,he became more and more refined in his songwriting, and João Gilberto's influence became more and more evident in his work, to the point of recording a rare Gilberto composition, "Você Esteve Com Meu Bem?" (Have You Been With My Sweetheart?", never recorded by its composer) in his 1996 "Fina Estampa En Vivo". Veloso and Gilberto are friends, and the latter was instrumental in Veloso's return from his politically enforced exile after three years in Europe. The album also contains two classics which are present on virtually every Bossa Nova or João Gilberto collection: Desafinado (Off-Key) and Chega de Saudade, which are both Tom Jobim co-compositions. The first was present in 1964's quadruple Grammy award winner Getz/Gilberto. The second one is considered by music historians the song that, in 1959, started the whole Bossa Nova wave. In this album, the songs are performed like Gilberto does onstage these days, with no accompaniment. I believe the singer and Veloso decided to re-make the two songs (specially "Chega de Saudade")in order to have a "proper" studio versions, since the earlier ones, recorded years ago, where too much in the musical format of the time, and Gilberto's guitar playing was not very well heard. There are, of course, the live version, but the applause somewhat damages the recording, specially when you're dealing with a very subtle vocalist and guitarist. The other tracks are equally interesting. My personal favorite is "Não Vou Para Casa"(I'm not Going Home), a humorous samba in which the singer is urged to go back home, but refuses to return "before the sun rises". Very good are also Tom Jobim's "Você Vai Ver"(You'll See) and another Veloso composition, "Coração Vagabundo"(Vagabond Heart). The only bad thing about the CD is that is is too short for the price; it has merely 35 minutes, which gives the listener a feeling of dissatisfaction as the album ends. The cover of the album shows a girl with her finger on her lips,requesting silence. It is a direct message to the public of Credicard Hall in São Paulo that booed Joao Gilberto during his 1999 performance, when, ever the perfectionist, complained of excessive feedback from the sound system. He reacted by showing his tongue to the public and left Caetano Veloso, who was also performing that night, alone on stage to finish the show. One can be almost sure that the idea for the cover came from Veloso. One fact that gives this CD great importance is the fact that many of the original Bossa Nova players are no longer in this world. Stan Getz passed away in 1991, Jobim in 1994, Vinicius de Morais in 1980 and Charlie Byrd left us recently. Of course they left us countless recordings of their music, but fresh work from them is very rare, as João Gilberto himself rarely does studio work. The album, yes, is short, but it is a very good addition to the collection of a listener of good music. A fine wine will go well with the album. A splendid time is guaranteed for all.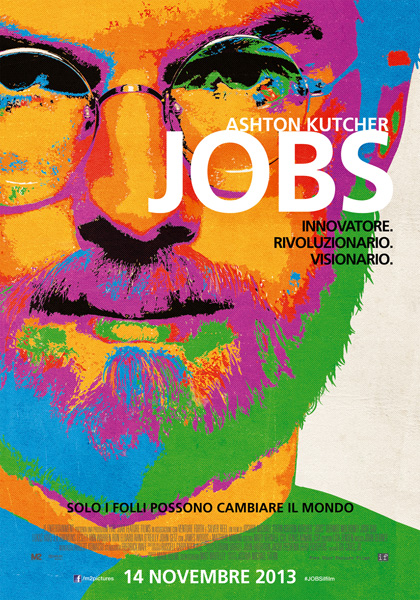 Language:
| Size: 3.38 GB | Seed: 46 | Leech: 19
Description: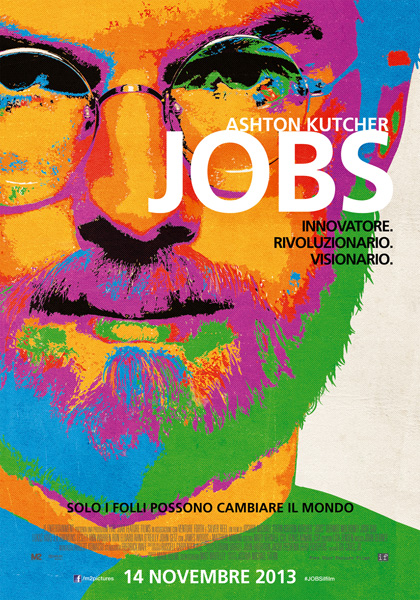 Language:
| Size: 1.47 GB | Seed: 179 | Leech: 79
Description:
Titolo originale: Jobs Nazione: U.S.A. Anno: 2013 Genere: Drammatico Durata: 125' Regia: Joshua Michael Stern Sito ufficiale: http://thejobsmovie.com Cast: Ashton Kutcher, Dermot Mulroney, J.K. Simmons, James Woods, Matthew Modine, Lukas Haas, Ahna O'Reilly, Josh Gad, Lesley Ann Warren Produzione: Five Star Institute Distribuzione: M2 Pictures Data di uscita: 14 Novembre 2013 (cinema) Trama: Interpretato da Ashton Kutcher nel ruolo del co-fondatore di Apple Steve Jobs, il film racconta la vita del giovane, brillante e appassionato imprenditore, la cui genialità ha dato il via alla rivoluzione digitale che ha cambiato per sempre il nostro modo di vivere e comunicare. 5,9/10 IMDB Parole chiave: dramma
Language:
| Size: 81.77 MB | Seed: 0 | Leech: 0
Description: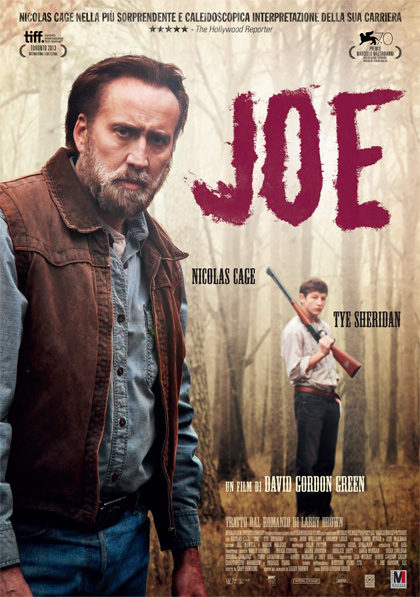 Language:
| Size: 1.47 GB | Seed: 6 | Leech: 6
Description:
Titolo originale: Joe Nazione: U.S.A. Anno: 2013 Genere: Drammatico Durata: 117' Regia: David Gordon Green Sito ufficiale: joefilm.net Cast: Nicolas Cage, Tye Sheridan, Gary Poulter, Ronnie Gene Blevins, Brian Mays, Sue Rock, Heather Kafka, Adriene MishlerAj, Wilson McPhaul, Brenda Isaacs Booth, Anna Niemtschk, Milton Fountain, Roderick L. Polk, Aaron Spivey-Sorrells Produzione: Worldview Entertainment, Dreambridge Films, Muskat Filmed Properties, Rough House Distribuzione: Movies Inspired Data di uscita: Venezia 2013 16 Ottobre 2014 (cinema) Trama: La storia inizia con Joe che assume il teenager Gary Jones e il padre bisognoso, nella sua squadra di somministrazione di veleno agli alberi, che lavora per una società di legname. Joe è notoriamente spericolato con il suo pick-up, il suo cane, e soprattutto le sue donne, ma riesce ad intravedere qualcosa in Gary che in qualche modo lo scuote: una determinazione, un innato senso morale e una capacità di ripresa che difficilmente riesce a trovare ormai negli uomini. Gary non ha nulla nella vita, non è mai andato un singolo giorno a scuola, ma ciononostante riesce a prendersi cura della sua famiglia, a proteggere la sorella durante le manifestazioni di violenza del padre, a sperare in un futuro migliore. Joe e Gary stringono un atipico legame. Quando Gary si trova a fronteggiare una minaccia più grande di quella che riuscirebbe personalmente a gestire, si rivolge a Joe - momento in cui si verificano una serie di eventi che denotano la brutale inesorabilità della tragedia e la bellezza dell'ultima pugnalata prima della salvezza. Risoluzione - 720X304 Parole chiave: dramma
Language:
| Size: 149.51 MB | Seed: 1 | Leech: 0
Description:
Language:
| Size: 89.64 MB | Seed: 1 | Leech: 0
Description:
Language:
| Size: 116.87 MB | Seed: 0 | Leech: 0
Description:
Track List: Fire It Up I'll Be Your Doctor You Love Me Back I Come In Peace You Don't Need A Million Dollars Eye On The Prize Younger You Don't Know What You're Doing To Me The Letting Go I'll Walk In The Sunshine Again Weight Of The World The Last Road (Bonus Track) Walk Through the World With Me (Bonus Track)
Language:
| Size: 180.25 MB | Seed: 1 | Leech: 1
Description:
Track List: Maria Taka Takata Guantanamera L'Amerique Les Champs-Elysees La Fleur Aux Dents L'Equipe A Jojo Siffler Sur La Colline Les Dalton La Bande A Bonnot Le Chemin De Papa Bip-Bip Marie-Jeanne Ma Bonne Etoile La Complainte De L'Heure De Pointe Le Petit Pain Au Chocolat A Chacun Sa Chanson On S'en Va Dede Le Kid Je T'Aime, Je T'Aime Dance Les Yeux D'Emilie Les Plus Belles Annees De Ma Vie Il Etait Une Fois Nous Deux Je Te Crois Pauvre Doudou Carolina Mon Copain Julie
Language:
| Size: 1.58 GB | Seed: 664 | Leech: 13
Description:
Joe Devers Lone Wolf HD Remastered-CODEX Genre: Role-playing (RPG) Platform: Multiplayer: No Year: 2014 Type of publication: Language of the game: EN Crack: Available Description : The dreaded Dark Tower V taag stands menacingly before you like an accusing finger; building a monstrous black granite and iron piercing the sky, attracting lightning the dark clouds that surround it. Your epic adventure comes to an end! Assault the strength of V taag and thwart the evil plans of the Dark Lords of Helgedad once and for all. All mysteries will be unveiled and the most epic battles in the last act of the acclaimed saga Lone Wolf Joe Dever be freed. Are you ready to write your destiny? The game has evolved and improved dramatically since leaving Act 1! If only you explored Rockstarn or Sunken Forest, be sure to return to Magnamund and enjoy all the new features! The defensive posture for those who carry two weapons, tactical pause, the refinement of all attacks and disciplines Kai ... In Forge Reply've paid close attention to your comments. Try it yourself! Season Pass: get the episodes 2, 3 and 4 at the best price. Do your part and fight for Sommerlund and the Order of Kai! System requirements: Size: 1.58 GB
Language:
| Size: 3.94 GB | Seed: 328 | Leech: 63
Description:
Title: Joe Dirt 2 Beautiful Loser (2015) EXTENDED 1080p BDRip Country: USA Region: Hollywood movies Genre: Comedy Duration: 01:49:00 Year: 2015 Language: EN Subtitle: English Director: Fred Wolf Cast: David Spade, Brittany Daniel, Christopher Walken Description: When happy family man Joe Dirt finds himself transported to the recent past, he begins an epic journey to get back to his loved ones in the present. Rating: Quality: Blu-Ray Disc Format: MP4 Video codec: 4500 Kbps, 1920*180 (16:9), 23.976 fps, x264 Audio codec: 640 Kbps, 48.0 KHz, 6 Channels, AC3
Language:
| Size: 3.99 GB | Seed: 827 | Leech: 79
Description:
Joe Dirt 2: Beautiful Loser is a 2015 American comedy film directed by Fred Wolf and written by David Spade and Fred Wolf. It is the sequel to the 2001 film Joe Dirt. The film stars David Spade reprising his role as the title character, Brittany Daniel, Dennis Miller, Adam Beach, Christopher Walken, Mark McGrath and Patrick Warburton. The film premiered on Crackle on July 16, 2015. Joe Dirt embarks on an epic journey through the recent past, the heartland of America—and his own mind—to get back to his loved ones.
Language:
| Size: 1.37 GB | Seed: 37 | Leech: 42
Description:
USA 2015 Genere: Commedia Regia di Fred Wolf Con David Spade, Brittany Daniel, Patrick Warburton, Christopher Walken, Adam Beach, Mariana Paola Vicente, Jasmine Waltz, Susie Abromeit. Note: Seguito di Le avventure di Joe Dirt (2001). Joe Dirt, improbabile eroe la cui fortuna sembra essere svanita, si imbarca in un altro epico viaggio attraverso il suo recente passato, il cuore dell'America e la propria mente, per ritornare dai suoi amati cari. Gli fanno compagnia il suo desiderio di vendetta e una scopa. Parole chiave: commedia
Language:
| Size: 1.39 GB | Seed: 896 | Leech: 47
Description:
Título: Joe Guarro ¡Vaya pringado! Título original: Joe Dirt 2: Beautiful Loser País: USA Estreno en USA: Estreno en España: Lanzamiento en DVD (alquiler): 13/01/2016 Productora: Happy Madison Productions Director: Fred Wolf Guión: David Spade Reparto: David Spade, Christopher Walken, Brittany Daniel, Dennis Miller, Adam Beach, Patrick Warburton, Mark McGrath, Charlotte McKinney, Kevin Farley Género: Comedia | Secuela. Viajes en el tiempo SINOPSIS: En esta ocasión Joe Dirt es un hombre feliz con su familia que se embarcará en otro épico viaje por los Estados Unidos -y su propia mente-, esta vez por su pasado más reciente. El "héroe" intentará recuperar a algunos seres queridos, en una historia que también implicará venganza. Relaccionados
Language:
| Size: 128.12 MB | Seed: 0 | Leech: 0
Description:
Language:
| Size: 721.97 MB | Seed: 602 | Leech: 21
Description:
Joes Diner-SKIDROW Genre: Action-adventure Platform: Windows Multiplayer: No Year: 2015 Type of publication: Language of the game: EN Crack: Available Description : Somewhere along the venerable Route 7, in the middle of nowhere, you will find Joe s Diner. As an employee working the graveyard shift for the next month, your primary task is to keep the tables clean no tough challenge at all Unfortunately there s a rub to it. The old Diner was built on the site of a former Indian cemetery. Amongst the buried, two rival chieftains are laid to rest; while alive each could not stand the other One chieftain endeavors only to rest in peace. The other, a prankster both in life and the afterlife, is prone to ruffle the feathers of his fellow chief Besids your tasks as a waiter, it s up to you to keep things calm and not incur the angry chieftains wrath. To lay them both to everlasting rest just do your duty. Sounds easy but it s not promised Features Work over 30 night shifts as a holiday replacement in Joe s Diner Keep hings calm to not incur the angry chieftains wrath Atmospheric graphics with fantastic lighting Innoative gameplay Deactivate all objects after the chieftain does his monkey business Premim sound scenery and effects From the makers of Pineview Drive INSTALL NOTES 1. Unpack the release 2. Mount or burn image 3. Install 4. Copy everything from the SKIDROW folder into the game installation 5. Block the game in your firewall and mark our cracked content as 6. Play the game 7. Support the companies, which software you actually enjoy! System requirements: Size: 721 MB
Language:
| Size: 143.66 MB | Seed: 19 | Leech: 0
Description:
Track List: Save The Children Greenbax (Introlude) Paper Trail$ Piece Of Mind Big Dusty Hazeus View Like Me (feat. BJ The Chicago Kid) Belly Of The Beast (feat. Chronixx) No. 99 Christ Conscious On & On (feat. Maverick Sabre & Dyemond) Escape 120 (feat. Raury) Black Beetles O.C.B. Curry Chicken Run Up On Ya (feat. Action Bronson & Elle Varner) [Bonus Track] Teach Me (feat. Kiesza) [Bonus Track]
Language:
| Size: 126.69 MB | Seed: 0 | Leech: 0
Description:
Language:
| Size: 109.35 MB | Seed: 0 | Leech: 0
Description: