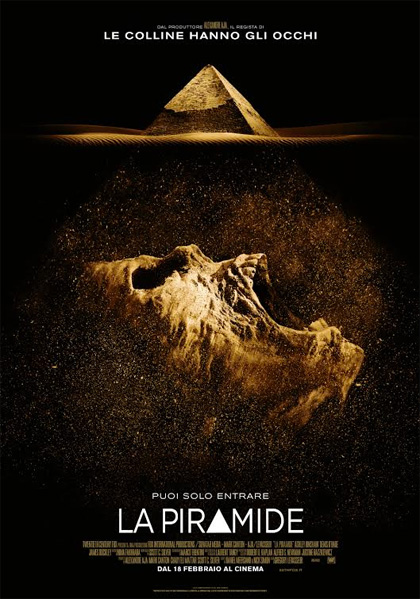 Language:
| Size: 5.46 GB | Seed: 135 | Leech: 11
Description:
ria: Film | Dimensione: 5.46 GB | Seeders: 19 | Leechers: 25 | Completato: 61 | Agiorna Titolo originale: The Pyramid Nazione: U.S.A. Anno: 2014 Genere: Horror Durata: 89' Regia: Grégory Levasseur Sito ufficiale: www.foxmovies.com/movies/the-pyramid Cast: Denis O'Hare, Ashley Hinshaw, James Buckley, Christa Nicola, Amir K, Joseph Beddelem, Prince Shah, Omar Benbrahim, Garsha Arristos Produzione: Fox International Productions, Silvatar Media Distribuzione: 20th Century Fox Data di uscita: 18 Febbraio 2015 (cinema) Trama: Un gruppo di archeologi americani scoprono un'antica piramide nel deserto Egizio. Quando cominciano ad addentrarsi nella piramide, si perdono senza speranza nelle buie e tortuose catacombe. Alla ricerca di una via d'uscita, cominciano a disperare di rivedere la luce del giorno. Alla fine realizzano che non sono solo in trappola, ma sono stati vittima di una caccia. Parole chiave: horror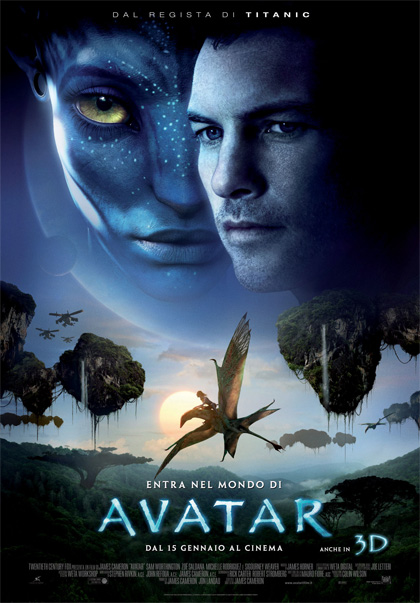 Language:
| Size: 9.76 GB | Seed: 135 | Leech: 20
Description:
Titolo originale: Avatar Nazione: U.S.A. Anno: 2009 Genere: Azione, Fantascienza, Thriller Durata: 166' Regia: James Cameron Sito ufficiale: www.avatarmovie.com Sito italiano: www.avatarilfilm.it Cast: Sam Worthington, Zoe Saldana, Laz Alonso, Sigourney Weaver, Michelle Rodriguez, Michael Biehn, Wes Studi, Joel Moore, CCH Pounder Produzione: Twentieth Century-Fox Film Corporation, Giant Studios Inc., Lightstorm Entertainment Data di uscita: 15 Gennaio 2010 (cinema) Nomination Oscar 2010 Trama: Jake Sully, é un ex marine costretto a vivere su una sedia a rotelle. Nonostante la disabilità fisica, nel cuore Jake è rimasto un combattente. Viene arruolato e, dopo un viaggio di alcuni anni luce, raggiunge l'avamposto degli umani su Pandora, dove un consorzio di aziende è impegnato nell'estrazione di un raro minerale, indispensabile per risolvere la crisi energetica sulla Terra. Poiché l'atmosfera di Pandora è tossica, è stato sviluppato il Programma Avatar, che permette di collegare la coscienza umana a un avatar, cioè un corpo biologico guidato a distanza, in grado di sopravvivere all'atmosfera letale del pianeta. Questi avatar sono ibridi geneticamente modificati in cui il DNA umano è stato mescolato con quello della popolazione indigena di Pandora... Formato: HEVC H265 Parole chiave: azione fantascienza thriller
Language:
| Size: 231.98 MB | Seed: 135 | Leech: 63
Description: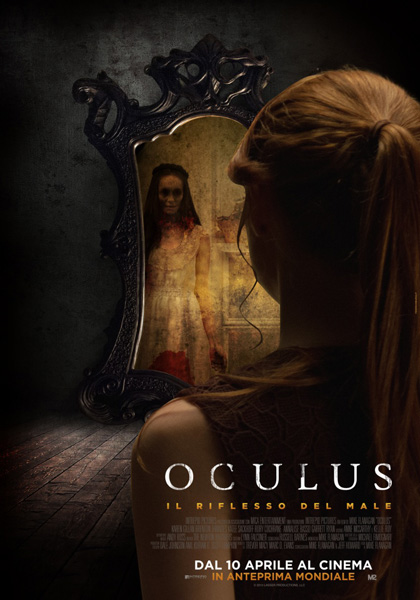 Language:
| Size: 1.86 GB | Seed: 135 | Leech: 72
Description:
Titolo originale: Oculus Nazione: U.S.A. Anno: 2013 Genere: Horror Durata: 105' Regia: Mike Flanagan Sito italiano: www.cinemaz.com/oculus/ Cast: Brenton Thwaites, Karen Gillan, Katee Sackhoff, James Lafferty, Rory Cochrane, Annalise Basso, Garrett Ryan, Katie Parker, Kate Siegel, Miguel Sandoval, Courtney Bell, Elisa Victoria Produzione: Intrepid Pictures, Blumhouse Productions, WWE Studios Data di uscita: 10 Aprile 2014 (cinema) Trama: La famiglia Russell è stata colpita da una terribile tragedia che ha segnato per sempre la vita dei fratelli Tim e Kaylie. Dieci anni dopo, Tim, che era stato accusato del brutale assassinio di entrambi i genitori, lascia il carcere con l'unico desiderio di lasciarsi tutto alle spalle e ricominciare. La sorella Kaylie invece, ancora ossessionata da quella fatidica notte, è fortemente convinta che la morte dei suoi genitori sia stata causata da qualcos'altro. Secondo la ragazza, una forza maligna risiederebbe in un antico specchio che si trovava nella casa di famiglia. .. Sub iTA: Regular Parole chiave: horror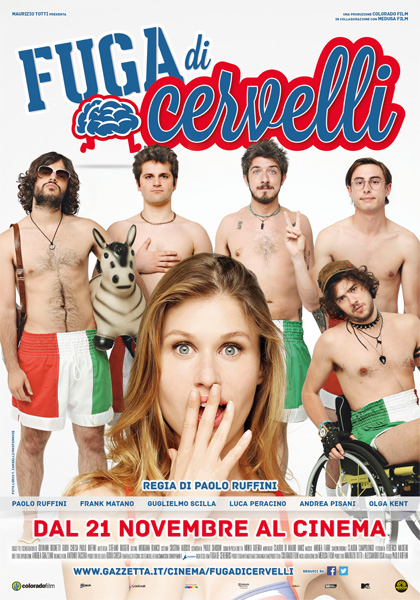 Language:
| Size: 1.47 GB | Seed: 134 | Leech: 78
Description:
Titolo originale: Fuga di cervelli Nazione: Italia Anno: 2013 Genere: Commedia Durata: 100' Regia: Paolo Ruffini Sito ufficiale: www.fugadicervelli.it Social network: facebook, twitter Cast: Paolo Ruffini, Luca Peracino, Andrea Pisani, Guglielmo Scilla, Frank Matano, Olga Kent, Giulia Ottonello, Niccolò Senni Produzione: Colorado Film Distribuzione: Medusa Data di uscita: 19 Novembre 2013 (anteprima) 21 Novembre 2013 (cinema) Trama: Il film racconta le vicende del timido e impacciato Emilio, innamorato della bellissima Nadia fin da quando erano piccoli. Per i lunghi anni dell'infanzia e dell'adolescenza, Emilio non ha mai avuto il coraggio di confessarle il suo amore. La venerazione nei confronti della ragazza l'ha portato anche a iscriversi alla stessa Università di Medicina. Un bel pomeriggio primaverile, Emilio prende il coraggio a due mani… si avvicina a Nadia, la saluta ma lei gli racconta che sta per partire per l'Inghilterra: ha vinto una borsa di studio e si trasferirà a Oxford. Emilio è distrutto, ma per fortuna, non è da solo, ha un gruppo di amici straordinario per idiozia, ma anche per entusiasmo. Parole chiave: commedia
Language:
| Size: 1.44 GB | Seed: 134 | Leech: 20
Description:
From T.C. Christensen comes The Cokeville Miracle, the remarkable true story of a town facing a terrible tragedy, and the Sheriff's investigator who struggles with his faith as he gathers evidence that defies easy explanation. Cokeville Wyoming, a town of just over 500 people that sits near the Utah-Idaho border, is not known for much beyond it's strong family values, but in 1986 Cokeville made national headlines when a madman and his wife entered the elementary school with guns and bomb. They gathered over 100 children and teachers into a small room, and made a demand: $200 million dollars for the lives of the children-but then the bomb went off... The Cokeville Miracle is not just the story of a hostage crisis, or a terror attack on American soil. It is not just the story of a bomb that could have destroyed an entire generation, and ripped a town apart. The Cokeville Miracle is about what happened instead. How did a bomb that should have leveled the room take only two lives that day, the madman and his wife? Each child, each adult who made it out of that room has a story to tell. Follow the Sheriff's investigator Ron Hartley as he pieces together the evidence, including stories of prayer and divine intervention from multiple witnesses. Gather the evidence and decide for yourself. Do you see coincidence, or do you see miracles?
Language:
| Size: 1.45 GB | Seed: 134 | Leech: 5
Description:
Descripción: Título: El último lobo Título original: Le dernier loup País: Francia, China Estreno en USA: Estreno en España: 10/04/2015 Estreno en Francia: 18/02/2015 Productora: Edko Films, Reperage Director: Jean-Jacques Annaud Guión: John Collee, Jean-Jacques Annaud Reparto: Shaofeng Feng, Shawn Dou, Ankhnyam Ragchaa, Yin Zhusheng, Basen Zhabu, Baoyingexige Calificación: No recomendada para menores de 7 años Género: Aventuras. Drama | Años 60. Vida rural. Animales. Perros/Lobos. 3-D SINOPSIS: 1969. Chen Zhen es un joven estudiante de Pekín que es enviado a Mongolia Interior para educar a una tribu de pastores nómadas. Pero el que realmente aprende es Chen: sobre la vida en esa tierra infinita y hostil, la libertad y la responsabilidad, y la criatura más temida y reverenciada de esos lugares, el lobo. Sin emabrgo, la relación de atracción existente entre esas criaturas complejas y casi místicas con el ser humano que ve amenazada cuando un oficial del gobierno central decide por todos los medios eliminar los lobos de esta región. Relaccionados
Language:
| Size: 1.55 GB | Seed: 134 | Leech: 17
Description:
Descripción: Título: X-Men: Días del futuro pasado Título original: X-Men: Days of Future Past País: USA Estreno en USA: 23/05/2014 Estreno en España: 06/06/2014 Productora: 20th Century Fox Director: Bryan Singer Guión: Simon Kinberg Reparto: Jennifer Lawrence, Nicholas Hoult, Peter Dinklage, Ellen Page, Michael Fassbender, Anna Paquin, Hugh Jackman, James McAvoy, Halle Berry, Ian McKellen, Evan Peters, Patrick Stewart, Shawn Ashmore, Booboo Stewart, Daniel Cudmore Calificación: No recomendada para menores de 12 años SINOPSIS: La última formación de X-Men disputa una guerra para la supervivencia de la especie en dos periodos de tiempo diferentes. En X-Men: Días del futuro pasado, los personajes originales de la trilogía \"X-Men\" unen sus fuerzas con ellos mismos años atrás (\"X-Men: Primera Generación\"), en una batalla épica que deberá cambiar el pasado - para salvar el futuro. Relaccionados
Language:
| Size: 4.5 GB | Seed: 134 | Leech: 59
Description:
Section: Films/Séries/Vidéos Sous-Section: Films Titre: Joy Titre Original Joy Genre: Biopic, Comédie, Drame, Année: 2015 Release: Joy 2015 FRENCH 1080p WEB DL H264 AAC Wita Qualité: WEBripHD 1080 Langue: Québécois (VFQ/French) Système: TV/PC/Platine/Lecteur Multimédia/etc Type: 2D (Standard) Taille: 4.5 GB Info Hash: 670618d9dba608e1f2618c5bdb2b16c6fd48d479 Uploadeur: sniperstef
Language:
| Size: 652.76 MB | Seed: 134 | Leech: 94
Description:
Shelter 2-FLT Genre: Simulation (Sports) Platform: Windows Multiplayer: No Year: 2015 Type of publication: Language of the game: EN Crack: Available Description : The beauty of nature goes hand in hand with its unforgiving rawness. That is central in Shelter 2, and one of the reasons we chose to make a game about a Lynx. They are in middle of the food chain, and there are far more vicious things out on the cold tundra. The game follows the life of a mother lynx, starting as a pregnant animal, giving birth and continuing in to a journey of parenthood where nurturing her cubs is paramount for survival. Shelter 2 includes more elaborate gameplay features than its predecessor, such as stamina, different types of movements, jumps and a variety of prey to kill. Besides hunting there are several maternal and hunting features, such as calling the cubs closer, smell for prey, making sure they drink water from rivers and lifting and carrying your cubs from harm's way. Environments in Shelter 2 are much bigger than it's predecessor and allow a lot more freedom than ever before, allowing players to find favorite spots to return to. This time weather and seasons change, harsh winters and bloomy summers awaits you! The music is once again presented by Retro Family, awarded for their work on the Pid Soundtrack, and the visuals have been reinvented by adding dense atmosphere and lighting to the patterned graphical art-style. Installation Information: * Burn or mount * Install * Play the game System requirements: Size: 652 MB
Language:
| Size: 2.69 GB | Seed: 134 | Leech: 51
Description:
Battlefield 2 - Multiplayer and Singleplayer Genre: Action (Shooters, MMO FPS, TPS) Platform: Windows Multiplayer: No Year: Type of publication: Language of the game: EN Crack: Available Description : FOR WINDOWS ONLY Included: Battlefield 2 (v1.50) Battlefield 2: Euro Forces Battlefield 2: Armored Fury About the upload: This is a cracked version of Battlefield 2 (version 1.50). There are some specific things to do when you install it, but the included readme explains it all. I really recommend reading the readme (something most people don't, probably because it usually contains a lot of bs) Since the official multiplayer support by GameSpy for this game is dead, because GameSpy is gone you need to "update" it manually first to be able to play online. In the Revive Multiplayer folder you'll find everything you need to do so. To play the multiplayer register an account for free here. It's the only way to still play online, but it's definitely worth it. By the way, this is one of the last ways to still play this fantastic game. EA stopped selling it on Origin, and Steam also stopped selling copies. The only legal way to still obtain a copy is buying a hardcopy on Amazon for example, but those are also hard to come by these days, expecially with a working serial key. Sad to see EA is no longer supporting one of their best releases ever. About the game: In Battlefield 2, players will choose to fight for one of three military superpowers: the United States, the Chinese, or the newly formed Middle East Coalition. Armed with the latest modern weaponry, players can take control of any of the game's 30+ vehicles to engage in major conflicts with over 64 players in some of the largest online battles on the PC. Additionally, persistent character growth allows players to rise through the ranks and attain the ultimate rank of General. With more than 2 million copies sold, this proven classic brings the intensity and excitement of Battlefield 1942™ into the modern era with enhanced team play and the latest, most technologically advanced vehicles and weapons systems available to man. System requirements: Size: 2.69 GB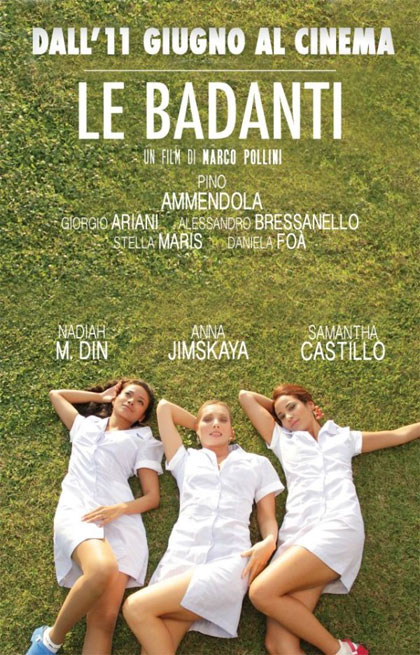 Language:
| Size: 1.25 GB | Seed: 134 | Leech: 58
Description:
Titolo originale: Le badanti Nazione: Italia Anno: 2015 Genere: Commedia Durata: 105' Regia: Marco Pollini Cast: Anna Jimskaya, Alessandro Bressanello, Nadiah m Din, Samantha Castillo, Pino Ammendola, Stella Maris, Daniela Foà , Cristina Chiaffoni, Bruno Furini, Fulvio Musco Produzione: Ahora ! Film Data di uscita: 11 Giugno 2015 (cinema) Trama: Lola (Samantha Castillo), Carmen (Nadiah M.Din) e Irina (Anna Jimskaya), arrivano in Italia in cerca di un futuro migliore e dopo diversi episodi di invidie, violenze e soprusi, decidono di cambiare vita e si trasferiscono nella provincia veronese per lavorare alla Casa di Cura "Villa Bella". Iniziano a diventare amiche tra di loro e ad instaurare un rapporto con gli anziani. Un lavoro all'apparenza duro e non appagante come quello delle badanti, per loro diventa una missione di vita. Qui le ragazze si trasformeranno e, superate le difficoltà iniziali, si dedicheranno totalmente alla casa di cura, tanto da doverla salvare dalle mani del direttore truffatore. Parole chiave: commedia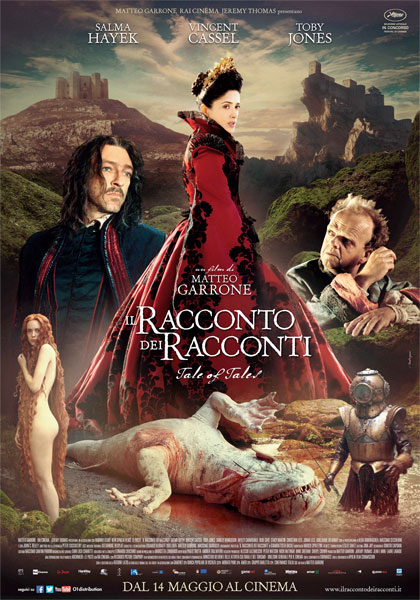 Language:
| Size: 7.49 GB | Seed: 134 | Leech: 33
Description:
Titolo originale: The Tale of Tales Nazione: Italia, Francia, Regno Unito Anno: 2015 Genere: Drammatico Durata: 125' Regia: Matteo Garrone Cast: Salma Hayek, Vincent Cassel, John C. Reilly, Toby Jones, Shirley Henderson, Hayley Carmichael, Bebe Cave, Stacy Martin, Guillaume Delaunay, Alba Rohrwacher Produzione: Archimede, Le Pacte, Rai Cinema, Recorded Picture Company Data di uscita: Cannes 2015 14 Maggio 2015 (cinema) Trama: C'era una volta un regno… anzi tre regni vicini e senza tempo, dove vivevano, nei loro castelli, re e regine, principi e principesse. Un re libertino e dissoluto. Una principessa data in sposa ad un orribile orco. Una regina ossessionata dal desiderio di un figlio. Accanto a loro maghi, streghe e terribili mostri, saltimbanchi, cortigiani e vecchie lavandaie sono gli eroi di questa libera interpretazione delle celebri fiabe di Giambattista Basile. La Regina di Selvascura è disperata perché non riesce ad avere un figlio, e a nulla valgono i tentativi del Re di distrarla, invitando a corte artisti di strada e circensi... Parole chiave: drammatico
Language:
| Size: 81.04 MB | Seed: 133 | Leech: 12
Description:
Album Jul My World Tracklist # Titre Album Durée 1 Amnésia Jul My World 3:41 2 Dans la légende Jul My World 2:59 3 Encore des paroles ft Julie Gonzalez Jul My World 3:00 4 Il me faut des billets Jul My World 3:16 5 Comme d'hab ft Alonzo Jul My World 3:05 6 En Y Jul My World 3:34 7 Dans l'appart Jul My World 3:19 8 Pour les taulards Jul My World 2:54 9 Mamasita Jul My World 3:08 10 Ghost Rider Jul My World 3:21 11 Dans le futur Jul My World 3:35 12 C'est réel Jul My World 3:05 13 La gâchette ft Houari Jul My World 2:16 14 Lova Jul My World 3:16 15 Mama Jul My World 2:56 16 Ne m'en voulez pas Jul My World 3:10 17 Wesh alors Jul My World 4:01 18 Ils m'ignorent Jul My World 2:26 19 Pour les vaillants Jul My World 3:43 20 En place ft A-Deal Jul My World 2:35 21 Mercé ft Benjamin Mendy et Medhi Jul My World 4:15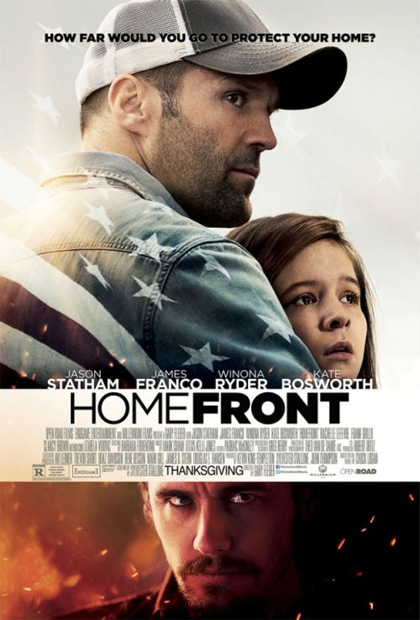 Language:
| Size: 7.16 GB | Seed: 133 | Leech: 54
Description:
Titolo originale: Homefront Nazione: U.S.A. Anno: 2013 Genere: Azione Durata: 100' Regia: Gary Fleder Sito ufficiale: Cast: Jason Statham, James Franco, Izabela Vidovic, Kate Bosworth, Winona Ryder, Frank Grillo, Rachelle Lefevre, Marcus Hester Produzione: Homefront Productions, Millennium Films, Nu Image Films Distribuzione: Data di uscita: 2014 (cinema) Trama: Un ex-agente della DEA, decide, insieme alla sua famiglia, di trasferirsi in provincia nella convinzione che la vita da quelle parti proceda in modo più tranquillo. Purtroppo, la città scelta é anche il covo di un pericoloso criminale... Audio da HDTV Mod. Scambiofile Parole chiave: azione
Language:
| Size: 743.87 MB | Seed: 133 | Leech: 54
Description:
The Keeping Room is a 2014 American action thriller film directed by Daniel Barber and written by Julia Hart. The film stars Brit Marling, Hailee Steinfeld, Muna Otaru, Sam Worthington, Amy Nuttall, and Ned Dennehy. It was screened in the Special Presentations section of the 2014 Toronto International Film Festival. The film was in a limited release in the United States on September 25, 2015, by Drafthouse Films. Left without men in the dying days of the American Civil War, three Southern women—two sisters and one African-American slave—must fight to defend their home and themselves from two rogue soldiers who have broken off from the fast-approaching Union Army.
Language:
| Size: 55.98 MB | Seed: 133 | Leech: 5
Description:
Language:
| Size: 487.68 KB | Seed: 133 | Leech: 5
Description:
Language:
| Size: 1.37 GB | Seed: 133 | Leech: 1
Description:
Título original: Freelancers Año: 2012 Duración: 96 min. País: Estados Unidos Estados Unidos Director: Jessy Terrero Guión: L. Philippe Casseus Música: Reg B Fotografía: Igor Martinovic Reparto: Curtis '50 Cent' Jackson, Robert De Niro, Forest Whitaker, Beau Garrett, Dana Delany Productora: Cheetah Vision / Emmett/Furla Films Género: Acción. Drama | Crimen Sinopsis Nueva York. El hijo de un policía (50 Cent), que fue asesinado, ingresa con dos amigos en la Academia de Policía. Terminado el entrenamiento, el capitán Sarcone (De Niro), antiguo compañero de su padre, lo toma bajo su protección para que forme parte de un grupo que lucha contra la delincuencia. Relaccionados
Language:
| Size: 1 GB | Seed: 133 | Leech: 17
Description:
Space Hulk v1.4.2 Update incl DLC-SKIDROW Genre: Action (Shooters, MMO FPS, TPS), Strategy (RTS) Platform: Windows Multiplayer: No Year: 2014 Type of publication: Language of the game: EN Crack: Available Description : "I really think they've nailed it – both the strategy and the feel, retaining what makes Space Hulk Space Hulk while convincingly turning it into a videogame, not a mere boardgame made from pixels." Rock Paper Shotgun "In every significant way, it looks and feels like the board game I remember from back in the day, fleshed out to match the Warhammer 40K vibe we've experienced in other games." Venturebeat "Full Control has recreated the board game in almost perfect detail, from the design on the hulk's floors to the individually-named First Chapter Blood Angel Terminators of the Sin of Damnation campaign." PC Gamer About the Game "WE ARE THE VANGUARD OF HONOUR. THE CUTTING EDGE OF THE BLOOD ANGELS. WE BRING DEATH." The legendary Space Hulk returns to Windows PC and Mac in this epic turn based strategy game. Set in the Warhammer 40,000 universe, an intriguing story of legendary battles and heroic actions unfolds. Play as a small squad of fearless Space Marine Terminators who attempt to reclaim their honor by mounting an assault on a derelict space hulk infested by hordes of vicious tyranid Genestealers. Take control of the Adeptus Astartes of the Blood Angel chapter and guide them towards glory, while battling fierce Xenos and uncovering ancient relics in the infested confines of the massive Space Hulk named "Sin of Damnation". The game is a 3D digital turn based strategy game that recreates the classic claustrophobic board game experience in both singleplayer and multiplayer. Key Features: The first Space Hulk computer game in 17 years! Available on multiple platforms. Set in the hugely popular Warhammer 40,000 universe! Official license of the legendary boardgame from Games Workshop. Turn-based tactical strategy game! Based on the popular and iconic board game mechanics. Blood Angel Terminators! Fight the ferocious Genestealers with heroes of the mighty Blood Angels. Fearsome Genestealers with challenging AI! Meet unforgiving hordes of Genestealers! Thematic 3D environment! Experience the dark labyrinth of a Space Hulk as never before.. Single player campaign based on the "Sin of Damnation" space hulk! Take on the Sin of Damnation campaign, which includes 3 brand new prequel missions and the 12 missions from the classic board game. Multiplayer head-to-head recreating the board game experience against a friend! Get in the hot seat and battle it out with a friend. Cross platform multiplayer between Windows PC, Mac and iOS! Play asynchronous against friends and foes on multiple platforms. System requirements: Minimum: OS: Windows XP Processor: 2 GHz Dual Core Memory: 2 GB RAM Graphics: NVIDIA GeForce 8600 GT / ATI Radeon HD 2600 XT or greater DirectX: Version 9.0 Hard Drive: 4 GB available space Sound Card: DirectX Compatible Recommended: OS: Windows 7 Processor: 2 GHz Dual Core Memory: 4 GB RAM Graphics: NVIDIA GeForce 9000 series / ATI Radeon HD 3000 series or greater DirectX: Version 9.0 Network: Broadband Internet connection Hard Drive: 4 GB available space Sound Card: DirectX Compatible Size: 1 GB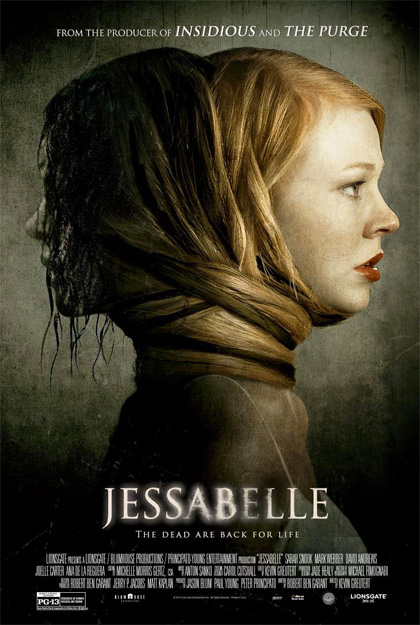 Language:
| Size: 1.37 GB | Seed: 133 | Leech: 12
Description:
Jessabelle USA 2014 Genere: Horror durata 90' Regia di Kevin Greutert Con Sarah Snook, Mark Webber, David Andrews, Joelle Carter, Ana de la Reguera, Larisa Oleynik, Chris Ellis, Fran Bennett, Amber Stevens... Trama Ritornando nella casa d'infanzia in Louisiana per riprendersi da un terribile incidente d'auto, Jessabelle si ritrova faccia a faccia con uno spirito tormentato, che aspetta da tempo il suo ritorno e non ha alcuna intenzione di lasciarla scappar via. Parole chiave: horror
Language:
| Size: 1.18 GB | Seed: 133 | Leech: 20
Description:
HOW LONG WILL YOU SURVIVE? 7 Days to Die has redefined the survival genre, with unrivaled crafting and world-building content. Set in a brutally unforgiving post-apocalyptic world overrun by the undead, 7 Days to Die is an open-world game that is a unique combination of first person shooter, survival horror, tower defense, and role-playing games. It presents combat, crafting, looting, mining, exploration, and character growth, in a way that has seen a rapturous response from fans worldwide. Play the definitive zombie survival sandbox RPG that came first. Navezgane awaits! GAME FEATURES Explore – Huge, unique and rich environments, offering the freedom to play the game any way you want with many unique biomes. Craft – Craft and repair weapons, clothes, armor, tools, vehicles, and more with nearly 400 recipes. Build – Take over a ruin, or build from the ground-up. Design your fortress to include traps and defensive positions to survive the undead - the world is fully destructible and moldable. Cooperate or Compete – Work together cooperatively to build settlements or work against each other raiding other player's bases, it's really up to you in a wasteland where zombies and outlaws rule the land. Create - Unleash your creativity and build the ultimate world by yourself or with friends. Enjoy unlimited access to nearly 400 in-game items and 1,200 unique building blocks in creative mode. Improve – Increase your skills in a multitude of active and passive disciplines. 7 Days to Die is the only true survival RPG with nearly 50 multi-tiered skill and perk groups. Choose – Play the Navezgane campaign world, or dive back in with friends in a randomly-generated world with cities, towns, lakes, mountains, valleys, roads, caves and wilderness locations. The possibilities are infinite with over 300 locations. Combat – Encounter a wide variety zombie archetypes including special infected with unique behaviors and attacks. Survive – Experience real hardcore survival mechanics with over 45 buff boosts/ailments along with dynamic cold and hot weather to contend with. Destroy – Buildings and terrain formations can collapse under their own weight from structural damage or poor building design. Loot – Scavenge the world for the best guns, weapons, tools, armor, clothing, and vehicle parts which have quality ranges which govern attributes to provide hundreds of thousands of item permutations. Quest – Find dynamic treasure maps left by survivors and dig for real buried loot. Discover quest notes and complete them for rewards and skill points. Customize – Create your own character or pick a preset and customize in-game even more with a huge selection of clothing and armor you can craft or loot in the world. Drive – Enjoy the badass vehicle system where you find all the parts, learn all the recipes and craft and augment your own vehicle. Farm or Hunt – Plant and grow gardens for sustainable resources or head out into the wilderness and hunt wild animals.
Language:
| Size: 1.6 GB | Seed: 133 | Leech: 54
Description:
Oppresso dal lavoro, da una moglie gelosa e da figlia molesta, il sor Peppe, commerciante di stoffe in Roma, durante uno spettacolo di varietà si fa ipnotizzare da un fachiro che, per un incidente, deve essere trasportato all\'ospedale. Il sor Peppe resta in trance e, tornato a casa, si comporta come una madre di famiglia. Scritto con Ruggero Maccari e Mario Amendola su soggetto di Piero Tellino, è il 3 e ultimo film della Famiglia Passaguai, e il più originale e vispo. L\'antico espediente del travestitismo fa da cinghia di trasmissione a una buffoneria che non scivola mai nel banale o nel volgare. FYears da cornice a un A. Fabrizio in grande forma 2 spalle comiche di puntuto rilievo come V. Riento e P. Stoppa. Original title: Papà diventa mamma Lingua originale: Italiano Paese: Italia Years: 1952 Length: 84\' Colore: B/N Audio: sonoro Rapporto: Genere: Comico Directed by: Aldo Fabrizio Soggetto: Piero Tellini Sceneggiatura: Mario Amendola, Aldo Fabrizi, Ruggero Maccari Producer: Aldo Fabrizi Produttore esecutivo: Casa di Production: Alfa Film Distribuzione (Italia): Rank Film Interpreti e personaggi * Aldo Fabrizi: Sor Peppe * Ave Ninchi: Margherita, moglie di Peppe * Giovanna Ralli: Marcella * Carlo Delle Piane: Pecorino * Giancarlo Zarfati: Gnappetta * Armando Annuale: * Paolo Stoppa: * Marco Tulli: * Gondrano Trucchi: * Gianna Segale: * Virgilio Riento: * Alfredo Rizzo: * Luigi Pavese: * Enrico Luzi: * Mara Landi: * Franco Giacobini: * Anna Maria Dori: Fotografia: Mario Bava Montaggio: Nella Nannuzzi Effetti speciali: Musiche: Carlo Innocenzi, Enrico Simeone Tema musicale: Scenografia: Carlo Vignati
Language:
| Size: 1.43 GB | Seed: 133 | Leech: 11
Description:
.: SCHEDA :. DATA USCITA: 22 agosto 2016 GENERE: Animazione , Avventura , Family ANNO: 2016 REGIA: Mike Thurmeier, Galen T. Chu VOCI: Claudio Bisio, Pino Insegno, Lee Ryan, Massimo Giuliani, Filippo Timi, Isabelle Adriani, Roberta Lanfranchi, Hong-hu Ada , Ray Romano, John Leguizamo, Denis Leary, Queen Latifah, Chris Wedge, Keke Palmer, Seann William Scott, Josh Peck, Jennifer Lopez, Simon Pegg, Jesse Tyler Ferguson, Adam DeVine SCENEGGIATURA: Michael J. Wilson FOTOGRAFIA: Renato Falcão MONTAGGIO: James Palumbo MUSICHE: John Powell PRODUZIONE: Blue Sky Studios, Twentieth Century Fox Animation DISTRIBUZIONE: 20th Century Fox PAESE: USA DURATA: 100 Min .: TRAMA :. Sempre all'inseguimento della mitica ghianda, Scrat verrà catapultato nello spazio dove, accidentalmente, darà origine ad una serie di eventi cosmici che trasformeranno e minacceranno il mondo dell'Era Glaciale. Per salvarsi Sid, Manny, Diego e il resto del gruppo dovranno abbandonare la loro casa e intraprendere un'avventura ricca di comicità, viaggiando attraverso nuove terre esotiche e incontrando nuovi e coloratissimi personaggi.
Language:
| Size: 1.37 GB | Seed: 133 | Leech: 111
Description:
7 minuti Titolo originale: 7 minuti Nazione: Italia Anno: 2016 Genere: Drammatico Durata: 88' Regia: Michele Placido Cast: Ambra Angiolini, Fiorella Mannoia, Maria Nazionale, Ottavia Piccolo, Cristiana Capotondi, Violante Placido, Clemence Poesy, Sabine Timoteo, Ottavia Piccolo, Anne Consigny, Michele Placido Produzione: GoldenArt Production, Rai Cinema Distribuzione: Koch Media Data di uscita: Roma 2016 - Selezione Ufficiale 03 Novembre 2016 (cinema) Trama: I proprietari di un'azienda tessile italiana cedono la maggioranza dell'azienda ad una multinazionale. Sembra che non siano previsti grossi stravolgimenti alle condizioni lavorative delle impiegate, ma una piccola clausola nell'accordo costringerà il Consiglio di fabbrica ad un dibattito che poco a poco porterà ciascuna delle 11 delegate a mettere in discussione la propria vita. 11 personalità e storie di vita differenti per una riflessione sul lavoro, la dignità, la paura e la possibilità di migliorare il futuro.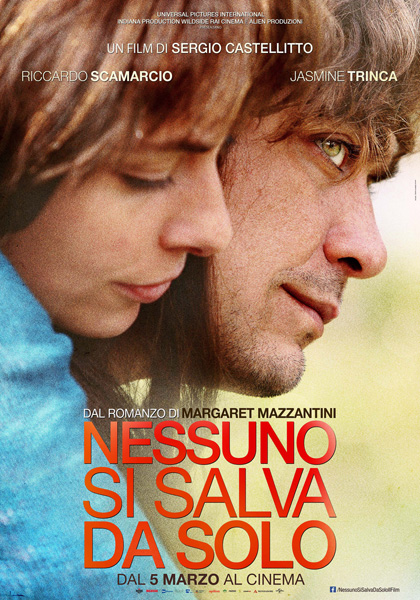 Language:
| Size: 8.08 GB | Seed: 132 | Leech: 23
Description:
Titolo originale: Nessuno si salva da solo Nazione: Italia Anno: 2015 Genere: Drammatico Durata: 100' Regia: Sergio Castellitto Sito ufficiale: Social network: facebook Cast: Anna Galiena, Riccardo Scamarcio, Eliana Miglio, Jasmine Trinca, Gabriel Farnese Produzione: Wildside, Indiana Production Company Distribuzione: Universal Pictures Italia Data di uscita: 05 Marzo 2015 (cinema) Trama: Delia e Gaetano (Gae) sono stati sposati e hanno due figli, Cosmo e Nico. Da poco tempo vivono separati, lei ha tenuto la casa con i bambini, lui vive in un residence. Delia, che in passato ha sofferto di anoressia, è una biologa nutrizionista, Gaetano è uno sceneggiatore di programmi televisivi. Delia e Gae si incontrano per una cena in un ristorante, devono apparentemente discutere dell'organizzazione delle vacanze dei loro figli... ma presto capiamo che quell'incontro servirà ai due protagonisti per compiere un viaggio dentro la loro storia d'amore e scoprirne le ragioni della fine. La cena occupa l'intero svolgimento del film, ma attraverso una serie di flash back, viene ripercorsa la vita di Delia e Gaetano, dall'entusiasmo dei primi anni di vita in comune, l'amore, la passione, ai primi problemi e frustrazioni reciproche che hanno cominciato ad allontanarli, fino alla separazione. Parole chiave: dramma
Language:
| Size: 1.15 GB | Seed: 132 | Leech: 4
Description:
Título: La deuda (Oliver s Deal) Título original: Oliver s Deal País: Estados Unidos, España, Perú Estreno en USA: Estreno en España: 15/05/2015 Lanzamiento en DVD (alquiler): 23/09/2015 Estreno en VOD: 17/09/2015 Productora: Atlantic Pictures, Viracocha Films, Arcadia Motion Pictures Director: Barney Elliott Guión: Barney Elliott Reparto: Stephen Dorff, Brooke Langton, David Strathairn, Carlos Bardem, Alberto Ammann, Nidia Bermejo, Lucho Cáceres, Amiel Cayo, Delfina Paredes, Javier Valdez, Emilram Cossío, Luis Gonzales, Liliana Trujillo, Jesús Aranda, Gabriela Bilotti Calificación: No recomendada para menores de 12 años Género: Thriller | Política. Historias cruzadas SINOPSIS: Oliver Campbell (Stephen Dorff) un ambicioso hombre de negocios americano, junto a su viejo amigo peruano, Ricardo Cisneros (Alberto Ammann) pretende cerrar el trato de su vida. Ambos planean explotar una antigua y olvidada deuda que el gobierno peruano tiene con sus ciudadanos. Mientras pasan los meses envueltos en sus duras negociaciones y debido al acuerdo que el gobierno prepara, el sistema de salud peruano se reduce drásticamente y María (Elsa Olivero) tratará de conseguir por sus propios medios la cirugía que su madre necesita. Implacables en la consecución de su objetivo, Oliver y Ricardo descubren Pampacancha, un pueblo de la sierra peruana que considera su tierra el bien más preciado. Allí topan con un severo patriarca de una familia de agricultores y con el terrateniente Caravedo (Carlos Bardem) que tiene sus propios planes. La conciencia empieza a pesar sobre Ricardo Cisneros, y también, a su manera, sobre Oliver Campbell.
Language:
| Size: 1.23 GB | Seed: 132 | Leech: 5
Description:
Descripción: Título original: Sword of Vengeance Año: 2014 Duración: 87 min País: Reino Unido Reino Unido Director: Jim Weedon Guión: Julian Unthank, Matthew Read Música: Stephen Hilton Fotografía: August Jakobsson Reparto: Stanley Weber, Annabelle Wallis, Ed Skrein, Dave Legeno, Karel Roden, Gianni Giardinelli, Peter J. Chaffey, Edward Akrout Productora: Vertigo Films Género: Drama | Venganza. Edad Media Sinopsis Un príncipe normando regresa al hogar en busca de justicia por el asesinato de su padre, muerto a manos de su tío, Earl Durant. Tras ganarse la confianza y lealtad de unos granjeros exiliados, los lleva a una brutal batalla contra el villano. La sed de sangre del protagonista lo llevará a sacrificarlo todo (y a todos) con tal de consumar su venganza. Relaccionados
Language:
| Size: 4.91 GB | Seed: 132 | Leech: 24
Description:
Titolo originale: The Fast and the Furious Nazione: U.S.A. Anno: 2001 Genere: Azione, Thriller Durata: 106' Regia: Rob Cohen Cast: Paul Walker, Vin Diesel, Michelle Rodriguez, Jordana Brewster, Rick Yune, Chad Lindberg, Johnny Strong, Matt Schulze, Ja Rule, Ted Levine Produzione: Original Film Data di uscita: 21 Settembre 2001 Trama: Dominic Toretto guida per le strade di Los Angeles come se gli appartenessero, e per quelli della sua banda è proprio così. Di giorno si dedica interamente a potentissime macchine da corsa, casa di fabbricazione e modello non contano, ciò che importa è l'iniezione computerizzata che le fa volare. Di notte, Dom si mette al volante del suo razzo da strada, intascandosi fino a diecimila dollari a gara, quando qualcuno ha il coraggio di sfidarlo. Le gare di accelerazione, sono veri spettacoli da strada, raduni tribali e campi di battaglia, resi ancor più emozionanti dall'adrenalina, dalla tensione sessuale e da una velocità folle, incontrollata. Una folla si riversa su strade altrimenti desolate per incitare i propri beniamini, schernire gli avversari e provare un senso di appartenenza. Dominic avanza come una rock star in questa scena ad alto numero di ottano ai margini della legalità dominata dal ruggito famelico dei motori di cui presto verranno testati i limiti. Anche Brian è stregato, famelico e desideroso di mettersi alla prova. Proclama con orgoglio di venire dalla strada, ma agli occhi di questa folla è solo un ragazzino. Dietro al volante della sua potentissima muscle car alimentata a protossido d'azoto, cerca con lo sguardo l'approvazione di Dominic. Audio Italiano Dolby Digital 5.1 DTS 5.1 Audio Inglese Dolby Digital 5.1 DTS 5.1 Sottotitoli Inglese Italiano Parole chiave: azione thriller
Language:
| Size: 409.19 MB | Seed: 132 | Leech: 73
Description:
Time Mysteries Inheritance Remastered-PROPHET Genre: Adventure Platform: Windows Multiplayer: No Year: 2015 Type of publication: Language of the game: EN Crack: Available Description : Time Mysteries: Inheritance - Remastered is an enhanced version of one of the most important games in Artifex Mundi's portfolio and the first chapter of an exciting trilogy of time travel games from 2010. Vivien Ambrose, a young doctor of physics, goes to her father's house to celebrate a recent scientific achievement. When she gets there, she finds out her dad is nowhere to be found. While looking for clues to her father's disappearance, our protagonist finds a strange letter, which bestows upon her an unexpected family inheritance: seven magic rings and a crystal ball. These mysterious items will grant her the power to travel through time. The artefact gives Vivian a glimpse into her father s fate: for reasons unknown, he has been abducted by a mysterious Time Traveller. Our heroine goes on a dangerous journey through time and space, determined to find her father. Little does she expect that the journey will reveal an age-old family secret. Vivien will have to use all of her wits to solve challenging puzzles, uncover dark secrets, collect the magic rings and save her father. Will Vivien accomplish her goals and defeatthe Time Traveller? 1- Unpack, burn or mount 2- Install the game 3- Copy the cracked content from PROPHET dir System requirements: Size: 409 MB