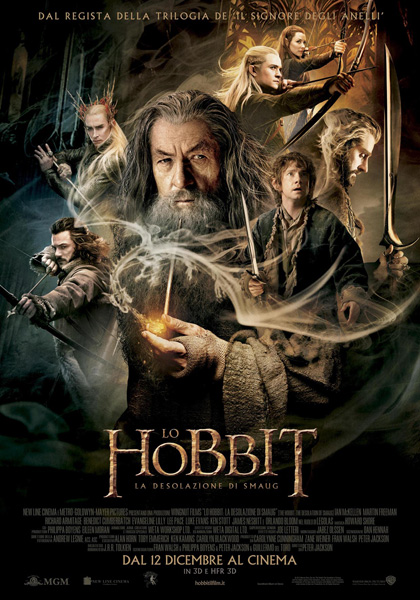 Language:
| Size: 6.97 GB | Seed: 189 | Leech: 41
Description:
Titolo originale: The Hobbit - The Desolation of Smaug Nazione: Usa/Nuova Zelanda Anno: 2013 Genere: Avventura/Fantasy Durata: 161 min. Regia: Peter Jackson Cast:Martin Freeman, Benedict Cumberbatch, Ian McKellen, Evangeline Lilly, Luke Evans, Richard Armitage, Elijah Wood, Orlando Bloom, Cate Blanchett, Hugo Weaving, Christopher Lee, Andy Serkis, Ken Stott, Graham McTavish, Lee Pace, Stephen Fry, Billy Connolly, Dean O'Gorman, Mark Hadlow, Jed Brophy, Aidan Turner, Adam Brown, John Callen, Peter Hambleton, William Kircher, James Nesbitt, Stephen Hunter, Mikael Persbrandt, Manu Bennett, Sylvester McCoy Uscita prevista: 12 dicembre 2013 Trama: Lo Hobbit: La Desolazione di Smaug è il proseguimento delle avventure del personaggio di Bilbo Baggins, in viaggio con il Mago Gandalf ed i tredici Nani, guidati da Thorin Scudodiquercia, in un'epica battaglia per la riconquista della Montagna Solitaria ed il perduto Regno dei Nani di Erebor. Dopo essere sopravvissuti all'inizio del loro viaggio inaspettato, la Compagnia continua ad andare verso Est, incontrando lungo la strada Beorn il cambia pelle ed uno sciame di ragni giganti, nella minacciosa foresta di Mirkwood. Dopo essere sfuggiti alla cattura da parte dei pericolosi Elfi della Foresta, i Nani arrivano a Lake-town e finalmente alla Montagna Solitaria, dove si troveranno ad affrontare il pericolo più grande - la creatura più terrificante di ogni altra - che non solo metterà a dura prova il loro coraggio, ma anche i limiti della loro amicizia ed il senso del viaggio stesso: il Drago Smaug. Mostra/Nascondi Spoiler INFO Parole chiave: avventura fantastico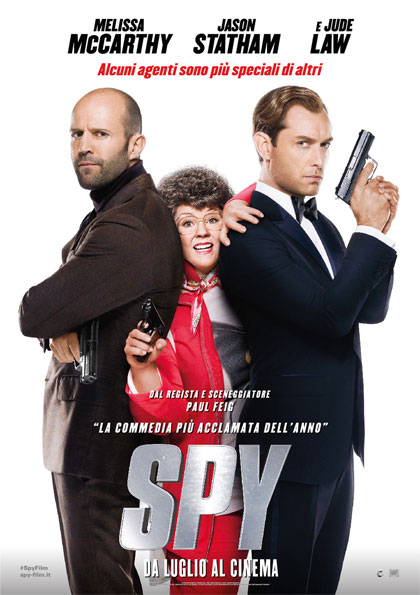 Language:
| Size: 1.37 GB | Seed: 189 | Leech: 71
Description:
Titolo originale: Spy Nazione: U.S.A. Anno: 2015 Genere: Commedia Durata: 120' Regia: Paul Feig Sito ufficiale: www.foxmovies.com/movies/spy Cast: Rose Byrne, Jason Statham, Morena Baccarin, Melissa McCarthy, Jude Law, Allison Janney, Bobby Cannavale, Will Yun Lee, 50 Cent, Peter Serafinowicz, Miranda Hart Produzione: Feigco Entertainment, Twentieth Century Fox Distribuzione: 20th Century Fox Data di uscita: 15 Luglio 2015 (cinema) Trama: Susan Cooper (Melissa McCarthy) è una normale analista della CIA e lavora duramente dietro le missioni più pericolose condotte dall'Agenzia. Quando il suo partner (Jude Law) è disperso e un altro agente (Jason Statham) è compromesso, si offre volontaria per infiltrarsi sotto copertura nel mondo di un commerciante di armi di contrabbando per prevenire un disastro globale. Fonte Video: Bluray Fonte Audio: iTunes Tracce Audio: AC3 iTA Sub Forced: / Parole chiave: commedia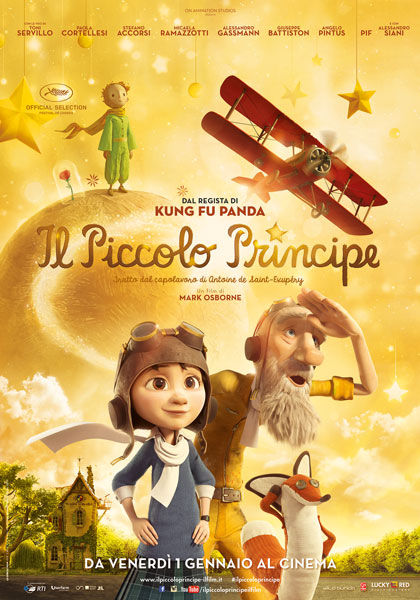 Language:
| Size: 9.09 GB | Seed: 189 | Leech: 79
Description:
Titolo originale: Le Petit Prince Nazione: Francia Anno: 2015 Genere: Animazione Durata: 108' Regia: Mark Osborne Sito ufficiale: www.lepetitprince-lefilm.com Sito italiano: www.ilpiccoloprincipe-ilfilm.it Cast (voci): Rachel McAdams, Mackenzie Foy, James Franco, Jeff Bridges, Marion Cotillard, Benicio Del Toro, Paul Giamatti, Ricky Gervais, Albert Brooks, Bud Cort, Jacquie Barnbrook, Riley Osborne Produzione: Onyx Films, Orange Studio, On Entertainment Data di uscita: 01 Gennaio 2016 (cinema) Trama: Un vecchio ed eccentrico aviatore e la sua nuova vicina di casa: una bambina molto matura trasferitasi nel quartiere insieme alla madre. Attraverso le pagine del diario dell'aviatore e i suoi disegni, la bambina scopre come molto tempo prima l'aviatore fosse precipitato in un deserto e avesse incontrato il Piccolo Principe, un enigmatico ragazzino giunto da un altro pianeta. Le esperienze dell'aviatore e il racconto dei viaggi del Piccolo Principe in altri mondi contribuiscono a creare un legame tra l'aviatore e la bambina. Affronteranno insieme una straordinaria avventura, alla fine della quale la bambina avrà imparato ad usare la sua immaginazione e a ritrovare la sua infanzia. Subs iTA: Forced/Full
Language:
| Size: 346.37 MB | Seed: 189 | Leech: 24
Description:
Language:
| Size: 4.93 GB | Seed: 190 | Leech: 74
Description:
Titolo Candice Renoir Genere Drama Stagione 3 Episodi 10 Cast : Candice Renoir / Cécile Bois Antoine Dumas / Raphaël Lenglet Léo Renoir / Alexandre Ruscher Martin Renoir / Paul Ruscher Yasmine Attia / Samira Lachhab Jules Renoir / Etienne Martinelli Candice Renoir, madre di quattro figli, riprende il lavoro di poliziotta dopo un'interruzione di dieci anni a seguito di un licenziamento. Non è facile essere madre, né essere comandante di polizia, tanto meno essere una donna un po' tonda, ma grazie al suo impegno e al tuo talento riuscirà a conquistare la sua posizione e a risolvere casi sempre più difficili, grazie anche ai suoi fidati colleghi. Ep. Titolo episodio inglese Titolo episodio italiano 1 Mieux vaut l'abondance que le besoin Un segreto velenoso 2 Qui aime bien, châtie bien Un amore galeotto 3 Qui se repent, se punit soi-même Una falsa idendità 4 Les absents ont toujours tort Un tragitto mortale 5 Si ce n'est toi, c'est donc ton frère Nulla si dà per scontato 6 Il faut laver son linge sale en famille Sotto copertura 7 Charité bien ordonnée commence par soi-même Questione di umanità 8 La colère est aveugle Uno strano caso 9 Tout Homme Ressemble à sa Douleur Un caso personale 10 Les Apparences sont Souvent Trompeuses Le apparenze ingannano
Language:
| Size: 778.17 KB | Seed: 190 | Leech: 17
Description:
Vi ricordate quando Alexa McKenzie, disperatamente alla ricerca di un uomo, aveva provato a fare un incantesimo accendendo un fuoco nel salotto di casa? La sua storia d'amore e di passione con Nick sembrerebbe provare l'efficacia dell'incantesimo in questione, vero? Per questo Jennifer Probst ha deciso di condividerlo con tutti i suoi lettori, insieme a un menu studiato apposta per sedurre l'uomo o la donna della vostra vita e a un racconto inedito che vi farà entrare nell'intimità della coppia più affascinante di sempre: Alex e Nick.
Language:
| Size: 498.6 MB | Seed: 190 | Leech: 3
Description:
Lost è una serie televisiva statunitense creata da J.J. Abrams, Damon Lindelof e Jeffrey Lieber. Prodotta da ABC, Bad Robot Productions e Grass Skirt Productions, la serie è stata trasmessa negli Stati Uniti dal 2004 al 2010. La sceneggiatura è stata scritta da Abrams, Lindelof e Lieber, mentre la colonna sonora è stata composta da Michael Giacchino. Le riprese di Lost si sono svolte principalmente sull'isola di Oahu (Hawaii), e la serie è considerata una delle produzioni più costose della storia della televisione[3]. I produttori esecutivi della serie sono stati Abrams, Lindelof, Edward Kitsis, Adam Horowitz, Jack Bender e Carlton Cuse. Acclamato dal pubblico e dalla critica, Lost ha ricevuto diversi riconoscimenti, tra cui un Golden Globe e tre Emmy Award,[4] registrando un'audience di più di 16 milioni di telespettatori alle prime messe in onda di ciascun episodio della prima stagione della serie.[5]. Per questi motivi, insieme a Desperate Housewives e Grey's Anatomy, è considerata una delle serie TV che hanno riportato al successo il network televisivo statunitense ABC[6][7]. La serie è divenuta parte della cultura popolare americana ed al suo interno si possono trovare diversi riferimenti alla storia, ad opere letterarie e cinematografiche e a brani musicali. Vi sono poi riferimenti a Lost anche all'interno di film, fumetti e videogiochi.[8][9][10] L'universo immaginario della serie ha dato vita a videogiochi, libri sull'argomento e alternate reality game tra cui The Lost Experience, Find 815 e Lost University.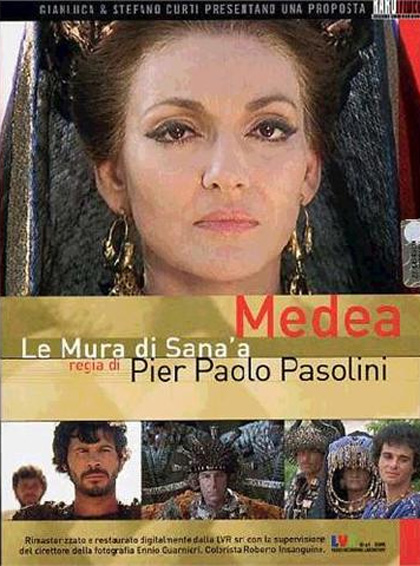 Language:
| Size: 2.8 GB | Seed: 190 | Leech: 25
Description:
ria: Film | Dimensione: 2.8 GB | Seeders: 1 | Leechers: 1 | Completato: 0 | Agiorna Titolo originale: Medea GENERE: Drammatico ANNO: 1969 REGIA: Pier Paolo Pasolini SCENEGGIATURA: Pier Paolo Pasolini ATTORI: Luigi Barbini, Gianni Brandizi, Maria Callas, Graziella Chiarcossi, FOTOGRAFIA: Ennio Guarnieri MONTAGGIO: Nino Baragli MUSICHE: Pier Paolo Pasolini, Elsa Morante PRODUZIONE: FRANCO ROSSELLINI PER SAN MARCO FILM (ROMA), LES FILMS NUMBER ONE (PARIGI),, JANUS FILM UND FERNSEHEN (FRANCOFORTE), ROSIMA ANSTALT DISTRIBUZIONE: EURO INTERNATIONAL FILM PAESE: Italia DURATA: 110 Min Il giovane Giasone, alla testa degli Argonauti, muove alla volta della remota Colchide per impadronirsi del Vello d'oro (una pelle di caprone dorata ritenuta apportatrice di potenza e fertilità), che dovrà servirgli per riscattare il trono usurpatogli dallo zio Pelia. La maga Medea, figlia del sovrano della Colchide, colpita dalla bellezza di Giasone, lo aiuta a rubare il prezioso simulacro e fugge con lui. Tornato in patria, Giasone sposa Medea e ha due figli, ma, divorato dall'ambizione, abbandona la famiglia per prendere in moglie Glauce, giovane figlia del re di Corinto. Resa folle dalla gelosia, Medea mette in atto una tremenda vendetta. ... Parole chiave: drammatico
Language:
| Size: 3.9 GB | Seed: 190 | Leech: 64
Description:
Captive is a 2015 American crime-drama thriller film directed by Jerry Jameson and written by Brian Bird and Reinhard Denke, based on the non-fiction book Unlikely Angel by Ashley Smith. A true story about Brian Nichols, who escapes from the Fulton County courthouse in Atlanta on March 11, 2005 and holds Smith as a hostage, the film stars David Oyelowo as Nichols and Kate Mara as Smith. Filming began in October 2013 in North Carolina. The film was released worldwide on September 18, 2015 by Paramount Pictures. On March 11, 2005, Brian Nichols (David Oyelowo) escapes from the Fulton County courthouse in Atlanta, during his trial involving a rape case. In the process of the escape he murders the judge presiding over his trial, Rowland Barnes, as well as court reporter Julie Brandau. He also shoots Sergeant Hoyt Teasley while escaping from the prison, and then Special Agent David G. Wilhelm at his home. Nichols becomes the subject of a citywide manhunt. His frantic escape brings him to the apartment of Ashley Smith (Kate Mara), a single mother and recovering methamphetamine addict, whom he holds hostage. Smith gets through this time inspired by Rick Warren's best-selling book The Purpose Driven Life, while Nichols searches for redemption. As she reads aloud, Ashley and her would-be killer come to a crossroads.
Language:
| Size: 1.15 GB | Seed: 190 | Leech: 4
Description:
Descripción: Título: La visita Título original: The Visit País: USA Estreno en USA: 11/09/2015 Estreno en España: 11/09/2015 Productora: Blinding Edge Pictures, Universal Pictures Director: M. Night Shyamalan Guión: M. Night Shyamalan Reparto: Kathryn Hahn, Peter McRobbie, Ed Oxenbould, Olivia DeJonge, Michelle Rose Domb, Benjamin Kanes, Erica Lynne Marszalek, Deanna Dunagan, Brian Gildea, Jon Douglas Rainey, John Buscemi, Michael Mariano, Shelby Lackman, Steve Annan, Shawn Gonzalez Calificación: No recomendada para menores de 16 años Género: Terror. Intriga | Comedia de terror. Metraje encontrado. Familia. Vida rural (Norteamérica). Cine independiente USA SINOPSIS: La Visita es un inquietante thriller que cuenta el viaje de dos hermanos durante un fin de semana para visitar a sus abuelos en una remota granja en Pensilvania. Cuando los niños descubren que la anciana pareja está metida en algo profundamente inquietante, se dan cuenta de que cada día que pasa, hay menos probabilidades de que regresen a casa. Relaccionados
Language:
| Size: 4.04 GB | Seed: 190 | Leech: 26
Description:
Horizon-FLT Genre: Action (Shooters, MMO FPS, TPS), Strategy (RTS) Platform: Windows Multiplayer: No Year: 2014 Type of publication: Language of the game: EN Crack: Description : Horizon is a turn-based space strategy game of galactic exploration and conquest in which you are in control of humanity's destiny You will explore deep space, find new frontiers and discover alien artifacts hidden on long-abandoned planets. You will also learn more about the galaxy as you come into contact with ten other species, each with their own unique culture, history and schemes A fully interactive galaxy allows you to navigate open space between stars and planets. Patrol your borders and, when the need arises, defend your territory by engaging in ship-to-ship tactical combat. Develop new colonies and then watch them become galactic centers for trade, industry and science - and of course military bases, outposts and shipyards to build your battle ships. Push your empire to its limits and go beyond the known horizon Features Advanced turn-based tactical combat which many 4X fans have been requesting for years Full Tactical ship control includes managing movement weapons and more. Board other ships, attack from planetary and orbital defenses A Distinct open world system, where ships can explore without artificial limits and where combat can span many turns before concluding Interact with alien races of different levels, including ancient civilizations featuring their own unique storyline schemes, ships and technology An immersive galaxy storyline with open-ended missions that add another layer of gameplay over classic 4x mode which is also available Engage in meaningful diplomacy choices that will impact the game outcome, includes coordinated actions with your allies against your enemies Discover more than 80 technologies each with 10 levels of upgrades. Conduct planetary surveys and dig for artifacts Design and customize your ships' weapons and systems based on available technology A detailed economy and colony management system with different types and levels of colonies based on your build choices Play in different galaxy configurations from a few dozen stars to over a hundred star systems containing more than a thousand planets Fully Customize you race or play as one of seven alien races Installation Information Burn or mount Install Play the game NOTE: As usual, block the game exe in your firewall System requirements: OS:Windows XP SP3 Processor:Intel Core 2 Duo 1.8 GHz or AMD Athlon X2 64 2.0 GHz Memory:2 GB RAM Graphics:512 MB Video Card w/Pixel Shader 3.0 Support DirectX®:9.0c Hard Drive:5 GB HD space Sound:DirectX 9.0c-compatible Size: 4.03 GB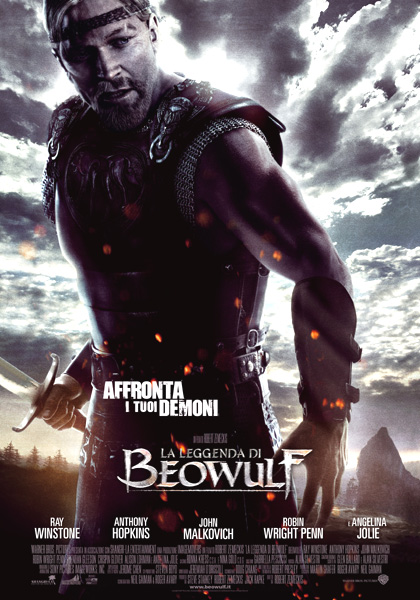 Language:
| Size: 825.08 MB | Seed: 190 | Leech: 30
Description:
Titolo originale: Beowulf Nazione: U.S.A. Anno: 2007 Genere: Azione, Fantastico Durata: 114' Regia: Robert Zemeckis Sito ufficiale: www.beowulfmovie.com Sito italiano: wwws.warnerbros.it/beowulf/... Cast: Shay Duffin, Brendan Gleeson, Crispin Glover, Anthony Hopkins, Angelina Jolie, Alison Lohman, John Malkovich, Ray Winstone, Sebastian Roché, Robin Wright Produzione: Warner Bros. Pictures, ImageMovers, Shangri-La Entertainment Data di uscita: 16 Novembre 2007 (cinema) Trama: Tratto dal poema della letteratura tedesca, Beowulf, nipote del re dei Geati, in un'epica battaglia, sconfigge il temibile demone Grendel ma dovrà fare i conti con la forza e la furia della seducente madre del mostro che grida vendetta. La battaglia che si sviluppa, renderà il nome del guerriero immortale per sempre... Parole chiave: azione fantastico
Language:
| Size: 172.8 MB | Seed: 190 | Leech: 7
Description:
Language:
| Size: 1.03 GB | Seed: 190 | Leech: 44
Description:
Mp3 320kbps Vol. 1 01. Brighton Rock (Original Master Remix) [5:12] 02. Orge Battle (BBC Remix Version) [3:59] 03. Killer Queen (Original Master Remix) [3:06] 04. Liar (BBC Master) [6:21] 05. Modern Times Rock 'n' Roll (BBC Master) [2:44] 06. Doing Alright (Smile Version) [3:46] 07. Son And Daughter (BBC Master) [5:54] 08. Keep Yourself Alive (BBC Master) [3:45] 09. Flick Of The Wrist (Single Edit) [3:26] 10. Stone Cold Crazy (BBC Master) [2:13] 11. See What A Fool I've Been (BBC Master) [4:16] 12. Now I'm Here (BBC Master) [4:14] 13. White Queen (As It Began) (BBC Master) [4:47] 14. In The Lap Of The Gods…Revisited (Sampler Edit) [3:41] 15. Funny How Love Is (Single Edit) [2:57] 16. Love Of My Life (Stand Alone Version) [3:38] 17. Bohemian Rhapsody (Original Master Remix) [6:06] 18. Carousel (Instrumental) [1:07] Vol. 2 01. Bohemian Rhapsody - Piano Version (Original Master) [6:02] 02. Fat Bottomed Girls (Malouf Mix) [4:21] 03. Tie Your Mother Down (Hollywood Remix) [3:43] 04. I'm In Love With My Car (Hollywood Remix) [3:28] 05. Death On Two Legs (The eYe Version) [3:07] 06. You're My Best Friend (Hollywood Remix) [2:50] 07. Stone Cold Crazy (Trent Reznor Remix) [3:53] 08. Sweet Lady (Live At Hyde Park 1976) [4:08] 09. You Take My Breath Away (Instrumental) [3:13] 10. Somebody To Love (Hollywood Remix) [5:01] 11. Fight From The Inside (The eYe Version) [3:02] 12. We Will Rock You (BBC Master) [4:19] 13. Get Down Make Love (Original Master Remix) [4:10] 14. Feelings, Feelings - Take 9 (Outtake) [2:01] 15. More On That Jazz (The eYe Version) [4:30] 16. It's Late (BBC Master) [6:31] 17. Sheer Heart Attack (Rock Version) [3:10] 18. Teo Torriatte (Let Us Cling Together) - Full Version (High Difinition Mix 2005) [5:51] 19. We Are The Champions (Instrumental) [2:59] Vol. 3 01. We Are The Champions (Acapella Version) [2:53] 02. We Will Rock You - Fast Version (Live At The Nippon Budokan 1979) [3:20] 03. Don't Stop Me Now (Ultra 12' Remix) [8:25] 04. Bycicle Race (Backtrack Remix) [3:01] 05. Dreamers Ball (Live From The Pavillon de Paris 1979) [4:01] 06. Crazy Little Thing Called Love (Vocal & Guitar Mix) [2:33] 07. Another One Bites The Dust (Ultra 12' Remix) [9:21] 08. Save Me (Complete Synth Demo) [3:43] 09. Save Me (Vocal Demo) [1:10] 10. Sandbox (Unreleased Version) [2:45] 11. Play The Game (Alternate Acapella Version) [2:48] 12. The Hero Flash Gordon (Movie End Credit Version) [3:46] 13. Staying Power (Promotional 12' Remix) [5:39] 14. Las Palabras De Amor (Demo Version) [4:27] 15. Action This Day (Demo Version) [3:44] 16. Backchat (Demo Version) [4:34] 17. Calling All Girls (Acapella Version) [2:02] 18. Under Pressure (Ultra 12' Remix) [4:43] Vol 4 01. Under Pressure (Naked Remix) [3:55] 02. Radio Ga Ga (Extended Version) [6:50] 03. Keep Passing The Open Windows (Extended Version) [6:47] 04. It's A Hard Life (Pianoless Mix) [4:04] 05. Man On The Prowl (Extended Version) [6:02] 06. I Want To Break Free (Vocals And Guitar Remix) [3:32] 07. Hammer To Fall (Hollywood Remix Promo Single) [4:19] 08. Is This The World We Created…? (Earthrise Version) [2:57] 09. Thank God It's Christmas (Hollywood Long Version) [4:24] 10. There Must Be More To Life Than This (Freddie And Michael Jackson) [3:09] 11. A Kind Of Magic (Extended Version) [6:24] 12. One Vision (Extended Version) [6:29] 13. You're The Only One (Piano Demo) [2:01] 14. Pain Is So Close To Pleasure (Extended Version) [6:00] 15. A Dozen Red Roses For My Darling (Extended Version) [5:03] 16. One Year Of Love (Extended Version) [6:38] 17. New York, New York (Excerpt From The Movie) [1:13] Vol. 5 01. Hammer To Fall (Multitrack Drumless Remix) [3:33] 02. Princes Of The Universe (Soundtrack Version) [4:15] 03. Gimme The Prize (The eYe Version) [4:02] 04. Friends Will Be Friends (Extended Version) [6:19] 05. Back To Storm (Demo) [2:07] 06. Who Wants To Live Forever (Freddie Vocal Vesion) [4:01] 07. The Miracle (Multitrack Remix) [5:11] 08. Breakthru (The Almost Now Edit) [3:50] 09. Hang On In There (Fiddy Jam Demo) [2:59] 10. Scandal (Remix) [4:44] 11. A New Life Is Born (Demo) [1:23] 12. I Want It All (Multitrack Remix) [4:00] 13. Dog With The Bone (Demo) [7:10] 14. The Invisible Man (Video Mix) [4:15] 15. Was It All Worth It (Instrumental) [2:30] 16. I Guess We're Falling Out (Demo) [2:38] 17. My Baby Loves Me (Demo) [3:36] 18. Hijack My Heart (Demo) [3:25] 19. Too Much Love Will Kill You (Instrumental) [4:35] 20. The Show Must Go On (Multitrack Remix) [4:23] 21. Is Everybody Happy? [0:43] Vol. 6 01. The Show Must Go On (Vocal Main Remix) [4:15] 02. Innuendo (Wind And Explosive Version) [6:56] 03. I Can't Live With You (US Promo – Brian Malouf Remix) [4:29] 04. Affairs / Grand Dame (Unreleased Demo) [5:47] 05. Headlong (Original Version) [3:04] 06. My Secret Fantasy (Unreleased Demo) [2:34] 07. Robbery (Unreleased Demo) [2:01] 08. Self Made Man (Unreleased Demo) [4:47] 09. Ride The Wild Wind (Remix) [4:44] 10. Delilah (Early Demo Version) [4:13] 11. The Hitman (Extended Instrumental) [3:32] 12. These Are The Days Of Our Lives (Promo Radio Edit) [3:55] 13. I Was Born To Love You (Instrumental) [4:50] 14. Too Much Love Will Kill You (Heart-Ache) [4:39] 15. Heaven For Everyone (Greatest Flix Video Edit) [4:41] 16. You Don't Fool Me (Dutch Single Edit) [4:37] 17. Let Me Live (Original Version) [4:46] 18. It's A Beautiful Day (Extended Remix) [4:05] 19. Tavaszi Szel Vizet Araszt (Live In Budapest 1986) [1:55]
Language:
| Size: 7.35 GB | Seed: 191 | Leech: 88
Description:
Disney Infinity 2.0 Marvel Super Heroes-DOGE Genre: Action (Shooters, MMO FPS, TPS) Platform: Windows Multiplayer: No Year: 2014 Type of publication: Language of the game: EN Crack: Available Description : anguages: MULTI (To be confirmed) Disney Infinity takes the experience to the next level with Disney Infinity 2.0: Play Without Limits for Wii U! For the first time in a game 'toys to life', explores the Marvel universe and unlock original storylines using interactive real-world figures inspired by some of the most popular Marvel franchises, including The Avengers. With more than 20 Marvel characters available such as Captain America, Iron Man, Black Widow, Thor, Hulk and Hawkeye, there are plenty of ways to overcome challenges, solve puzzles and save the world from destruction. In the Play Set mode you can jump, float, fly and climb levels brimming with adventure and fast-paced combat, and enjoy exciting acclimated iconic frames in enclaves Marvel. You can even use famous artifacts and vehicles! Improving the characters to suit your play style: select skills to make them more speed or unlock new moves to administer the necessary doses of justice to the wicked. Thor can summon lightning that will leave stunned all around, while Captain America can use your shield to create a spiral of confusion and damage to any opponent or object that stands in his way. In addition to new and epic frames Play Set mode, you can also invent your own fun with the improved Toy Box mode. Use hundreds of objects, props and characters to create unique adventures and mini-games to share with your family and friends. You can create your own games tower defense, racing and collecting items, or use the Auto Creator tool that will give you a starting point to create and customize a game until you have the perfect Disney magic point. All figures toys and Power Discs of the first Disney Infinity can be used with the new content of Disney Infinity 2.0 in the Toy Box mode so you can play and create custom levels with any figure or accessories Disney Infinity universe. You can take Disney Infinity 2.0 the figures that you used with the first Disney Infinity with all your stats and intact improvements; Disney Infinity 2.0 may even get to level 20 and benefit from improved skills thanks to the skill tree. System requirements: Size: 7.35 GB
Language:
| Size: 188.14 MB | Seed: 191 | Leech: 19
Description:
Goat Simulator XBLA XBOX360-LiGHTFORCE Genre: Action (Shooters, MMO FPS, TPS) Platform: XBOX 360 Multiplayer: No Year: 2014 Type of publication: Language of the game: EN Crack: Available Description : Goat Simulator is the latest in goat simulation technology, bringing next-gen goat simulation to YOU. You no longer have to fantasize about being a goat, your dreams have finally come true! WASD to write history. System requirements: Size: 188 MB
Language:
| Size: 1.41 GB | Seed: 191 | Leech: 52
Description:
Genres: Adventure | Comedy | Family | Fantasy Quality: 3D (Resolution: 1920 x 1080) Size: 1.41 GB Frame Rate: 23.976 fps Runtime: 85 minutes / 01 h 25 m Language: English Released Date: 10 February 2011 MPR: PG IMDB Rating: 4.9 TomatoMeter: 21% Audience Score: 27% Seeds: 3 Peers: 0 Stream Movie Download Magnet Stillman, Nicholas Stoller, Jonathan Swift Cast: Jack Black, Jason Segel, Emily Blunt, Amanda Peet, Billy Connolly, Chris O'Dowd, T.J. Miller, James Corden, Catherine Tate Movie Description: Lemuel Gulliver has been working in the mail room of a New York daily newspaper for the past ten years. Afraid to put himself out there, he considers himself a loser, as do all his peers. One day, after having finally had enough, he decides to declare his flame to the beautiful Darcy Silverman, the newspaper's travel editor and one of Gulliver's only friends...only to chicken out at the last minute and instead tell her that he'd like to try his hand at writing a column. Darcy accepts and sends him on an assignment to the Bermuda Triangle. There, Gulliver becomes shipwrecked and ends up on the island of Liliput, where he is twelve taller than the tallest man. For the first time, Gulliver has people looking up to him... Screenshots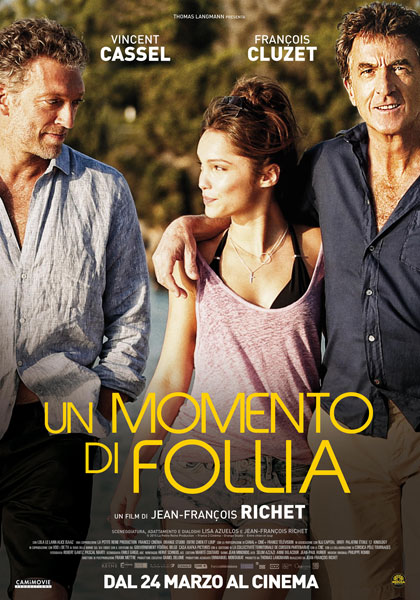 Language:
| Size: 9.71 GB | Seed: 191 | Leech: 21
Description:
Titolo originale: Un moment d'égarement Nazione: Francia Anno: 2015 Genere: Commedia Durata: 105' Regia: Jean-François Richet Cast: Vincent Cassel, François Cluzet, Alice Isaaz, Lola Le Lann Produzione: Entre Chien et Loup, La Petite Reine Data di uscita: 24 Marzo 2016 (cinema) Trama: Antoine e Laurent sono amici di lunga data e, come di consueto, decidono di passare le loro vacanze insieme in Corsica con le loro rispettive figlie: Louna, di diciassette anni, e Marie, che ne ha già compiuti diciotto. Ma Louna si invaghisce del padre della sua amica ed una sera sulla spiaggia decide di sedurlo. Per lei è subito amore ma per Laurent non è stato altro che un momento di follia... Parole chiave: commedia dvd
Language:
| Size: 10.11 GB | Seed: 191 | Leech: 45
Description:
Title: One Piece Pirate Warriors 3 PROPER-CODEX Genre: Action (Shooters, MMO FPS, TPS) Platform: Windows Multiplayer: No Year: 2015 Type of publication: Language of the game: EN Crack: Description : ADVENTURES OF LUFFY AND HIS STRAW HAT CREW ARE COMING TO PC! Enjoy the original story of ONE PIECE from Fuschia village, where everything has started, to the kingdom of Dressrosa, a mysterious island dominated by the evil Donquixote.Doflamingo. Will your resolution be strong enough to defeat the most dangerous pirates, including Doflamingo and many more? Installation: - Burn or mount the .iso - Run setup.exe and install - Copy crack from CODEX dir to installdir - Play PROPER Notes: RELOADED release is incomplete. General Notes: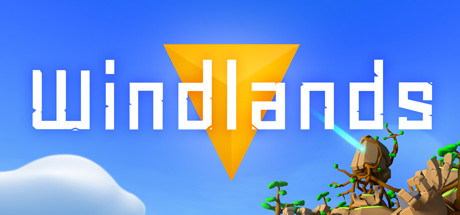 Language:
| Size: 1.13 GB | Seed: 191 | Leech: 43
Description:
1. Unrar 2. Start Launcher.exe for play The game no need Crack! IF YOU LIKE IT BUY THE GAME FOR SUPPORT THE DEVELOPER! A first person grappling hook exploration game. Soar through the ruins of a fallen world and discover the secrets of the ancients. Windlands has been developed primarily for Virtual Reality headsets, but is also a great experience for those without headsets. It appeals to those who want to explore the breathtaking vistas at a relaxing pace, while the challenging routes attract gamers who like to master the skill of soaring through the towering environments at top speed. Gameplay Features Designed and built for Virtual Reality First. Grappling Hooks Focused Movement. Variety of expansive levels that reward exploration. Multiple routes provide a range of optional challenges. Optional Skill based, Speed Runs and Time Trials with Leaderboards. Goal Driven Gameplay with Easy (Hook Anything), Normal and Hard Modes. Collectibles that reward exploration and completionism. Calm, Positive, Pressure-Free, Non-Violent, Zen like relaxing play. WARNING: Windlands is an intense (but awesome) experience in VR, it takes time to get your VR Legs, please take baby steps if you are sensitive to locomotion in VR play in very short sessions and perhaps try cages, sitting down and a controller if you are still effected, the second you feel a bit of nausea please stop and take a break System Requirements Windows Mac OS X MINIMUM: OS: Windows 7 SP1 or newer Processor: Dual Core 2.33 GHz Intel or 3.0 GHz AMD Memory: 4 GB RAM Graphics: Geforce GTX 8800, AMD Radeon 4850 or Intel HD Graphics 5200 or better (1GB graphics memory or more. Shader Model 3.0 needs to be supported). Minimum supported resolutions 1280×720 and 1024×768. DirectX: Version 11 Storage: 3 MB available space Sound Card: Direct X Compatible Additional Notes: This is for 2D standard version, VR version higher req as per Oculus standards
Language:
| Size: 1.46 GB | Seed: 192 | Leech: 74
Description:
Titolo originale: Cybernatural Nazione: U.S.A. Anno: 2014 Genere: Horror Durata: 82' Regia: Levan Gabriadze Trama: Sia che si tratti di un casuale aggiornamento di stato, di una foto di famiglia condivisa o di un breve video di amici, la comunicazione moderna ha reso le nostre vite, quella reale e quella virtuale, inscindibili. E se la maggior parte del flusso di contenuti digitali che riceviamo e condividiamo ogni ora é apprezzato ed emozionante, un'altra parte é invece profondamente preoccupante. A volte persino mortale. Inaugurando una nuova era dell'horror, Unfriended segue quello che accade quando un'innocente scherzo avvenuto online dà il via a una sequenza di eventi che porteranno ad una spirale fuori controllo. Il film esplora in prima persona il terrore che può emergere quando le nostre esperienze connesse si trasformano nelle nostre paure più mortali.... Video: MPEG4 Video (H264) 1920x1080 23.976fps Eng Audio: Dolby AC3 48000Hz 6ch 384kbps Ita Audio: AAC 48000Hz stereo Eng Subtitle: UTF-8 Ita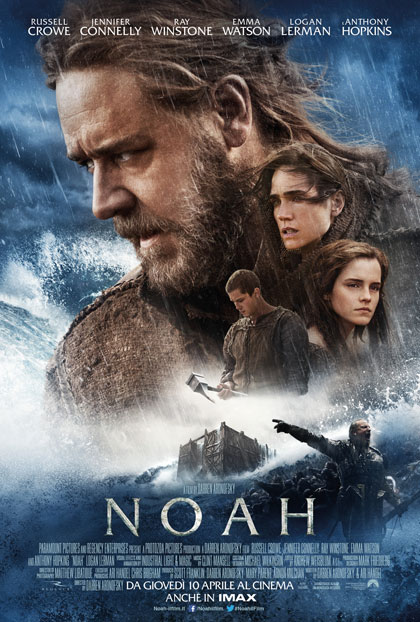 Language:
| Size: 2.36 GB | Seed: 192 | Leech: 32
Description:
TITOLO ORIGINALE: Noah PAESE: USA ANNO: 2014 GENERE: Biblico, Drammatico, Epico, Fantastico DURATA: 02:17:53 REGIA: Darren Aronofsky ATTORI: Russell Crowe, Jennifer Connelly, Logan Lerman, Douglas Booth, Emma Watson, Ray Winstone, Anthony Hopkins, Kevin Durand, Marton Csokas, Dakota Goyo DATA USCITA: 10 Aprile 2014 (cinema) DRAMA : Ispirato ad una storia di coraggio, sacrificio, speranza e redenzione, Darren Aronofsky porta sul grande schermo "Noah". L'attore premio Oscar Russell Crowe interpreta Noè, il prescelto da Dio per intraprendere una missione epocale di salvezza, prima che un diluvio apocalittico distrugga il mondo. Mai prima d'ora l'intero racconto epico è stato portato in vita sul grande schermo in modo così avvincente, invitando gli spettatori ad assistere a questi eventi spettacolari attraverso gli occhi e le emozioni di Noè e della sua famiglia, in un cammino fatto di paura e fede, distruzione e trionfo, avversità e speranza. VIDEO: 1024 x 554 (1.85:1), 23.976 fps, AVC ~1812 kbps AUDIO: 48 kHz, AC3 Dolby Digital, 3/2 (L,C,R,l,r) + LFE ch, ~640 kbps VALUTAZIONE: RECENSIONI: Mymovies Mostra/Nascondi Spoiler REPORT Parole chiave: biblico dramma epico fantascienza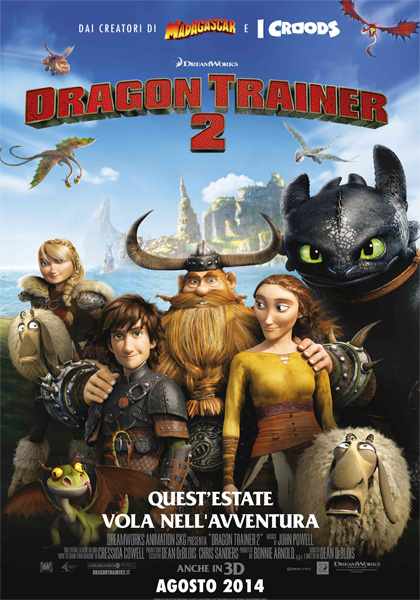 Language:
| Size: 7.63 GB | Seed: 192 | Leech: 35
Description:
Titolo originale: How to Train Your Dragon 2 Nazione: U.S.A. Anno: 2014 Genere: Animazione Durata: 105' Regia: Dean DeBlois Sito ufficiale: www.howtotrainyourdragon.com Sito italiano: www.dragontrainer-ilfilm.it Social network: facebook Cast (voci): Jonah Hill, Gerard Butler, Kristen Wiig, Jay Baruchel, Christopher Mintz-Plasse, America Ferrera, Craig Ferguson, T.J. Miller Produzione: DreamWorks Animation, Mad Hatter Entertainment, Vertigo Entertainment Distribuzione: Twentieth Century Fox Data di uscita: 11 Agosto 2014 (anteprima) 16 Agosto 2014 (cinema) Trama: Questo emozionante secondo capitolo della trilogia epica si svolge cinque anni dopo che il giovane eroe vichingo Hiccup ha fatto amicizia con un drago ferito, evento che ha cambiato per sempre il rapporto tra gli abitanti di Berk e gli sputafuoco. Ora vichinghi e draghi vivono pacificamente fianco a fianco nella fantastica isola che и diventata il paradiso dei draghi. Quando all'orizzonte si profilano le responsabilitа della vita adulta, Hiccup e il fedele drago Sdentato spiccano il volo in cerca di risposte, ma quel che scoprono va di gran lunga oltre ogni immaginazione: un drago guidato da un misterioso cavaliere che, come scopre il ragazzo, и Valka, la madre che lui credeva morta, e la rivelazione che la pace tra draghi e vichinghi и minacciata dall'avido Drago, che intende conquistare il potere con l'aiuto del cacciatore di draghi Eret, figlio di Eret. Mentre Astrid, Skaracchio e gli amici vichinghi Moccicoso, Gambedipesce e i gemelli Testabruta e Testaditufo danno manforte, Hiccup, la madre e il padre, nonchй capo della tribu, Stoick l'Immenso devono mettercela tutta per proteggere i draghi che hanno imparato ad amare. E nel corso degli eventi, Hiccup troverа le risposte che cercava in un modo che non avrebbe mai immaginato. 8,1/10 IMDB Mostra/Nascondi Spoiler INFO
Language:
| Size: 639.19 MB | Seed: 192 | Leech: 95
Description:
Dal 2009 la Showtime mette a disposizione nel suo sito, con cadenza settimanale, dei webisode che raccontano alcune delle avventure di Dexter avvenute prima dell'inizio della serie. Una seconda stagione della serie web intitolata Dexter: Early Cuts: Dark Echo, una storia in sei capitoli, è iniziata il 25 Ottobre 2010. Questa serie di miniepisodi racconta alcune avventure di Dexter avventute prima dell'inizio della serie (la prima stagione) e dopo la morte del padre adottivo di Dexter (la seconda serie).
Language:
| Size: 2.54 GB | Seed: 192 | Leech: 33
Description:
Debutta in Italia la serie vincitrice di 3 Emmy Awards prodotta da David Fincher ("Fight Club" e "Il curioso caso di Benjamin Button"), interpretata da Kevin Spacey (premio Oscar nel 2000) e Robin Wright che, per la sua interpretazione in questa serie, si e' aggiudicata un Golden Globe. La serie, ambientata a Washington, e' ispirata al primo capitolo della trilogia di romanzi politici di Michael Dobbs, ex parlamentare britannico. La storia raccontata e' quella di Frank Underwood (Kevin Spacey), uno spietato politico della Carolina del Sud che mira al posto piu' ambito di Washington DC: quello di Segretario di Stato. Non ambisce di certo a caso a quella posizione, dato che Underwood ha avuto un ruolo molto particolare nella campagna elettorale che ha portato Garret Walker (Michael Gill) a diventare il nuovo Presidente degli Stati Uniti d'America. Non appena insediato alla Casa Bianca, Walker mandera' in fumo i sogni di gloria di Underwood, che si sentira' dire dal portavoce del suo entourage, Linda Vasquez (Sakina Jaffrey), che il posto non e' piu' suo e che dovra' rimanere al Congresso. Sostenuto e spronato dalla moglie Claire (Robin Wright), ambiziosa quanto se non piu' di lui, Frank iniziera' a muovere le sue pedine per raggiungere la carica che gli spetta. Segreti, rivelazioni top secret e scandali talmente importanti che potrebbero sovvertire l'ordine delle cose. La serie e' stata adattata e prodotta negli Stati Uniti per Netflix da un team di creativi di prim'ordine: David Fincher, Beau Willimon (screenwriter di lunga data, suo e' il soggetto de "Le Idi di Marzo") e Kevin Spacey che, oltre ad interpretare il ruolo principale, e' entrato nel progetto come co-produttore. La politica per Fincher e Spacey e' questo: un gioco cinico e spietato che si gioca quasi esclusivamente dietro le quinte. La forza di questa serie sta in una sceneggiatura brillante, in monologhi che fanno gia' storia, nella grandezza di tutto il cast, sebbene Spacey spicchi nel vestire i panni dell'impassibile e intelligentissimo uomo politico che non lascia lo spettatore vittima passiva di pomposi dialoghi dai ritmi lenti, ma lo rende partecipe guardandolo in faccia, voltandosi verso la telecamera e spiegandogli la verita' piu' sporca, senza alcun tipo di emozione, mostrandogli gli intrighi della politica e il segreto dei segreti: il potere
Language:
| Size: 1.01 GB | Seed: 192 | Leech: 62
Description:
Descripción: Título original: Persecuted Año: 2014 Duración: 91 min. País: Estados Unidos Estados Unidos Director: Daniel Lusko Guión: Daniel Lusko Música: Chris Ridenhour Fotografía: Richard J. Vialet Reparto: James Remar, Dean Stockwell, Raoul Trujillo, Bruce Davison, Fred Dalton Thompson, Gretchen Carlson, David House, Cyd Schulte, Natalie Grant, Jaime Powers, Mark Sivertsen, Sage Bell, Debrianna Mansini, Richard Daniel Williams, Ashley LaRae Productora: Indieproduction / One Media / Vocal Yokels Género: Acción. Thriller. Intriga. Drama | Crimen. Religión Sinopsis John Luther es un popular predicador evangelista que se mantiene como la última barrera a la reforma religiosa en los Estados Unidos. Cuando un senador da la orden de detener a Luther acusado del asesinato de una niña inocente, Luther debe escapar rápidamente para descubrir la verdad. Relaccionados
Language:
| Size: 3.54 GB | Seed: 192 | Leech: 39
Description:
Section: Films/Séries/Vidéos Sous-Section: Films Titre: La Ligue des justiciers vs les Teen Titans Titre Original Justice League vs Teen Titans Genre: Action, Animation, Année: 2016 Release: Justice League vs Teen Titans 2016 FRENCH 1080p BluRay x264 Wita Qualité: HDrip 1080 [Rip HD depuis Bluray] Langue: Français (VFF/Truefrench) Système: TV/PC/Platine/Lecteur Multimédia/etc Type: 2D (Standard) Taille: 3.54 GB Info Hash: 2b81c524eadc7ce8132bca0d4332f83d094b97eb Uploadeur: sniperstef
Language:
| Size: 3.2 GB | Seed: 192 | Leech: 94
Description:
Section: Films/Séries/Vidéos Sous-Section: Films Titre: Creed - L'Héritage de Rocky Balboa Titre Original Creed Genre: Drame, Année: 2015 Release: Creed 2015 FRENCH HDLight 1080p x264 AC3 Wita Qualité: HDlight 1080 [Rip HD-léger depuis source HD] Langue: Québécois (VFQ/French) Système: TV/PC/Platine/Lecteur Multimédia/etc Type: 2D (Standard) Taille: 3.2 GB Info Hash: 1ff5b46f72ee0f1bc89b255c06ce636332428d1b Uploadeur: sniperstef
Language:
| Size: 712.84 MB | Seed: 192 | Leech: 90
Description:
Stagione 2/2 Episodi: 15 Italia: 06/01/2016 al (In Corso) Usa: 11/09/2015 al 18/12/2015 GENERE: Horror IDEATORE: Karl Schaefer, Craig Engler ATTORI: Kellita Smith, DJ Qualls, Keith Allan, Anastasia Baranova, Russell Hodgkinson, Michael Welch, Pisay Pao, Nat Zang, Matt Cedeño, Tom Everett Scott, Harold Perrineau ANNO: 2014 PAESE: USA PRODUZIONE: The Asylum, Go2 Digital Media DURATA: 44 Min STATO: In Lavorazione Un'apocalisse zombie ha devastato il mondo, lasciando pochi sopravvissuti. Tre anni dopo lo scoppio dell'epidemia, alcuni di loro devono attraversare il Paese e affrontare numerose insidie per accompagnare Murphy, l'unico sopravvissuto immune al virus conosciuto, in California, presso l'unico laboratorio di ricerca ancora operativo. Grazie agli anticorpi nel suo sangue si può ricavare un vaccino, l'ultima speranza per l'umanità. Tuttavia, oltre ai pericoli di un mondo fuori controllo, Murphy nasconde un oscuro segreto che li minaccia. 9. Roswell - RoZwell REGIA: Jason McKee SCENEGGIATURA: Craig Engler DURATA: 44 Min 10. Uomo o zombie? - We Were Nowhere Near the Grand Canyon REGIA: Juan A. Mas SCENEGGIATURA: Eric Bernt DURATA: 44 Min
Language:
| Size: 1.57 GB | Seed: 192 | Leech: 69
Description:
Alone in Berlin - Lettere da Berlino (2016).H264.Italian.English.Ac3.5.1.sub.ita.NUita.eng.iCV-MIRCrew [center] [color=red][b][img]http://s23.postimg.org/b9yhws27f/0sc_Del1.png[/img] [u]NO FOUND ONLY ORIGINAL RELEASE[/u] [img]http://i.imgur.com/GDNQx1Z.png[/img] My release is always in double track audio italian and Original audio for select it use VLC or dvd player home not use wmp Lettere da Berlino - Alone in Berlin (2016) [img]https://extraimage.net/images/2017/02/02/d3732b7331050c791aeaf89498019afe.png[/img] [URL=http://www.imdb.com/title/tt3026488/][IMG]http://www.userlogos.org/files/logos/Sucka/imdb_new.png[/IMG][/URL] [img]http://i.imgur.com/fGu1rKv.png[/img] GENERE: Drammatico ANNO: 2016 REGIA: Vincent Perez SCENEGGIATURA: Achim Von Borries, Bettine von Borries FOTOGRAFIA: Christophe Beaucarne MONTAGGIO: François Gédigier MUSICHE: Alexandre Desplat PRODUZIONE: X-Filme Creative Pool, FilmWave, Master Movies DISTRIBUZIONE: Videa PAESE: Gran Bretagna, Francia, Germania DURATA: 103 Min [img]http://i.imgur.com/W7kBqiE.png[/img] Emma Thompson, Daniel Bruehl, Brendan Gleeson, Mikael Persbrandt, Louis Hofmann [img]http://i.imgur.com/bFK3ggF.png[/img] Berlino 1940. La città è paralizzata dalla paura. Otto e Anna Quangel sono una coppia appartenente alla classe operaia che vive in un appartamento malmesso e che, come tutti, cerca di stare alla larga dai guai durante la dominazione nazista..................... [img]http://i.imgur.com/48xHWWH.png[/img] Berlin, 1940. Working class couple Otto and Anna Quangel receive the news that their only son has lost his life in the battlefield and decide to resist the Nazi regime in their very own way. Soon the Gestapo is hunting "the threat" [img]http://i.imgur.com/K8bfNTy.png[/img] [url=https://extraimage.net/image/2bOA][img]https://extraimage.net/images/2017/02/02/b84f79ddd49fee0bdfad2f6e62e8dc86.th.png[/img][/url] [url=https://extraimage.net/image/2bOv][img]https://extraimage.net/images/2017/02/02/706d5b12bf45d1c11853c630ec833ce4.th.png[/img][/url] [url=https://extraimage.net/image/2bOW][img]https://extraimage.net/images/2017/02/02/6a66a85010bbf3a797cbc658cda29b1a.th.png[/img][/url] [img]http://i.imgur.com/aVrMohH.png[/img] [spoiler] General Unique ID : 108617434378403789589157854593791184159 (0x51B6F4F9B45A555C575A8F17744A4D1F) Complete name : Lettere da Berlino - Alone in Berlin (2016).H264.ita.eng.sub.ita.iCV-MIRCrew.mkv Format : Matroska Format version : Version 2 File size : 1.57 GiB Duration : 1h 43mn Overall bit rate : 2 181 Kbps Movie name : VISIT www.icv-crew.org Encoded date : UTC 2017-01-29 12:49:58 Writing application : Lavf54.63.100 Writing library : Lavf54.63.100 COPYRIGHT : robbyrs Video ID : 1 Format : AVC Format/Info : Advanced Video Codec Format profile :
[email protected]
Format settings, CABAC : Yes Format settings, ReFrames : 2 frames Codec ID : V_MPEG4/ISO/AVC Duration : 1h 43mn Bit rate : 1 280 Kbps Width : 720 pixels Height : 304 pixels Display aspect ratio : 2.40:1 Frame rate mode : Variable Frame rate : 24.000 fps Color space : YUV Chroma subsampling : 4:2:0 Bit depth : 8 bits Scan type : Progressive Bits/(Pixel*Frame) : 0.244 Stream size : 918 MiB (57%) Writing library : x264 core 130 r2273 Encoding settings : cabac=1 / ref=2 / deblock=1:0:0 / analyse=0x1:0x131 / me=hex / subme=7 / psy=1 / psy_rd=1.00:0.00 / mixed_ref=0 / me_range=16 / chroma_me=1 / trellis=1 / 8x8dct=0 / cqm=0 / deadzone=21,11 / fast_pskip=1 / chroma_qp_offset=-2 / threads=12 / lookahead_threads=2 / sliced_threads=0 / nr=0 / decimate=1 / interlaced=0 / bluray_compat=0 / constrained_intra=0 / bframes=3 / b_pyramid=0 / b_adapt=1 / b_bias=0 / direct=3 / weightb=1 / open_gop=0 / weightp=2 / keyint=240 / keyint_min=24 / scenecut=40 / intra_refresh=0 / rc_lookahead=40 / rc=2pass / mbtree=1 / bitrate=1280 / ratetol=1.0 / qcomp=0.60 / qpmin=10 / qpmax=69 / qpstep=4 / cplxblur=20.0 / qblur=0.5 / vbv_maxrate=24000 / vbv_bufsize=24000 / nal_hrd=none / ip_ratio=1.40 / aq=1:1.00 Language : English Default : Yes Forced : No DURATION : 01:43:20.792000000 NUMBER_OF_FRAMES : 148819 NUMBER_OF_BYTES : 7483920255 _STATISTICS_WRITING_APP : mkvmerge v8.7.0 ('All of the above') 64bit _STATISTICS_WRITING_DATE_UTC : 2017-01-28 10:15:55 _STATISTICS_TAGS : BPS DURATION NUMBER_OF_FRAMES NUMBER_OF_BYTES Audio #1 ID : 2 Format : AC-3 Format/Info : Audio Coding 3 Mode extension : CM (complete main) Codec ID : A_AC3 Duration : 1h 43mn Bit rate mode : Constant Bit rate : 448 Kbps Channel(s) : 6 channels Channel positions : Front: L C R, Side: L R, LFE Sampling rate : 48.0 KHz Bit depth : 16 bits Compression mode : Lossy Delay relative to video : 1mn 5s Stream size : 331 MiB (21%) Title : AC3 ITA Language : Italian Default : No Forced : No DURATION : 01:43:20.896000000 NUMBER_OF_FRAMES : 193778 NUMBER_OF_BYTES : 496071680 _STATISTICS_WRITING_APP : mkvmerge v8.7.0 ('All of the above') 64bit _STATISTICS_WRITING_DATE_UTC : 2017-01-28 10:15:55 _STATISTICS_TAGS : BPS DURATION NUMBER_OF_FRAMES NUMBER_OF_BYTES Audio #2 ID : 3 Format : AC-3 Format/Info : Audio Coding 3 Mode extension : CM (complete main) Codec ID : A_AC3 Duration : 1h 43mn Bit rate mode : Constant Bit rate : 448 Kbps Channel(s) : 6 channels Channel positions : Front: L C R, Side: L R, LFE Sampling rate : 48.0 KHz Bit depth : 16 bits Compression mode : Lossy Delay relative to video : 1mn 5s Stream size : 331 MiB (21%) Title : AC3 ENG Language : English Default : No Forced : No DURATION : 01:43:20.896000000 NUMBER_OF_FRAMES : 193778 NUMBER_OF_BYTES : 496071680 _STATISTICS_WRITING_APP : mkvmerge v8.7.0 ('All of the above') 64bit _STATISTICS_WRITING_DATE_UTC : 2017-01-28 10:15:55 _STATISTICS_TAGS : BPS DURATION NUMBER_OF_FRAMES NUMBER_OF_BYTES Text #1 ID : 4 Format : UTF-8 Codec ID : S_TEXT/UTF8 Codec ID/Info : UTF-8 Plain Text Title : REGULAR Language : Italian Default : No Forced : No DURATION : 01:31:52.958000000 NUMBER_OF_FRAMES : 621 NUMBER_OF_BYTES : 24956 _STATISTICS_WRITING_APP : mkvmerge v8.7.0 ('All of the above') 64bit _STATISTICS_WRITING_DATE_UTC : 2017-01-28 10:15:55 _STATISTICS_TAGS : BPS DURATION NUMBER_OF_FRAMES NUMBER_OF_BYTES Text #2 ID : 5 Format : UTF-8 Codec ID : S_TEXT/UTF8 Codec ID/Info : UTF-8 Plain Text Title : NON UDENTI Language : Italian Default : No Forced : No DURATION : 01:33:26.167000000 NUMBER_OF_FRAMES : 638 NUMBER_OF_BYTES : 25413 _STATISTICS_WRITING_APP : mkvmerge v8.7.0 ('All of the above') 64bit _STATISTICS_WRITING_DATE_UTC : 2017-01-28 10:15:55 _STATISTICS_TAGS : BPS DURATION NUMBER_OF_FRAMES NUMBER_OF_BYTES Menu 00:00:00.000 : :00:00:00.000 00:07:24.917 : :00:07:24.917 00:14:25.333 : :00:14:25.333 00:20:23.125 : :00:20:23.125 00:25:54.167 : :00:25:54.167 00:34:36.417 : :00:34:36.417 00:43:14.125 : :00:43:14.125 00:50:51.958 : :00:50:51.958 00:58:42.500 : :00:58:42.500 01:04:15.333 : :01:04:15.333 01:11:31.292 : :01:11:31.292 01:15:56.375 : :01:15:56.375 01:20:51.458 : :01:20:51.458 01:26:34.583 : :01:26:34.583 01:31:54.542 : :01:31:54.542 01:35:49.000 : :01:35:49.000 [/spoiler] [/color][/b][/center]