Language:
| Size: 2.34 GB | Seed: 3 | Leech: 0
Description:
Mentre il commissario Juve viene insignito della legion d'onore per la lotta contro Fantômas, ormai sparito nel nulla da un anno, questi si rifà vivo e rapisce uno scienziato da un centro di ricerca. Il suo progetto criminale lo vede impegnato a recuperare le informazioni di due insigni scienziati francesi che stanno studiando la potenza delle "onde telepatiche". Rapito il primo, a Fantomas manca di rapire il professor Le Fevres, ma il giornalista Fandor, sempre alla caccia dello scoop su Fantomas, si sostituisce a lui causando gravi inconvenienti sia ai rapitori sia alla polizia francese la quale in incognito, cerca di sorvegliare Le Fevres. Mentre Fandor, nei panni di Le Fevres, giunge a Roma per un congresso, il vero professore si mostra irritato da alcuni interventi goffi del suo alter ego durante un'intervista televisiva. Al convegno Fantomas mette in atto il suo piano di sequestro e, ignaro dell'inganno del giornalista ora alleato con il commissario Juve, indossa anche lui la maschera dello scienziato. Scaturisce così una buffa baraonda dove Fantomas fugge insieme a Helen, la fidanzata di Fandor, scambiandolo lei per il suo compagno, con il vero professore che arriva proprio sul più bello e che viene tempestivamente rapito dagli uomini di Fantomas. Il commissario Juve viene arrestato e portato in manicomio. Helen viene ricattata da Fantomas, che ha sequestrato suo fratello adolescente ma ha lasciato lei libera. Il criminale organizza una festa in maschera per completare la serie sequestrando anche i suoi nemici giurati, Fandor e Juve. I protagonisti si ritrovano in un laboratorio segreto di Fantomas dove vi lavorano gli scienziati sequestrati. Con l'aiuto di alcuni gadget del commissario e con gli scienziati stessi, riescono a capovolgere la situazione, avvalendosi anche di un'arma a onde telepatiche che funziona entro un raggio di 14 metri. Fantomas si vede contretto a fuggire, prima a piedi, sulle pendici di un vulcano, poi in macchina, con la Citroën DS bianca. Fandor e Juve riescono a procurarsi una jeep per inseguirlo ma il criminale, in una scena epica, raggiunge la pista di un aeroporto e trasforma la propria auto in un piccolo velivolo, alzandosi in volo. I due inseguitori allora prendono in ostaggio il pilota di un aereo e lo costringono a decollare. Nei cieli alcuni disguidi fanno sì che il commissario apra il portellone dell'aereo e ne voli fuori. Fandor si lancia con il paracadute per trarlo in salvo mentre Fantomas dal cielo contempla divertito la scena.
Language:
| Size: 2.02 GB | Seed: 2 | Leech: 0
Description:
Il film, ambientato nella Francia del XVII secolo, continua la saga di Angelica che, viaggiando per mare cercando di raggiungere il marito Jeoffrey in precedenza creduto morto, viene catturata dai pirati e venduta come schiava. Comprata a sua insaputa proprio dal marito, divenuto un pirata temibile e ricchissimo con lo preudonimo de "il Rescator", viene rapita per la seconda volta dai corsari. Riusciranno lei e l'amato Joffrey a riunirsi?
Language:
| Size: 837.71 MB | Seed: 3 | Leech: 0
Description:
Emilie è una ragazza che si occupa dei due nipoti, figli di sua sorella Berry che si trova in carcere con l'accusa di detenzione di droga. Vuole evitare che Ruth Doyle, assistente sociale, li dia in affidamento. Alla fine Emilie decide di scappare con i bambini sulla sua vecchia auto, pur non avendo idea di cosa fare di preciso. I tre arrivano nella sonnecchiosa cittadina di Bethlehem, dove trascorrono la notte al riparo dalla rigida temperatura invernale in una casa abbandonata, in cui passeranno il Natale. L'agente di polizia Nathan Blair, credendo Emilie la proprietaria della casa, le presta aiuto. Tra i due nasce una simpatia destinata a trasformarsi in altro, non fosse che la verità emerge...
Language:
| Size: 1.44 GB | Seed: 6 | Leech: 0
Description:
From the beloved novels by Michael Bond and producer David Heyman (HARRY POTTER), PADDINGTON tells the story of the comic misadventures of a young Peruvian bear (voiced by Firth) who travels to the city in search of a home. Finding himself lost and alone, he begins to realize that city life is not all he had imagined - until he meets the kindly Brown family who read the label around his neck that says "Please look after this bear. Thank you," and offer him a temporary haven. It looks as though his luck has changed until this rarest of bears catches the eye of a museum taxidermist. Rated: PG (for mild action and rude humor) Genre: Comedy / Family Directed by: Paul King Written by: Paul King, Hamish McColl Release Date: Jan 16, 2015 (USA) Runtime: 95 minutes Studio: The Weinstein Company Site Web: Official Site / Facebook / Twitter / Instagram / Pinterest CAST PADDINGTON
Language:
| Size: 1.45 GB | Seed: 5 | Leech: 0
Description:
Adriano, soldato presso una base aerea, si reca a Parigi per una breve licenza da trascorrere in compagnia della fidanzata Agnese. Contemporaneamente due individui rubano in un museo una preziosa statuetta e rapiscono il professor Catalan che, insieme ad altri due studiosi, aveva scoperto i resti di un'antica civiltà. Agnese, figlia di uno dei tre esploratori, morto in circostanze misteriose, è colpita dalla notizia della scomparsa del professore. Quando Adriano arriva a casa di Agnese scopre che anche la ragazza è stata rapita. Senza esitare, si pone all'inseguimento dei rapitori che raggiunge all'aeroporto. Per non perderli, Adriano s'imbarca sul loro aereo diretto a Rio de Janeiro. All'arrivo i rapitori lo catturano per ucciderlo, ma l'intervento di un ragazzo lo salva. Adriano riesce a liberare Agnese e, dopo una serie di mirabolanti avventure, i due smascherano il professore Catalan, che è l'autore del furto e di alcuni omicidi compiuti allo scopo d'entrare in possesso di una favolosa ricchezza. Catalan muore in un incidente ed Agnese e Adriano possono finalmente tornare a Parigi. AUTORE admin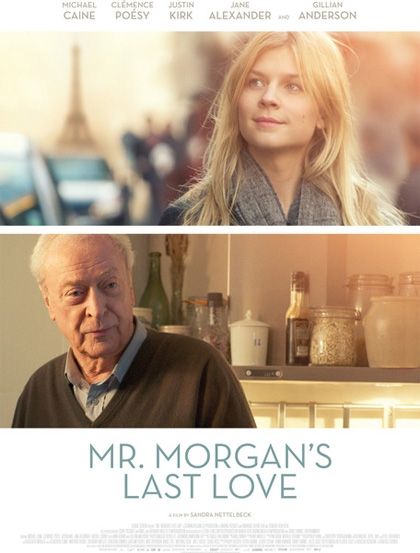 Language:
| Size: 1.37 GB | Seed: 2 | Leech: 0
Description:
Titolo originale: Mr. Morgan's Last Love Nazione: Germania, Belgio Anno: 2013 Genere: Commedia, Drammatico Durata: 116' Regia: Sandra Nettelbeck Cast: Michael Caine, Clйmence Poйsy, Gillian Anderson, Justin Kirk, Jane Alexander, Anne Alvaro, Michelle Goddet, Richard Hope, Christelle Cornil, Yannick Choirat Produzione: Kaminski.Stiehm.Film GmbH, Bavaria Pictures, Senator Film, Scope Pictures, Sidney Kimmel Entertainment, Elzйvir Films, SCOPE Invest Distribuzione: Officine Ubu Data di uscita: 10 Aprile 2014 (cinema) Trama: Dal giorno in cui Pauline gli dа una mano sull'autobus, Matthew Morgan, testardo e annoiato dalla vita, ritorna piano piano alla felicitа. Totalmente conquistato dalla vitalitа disarmante e dall'incrollabile ottimismo della giovane donna, il silenzioso insegnante diventa un improbabile studente di vita. Nelle loro avventure giornaliere fatte di passeggiate per Parigi, pranzi al parco e viaggi in campagna, la strana coppia esplora il tesoro dell'amicizia, il conforto della compagnia, il gusto del romanticismo e il vero significato della famiglia. Ritrovando la fiducia negli affetti, Pauline abbraccia l'idea di un nuovo tipo di famiglia, mentre Matthew riallaccia finalmente i rapporti con il figlio Miles, che a sua volta si ritrova molto influenzato dai cambiamenti nella personalitа del padre. Ciт che inizia come il frustrante tentativo da parte di Miles e della sorella Karen di riportare Matthew a casa negli USA porta a conseguenze inaspettate nella vita dello stesso Miles. Padre e figlio riescono, in ultimo, a rispettarsi nuovamente, a lasciarsi alle spalle il passato e ad accogliere il futuro. E, ciascuno a suo modo, impara a ritrovare l'amore e la speranza. Mostra/Nascondi Spoiler INFO
Language:
| Size: 3.02 GB | Seed: 3 | Leech: 0
Description:
Il professor Philip Brainard è un insegnante di chimica al Medfield College. Lo scopo dei suoi studi è di trovare una nuova formula energetica per guadagnare abbastanza soldi e salvare il college. Brainard è anche un inventore straordinario, a casa sua tiene un laboratorio nel seminterrato e possiede anche una robot-assistente, Weebo. Il professore ha però dei problemi sentimentali con la fidanzata Sara Reynolds poiché per ben due volte si è dimenticato del loro matrimonio. Così l'acido Wilson Croft, ex-compagno di studi di Brainard che ha rubato tutte le sue invenzioni, intende conquistare Sara approfittando della situazione tesa tra i due. Proprio quando sta per andare al matrimonio, Brainard riesce finalmente a comporre la formula per la nuova energia e si reca di corsa in laboratorio a terminarla, dimenticandosi per la terza volta il matrimonio con Sara. Inoltre Weebo, gelosa di lei, cancella apposta l'impegno dalla sua agenda. Lo strambo procedimento per completare la formula, che si conclude in una comica esplosione, dà alla luce Flubber, un piccolo, gelatinoso, mutaforma e altrettanto vivace organismo verde contenente una grande quantità di energia, indistruttibile e molto elastico. Ha la particolarità di impazzire se colpito con forti flash di luce. Solo il mattino dopo Brainard si rende conto di aver dimenticato il matrimonio con Sara e si reca da quest'ultima cercando di chiederle scusa, ma Sara offesa non lo ascolta e inizia una relazione con Wilson, con molta soddisfazione di quest'ultimo. AUTORE admin CATEGORIA Film INFOHASH 83CD078D8791A05CB6B8E98CA81127F3F7A659FC FILE(1) Files
Language:
| Size: 1.07 GB | Seed: 0 | Leech: 0
Description:
November Christmas USA 2010 Genere: Drammatico durata 96' film per la tv Regia di Robert Harmon Con Sam Elliott, John Corbett, Sarah Paulson, Karen Allen, Elizabeth McLaughlin, Tegan Moss, Emily Alyn Lind, Max Charles, Richard Fitzpatrick... Trama Dal regista di The Hitcher, una commevente storia sul dramma di una bambina che ha segnato le esistenze di due famiglie nell'estate del 1995. Al tepore rinvigorente del sole estivo si aggiungono le atmosfere calde e protettive delle ricostruzioni fuori-tempo di Halloween e Natale: le feste più amate dai bambini, occasioni di magica gioia in grado di esorcizzare (almeno per un po') le sofferenze portate da una crudele malattia... Risoluzione: 720 x 406 Parole chiave: drammatico
Language:
| Size: 1.45 GB | Seed: 1 | Leech: 0
Description:
Vincent (Robert Sheehan), a young man with Tourette's Syndrome, just lost his mom. As his symptoms get worse, his dad (Robert Patrick), a frustrated politician, sends him to a behavioral clinic run by an unconventional doctor (Kyra Sedgwick). But Vincent made his mom a promise, and with the help of a rebellious anorexic (Zoe Kravitz) and his withdrawn OCD roommate (Dev Patel), the three embark on a life-changing race to the sea that includes car theft, shoplifting, fights, self-discovery, and maybe finding a new way to live.
Language:
| Size: 766.78 MB | Seed: 4 | Leech: 0
Description:
Nelson convince il suo gruppo di amici dell'università ad aiutarlo in un controverso esperimento scientifico. L'idea è semplice, provocare la morte tramite forti dosi di medicinali e resuscitare, grazie alla scienza, per poi raccontare agli altri la propria esperienza nell'aldilà. Ognuno nel gruppo partecipa per la voglia di sperimentare e poco per volta diventa una sorta di scommessa a chi resterà morto più a lungo. Ma dopo poco tempo il gruppo si trova a fare i conti con oscure presenze, a volte violente, come nel caso di Nelson, che sembrano volerli punire per degli eventi del loro passato. AUTORE admin CATEGORIA Film INFOHASH 445CA026C0E41E9D4F7857FCACF0DA46070E61F5 FILE(1) Files TRAKER Traker
Language:
| Size: 5.41 GB | Seed: 1 | Leech: 0
Description:
Comizi d'amore è un film documentario diretto nel 1965 da Pier Paolo Pasolini. Nel 1963 Pier Paolo Pasolini e il produttore Alfredo Bini devono girare l'Italia per trovare location e volti per il nuovo film del regista friulano: il Vangelo secondo Matteo. Ma Pasolini da un po' di tempo ha un chiodo fisso: conoscere le opinioni degli italiani sulla sessualità, l'amore e il buon costume e vedere come sia cambiata negli ultimi anni la morale del suo paese. Si stabilisce quindi di unire le due cose e Pasolini entra in campo, microfono alla mano, per parlare con gli Italiani di "invertiti", di "prima volta", di "prostitute" e di "divorzio". Ne esce un ritratto del paese contraddittorio, uno spaccato di un Italia a varie velocità, un quadro sconcertante che alterna aperture fintamente disinvolte al Nord e rigidità ancestrali nel meridione. All'interno del film ci sono anche le opinioni autorevoli di "amici" di Pasolini come Alberto Moravia, Cesare Musatti, Adele Cambria e Oriana Fallaci. L'impressione che si ricava da questo straordinario film-inchiesta è quella di una grande, diffusa ignoranza anche negli strati di popolazione più acculturata, di una profonda arretratezza e del timore dell'italiano medio di affrontare senza vergogna un confronto legato al tema della sessualità. AUTORE serj tankian CATEGORIA Film INFOHASH 7A74E27E18294F01DD83301B2D8A88D999E02056 FILE(303) Files TRAKER Traker Non ci sono commenti
Language:
| Size: 697.2 MB | Seed: 4 | Leech: 0
Description:
Language:
| Size: 829.23 MB | Seed: 4 | Leech: 0
Description:
Language:
| Size: 1.64 GB | Seed: 1 | Leech: 0
Description:
Based on the best-selling book by Irene Nemirovsky and set during the German occupation of France in the 1940's, Suite Française tells the story of Lucille Angellier as she awaits news from her husband, a prisoner of war. As Parisian refugees pour into their small town, soon followed by a regiment of German soldiers who take up residence in the villagers' homes, Lucile's life is turned upside down - further complicated by the arrival of refined German officer, Bruno. A story of the power of love and the tragedy of war.
Language:
| Size: 490.27 MB | Seed: 2 | Leech: 0
Description:
Language:
| Size: 673.73 MB | Seed: 6 | Leech: 0
Description:
To find his father, one boy must defy an empire…Three years ago, Earth was conquered by a force of robots from a distant world. They have one rule: STAY IN YOUR HOMES. Step outside and you get one warning before you're vaporised by a massive robot Sentry, or a crawling Sniper, or a flying Drone. That's if the vast Cube doesn't incinerate you first. But Sean Flynn is convinced that his father – an RAF pilot who fought in the war – is still alive. And when he and his gang figure out a way to break the robots' curfew, they begin an adventure that will pit them against the might of the ROBOT OVERLORDS.
Language:
| Size: 2.96 GB | Seed: 5 | Leech: 0
Description:
Tradito da Vesper, la donna che amava, 007 deve combattere l'istinto di trasformare la sua missione in una questione personale. Cercando di scoprire la verità, Bond e M (Judi Dench) interrogano Mr. White (Jesper Christensen) che rivela come l'organizzazione che ricattava Vesper sia molto più complessa e pericolosa di quanto immaginassero. Il lavoro di intelligence collega un agente MI6, che ha tradito l'agenzia, ad un conto bancario a Haiti dove, per uno scambio di persona, Bond conosce la bella e aggressiva Camille (Olga Kurylenko), una donna che ha una vendetta personale da portare a termine. Camille accompagna Bond da Dominic Greene (Mathieu Amalric), un uomo d'affari senza scrupoli, che è tra i membri principali della misteriosa organizzazione. In una missione che lo porta in Austria, Italia e in Sudamerica, Bond scoprirà che Greene è impegnato in una cospirazione per prendere il controllo di una delle risorse naturali più importanti del mondo, che lo spinge a stringere un patto con il generale in esilio Medrano (Joaquin Cosio). Utilizzando i suoi colleghi nell'organizzazione, e manipolando i suoi potenti contatti nella CIA e nel governo britannico, Greene promette di rovesciare il regime al potere in un paese latinoamericano, mettendo al suo posto il generale in cambio di un territorio apparentemente arido. In un vero e proprio campo minato fatto di tradimenti, omicidi e inganni, Bond si allea con dei vecchi amici in una lotta per scoprire la verità. Mano a mano che si avvicina a scoprire l'uomo responsabile del tradimento di Vesper, 007 deve continuare a rimanere un passo avanti alla CIA, ai terroristi e persino a M per sventare l'inquietante piano di Greene e fermare la sua organizzazione...
Language:
| Size: 4.04 GB | Seed: 7 | Leech: 0
Description:
Seth MacFarlane returns as writer, director and voice star of Ted 2, Universal and Media Rights Capital's follow-up to the highest-grossing original R-rated comedy of all time. Joined once again by star Mark Wahlberg and fellow Ted writers Alec Sulkin & Wellesley Wild, MacFarlane produces the live action/CG-animated comedy alongside Bluegrass Films' Scott Stuber, as well as John Jacobs and Jason Clark.
Language:
| Size: 3.09 GB | Seed: 1 | Leech: 0
Description:
Language:
| Size: 998.27 MB | Seed: 5 | Leech: 0
Description:
Nel 1979 John Carpenter, uno dei maestri dell'horror americano, girò questo film biografico per la rete ABC sulla vita del re del rock, scomparso appena 2 anni prima. Il film segna l'inizio del sodalizio artistico con Kurt Russell, qui nei panni di Elvis, con il quale realizzerà alcuni grandi cult come: 1997: Fuga da New York, La Cosa, Grosso guaio a Chinatown e Fuga da Los Angeles. In Italia il film uscì al cinema.
Language:
| Size: 2.11 GB | Seed: 0 | Leech: 0
Description:
Language:
| Size: 799.71 MB | Seed: 0 | Leech: 0
Description:
Based on the best-seller book 'The little prince', the movie tells the story of a little girl that lives with resignation in a world where efficiency and work are the only dogmas. Everything will change when accidentally she discovers her neighbor that will tell her about the story of the Little Prince that he once met.
Language:
| Size: 1.23 GB | Seed: 0 | Leech: 0
Description:
It's the end of the world. A flood is coming. Luckily for Dave and his son Finny, a couple of clumsy Nestrians, an Ark has been built to save all animals. But as it turns out, Nestrians aren't allowed. Sneaking on board with the involuntary help of Hazel and her daughter Leah, two Grymps, they think they're safe. Until the curious kids fall off the Ark. Now Finny and Leah struggle to survive the flood and hungry predators and attempt to reach the top of a mountain, while Dave and Hazel must put aside their differences, turn the Ark around and save their kids. It's definitely not going to be smooth sailing.
Language:
| Size: 3.1 GB | Seed: 0 | Leech: 0
Description:
The story of Universal Pictures and Illumination Entertainment's Minions begins at the dawn of time. Starting as single-celled yellow organisms, Minions evolve through the ages, perpetually serving the most despicable of masters. Continuously unsuccessful at keeping these masters-from T. rex to Napoleon-the Minions find themselves without someone to serve and fall into a deep depression. But one Minion named Kevin has a plan, and he-alongside teenage rebel Stuart and lovable little Bob-ventures out into the world to find a new evil boss for his brethren to follow. The trio embarks upon a thrilling journey that ultimately leads them to their next potential master, Scarlet Overkill (Academy Award (R) winner Sandra Bullock), the world's first-ever female super-villain. They travel from frigid Antarctica to 1960s New York City, ending in mod London, where they must face their biggest challenge to date: saving all of Minionkind...from annihilation.
Language:
| Size: 1.77 GB | Seed: 0 | Leech: 0
Description:
Justice League vs. Teen Titans is a 2016 direct-to-video animated superhero film, directed by Sam Liu from a screenplay by Alan Burnett and Bryan Q. Miller. It is part of the DC Universe Animated Original Movies. The film features the voices of Jon Bernthal, Taissa Farmiga, and Jason O'Mara. The film had its world premiere at WonderCon on March 26, 2016. It was released through digital download on March 29, 2016, and through home media on April 12, 2016 by Warner Home Video. Robin is sent to work with the Teen Titans after his volatile behavior botches up a Justice League mission. The Titans must then step up to face Trigon after he possesses the League and threatens to conquer the world.
Language:
| Size: 617.8 MB | Seed: 0 | Leech: 0
Description:
Snowtime! (French: La Guerre des tuques 3D) is a Canadian film from Quebec, released in 2015. Directed by Jean-François Pouliot, it is an animated remake of the 1984 film The Dog Who Stopped the War (La Guerre des tuques). The film centres on a group of children, led by Luke (Nicholas Savard-L'Herbier in the French version, Angela Galuppo in English) and Sophie (Mariloup Wolfe in French, Lucinda Davis in English), who plan and stage a giant snowball fight during the Christmas holidays. To amuse themselves during the winter school break, the kids in a small village decide to have a massive snowball fight. Luke and Sophie, both 11 years old, become the leaders of the opposing sides. Sophie and her cohort defend an elaborate snow fort against the assault of Luke's horde. Whichever side occupies the fort at the end of the winter break, wins. But what starts out as pure youthful fun and enthusiasm deteriorates into a more serious conflict. Joy is restored when all the children decide to attack the fort rather than each other and happily destroy every last bit of the snow fort.
Language:
| Size: 2.16 GB | Seed: 0 | Leech: 0
Description:
Kung Fu Panda 3 is a 2016 3D American-Chinese computer-animated action comedy martial arts film, produced by DreamWorks Animation and Oriental DreamWorks, and distributed by 20th Century Fox. It was directed by Jennifer Yuh Nelson and Alessandro Carloni. The film was written by Jonathan Aibel and Glenn Berger, produced by Melissa Cobb, and executive produced by Guillermo del Toro. The film features the voices of Jack Black, J. K. Simmons, Bryan Cranston, Dustin Hoffman, Angelina Jolie, Lucy Liu, Jackie Chan, Seth Rogen, David Cross, James Hong, and Kate Hudson. When Po's long-lost panda father suddenly reappears, the reunited duo travels to a secret panda paradise to meet scores of hilarious new panda characters. But when the supernatural villain Kai begins to sweep across China defeating all the kung fu masters, Po must do the impossible—learn to train a village full of his fun-loving, clumsy brethren to become the ultimate band of Kung Fu Pandas!
Language:
| Size: 3.37 GB | Seed: 0 | Leech: 0
Description:
The Good Dinosaur is a 2015 American 3D computer-animated drama adventure film produced by Pixar Animation Studios and released by Walt Disney Pictures. The film was directed by Peter Sohn from a screenplay by Meg LeFauve. Set in a world in which dinosaurs never went extinct, the film follows a young Apatosaurus named Arlo, who meets an unlikely human friend while traveling through a harsh and mysterious landscape. The film stars Raymond Ochoa, Jack Bright, Sam Elliott, Anna Paquin, A. J. Buckley, Jeffrey Wright, Frances McDormand and Steve Zahn. Bob Peterson, who came up with the idea for the story, directed the film until August 2013. In October 2014, Peter Sohn was announced as the new director. The Good Dinosaur asks the question: What if the asteroid that forever changed life on Earth missed the planet completely, and giant dinosaurs never became extinct? In this epic journey into the world of dinosaurs, an apatosaurus named Arlo makes an unlikely human friend. While traveling through a harsh and mysterious landscape, Arlo learns the power of confronting his fears and discovers what he is truly capable of.
Language:
| Size: 3.24 GB | Seed: 0 | Leech: 0
Description:
The Peanuts Movie (known in some countries as Snoopy and Charlie Brown: The Peanuts Movie) is a 2015 American 3D computer-animated comedy film produced by Blue Sky Studios and distributed by 20th Century Fox, based on Charles M. Schulz's comic strip Peanuts. The film is directed by Steve Martino and written by Craig and Bryan Schulz (Schulz's son and grandson, respectively), and Cornelius Uliano, and stars the voices of Noah Schnapp as Charlie Brown and, via archival recordings, Bill Melendez as Snoopy and Woodstock. It is the fifth full-length Peanuts film, and the first feature film in 35 years. It commemorates the 65th anniversary of the comic strip and 50th anniversary of the TV special A Charlie Brown Christmas, and was released on November 6, 2015. Charlie Brown, Snoopy, Lucy, Linus and the rest of the beloved "Peanuts" gang make their big-screen debut, like they've never been seen before, in state of the art 3D animation. Charlie Brown, the world's most beloved underdog, embarks upon an epic and heroic quest, while his best pal, the lovable beagle Snoopy, takes to the skies to pursue his arch-nemesis, the Red Baron.
Language:
| Size: 2.4 GB | Seed: 0 | Leech: 0
Description:
Drac's pack is back for an all-new monster comedy adventure in Sony Pictures Animation's Hotel Transylvania 2! Everything seems to be changing for the better at Hotel Transylvania... Dracula's rigid monster-only hotel policy has finally relaxed, opening up its doors to human guests. But behind closed coffins, Drac is worried that his adorable half-human, half-vampire grandson, Dennis, isn't showing signs of being a vampire. So while Mavis is busy visiting her human in-laws with Johnny – and in for a major cultural shock of her own – "Vampa" Drac enlists his friends Frank, Murray, Wayne and Griffin to put Dennis through a "monster-in-training" boot camp. But little do they know that Drac's grumpy and very old, old, old school dad Vlad is about to pay a family visit to the hotel. And when Vlad finds out that his great-grandson is not a pure blood – and humans are now welcome at Hotel Transylvania – things are going to get batty!