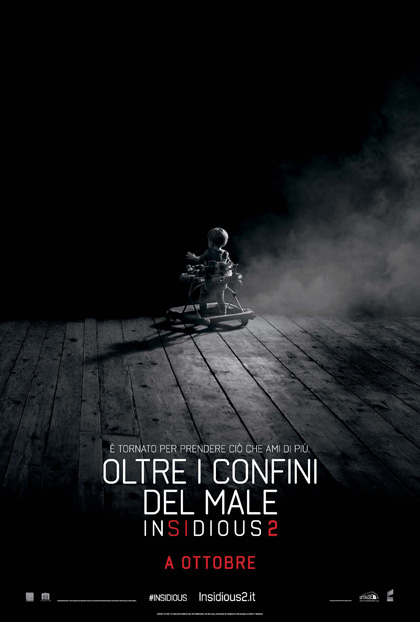 Language:
| Size: 5.66 GB | Seed: 406 | Leech: 80
Description:
TITOLO ORIGINALE: Insidious: Chapter 2 LINGUA ORIGINALE: Inglese PAESE: USA ANNO: 2013 GENERE: Horror, Thriller DURATA: 105 Min REGIA: James Wan ATTORI: Patrick Wilson, Rose Byrne, Barbara Hershey, Lin Shaye, Leigh Whannell, Danielle Bisutti, Ty Simpkins, Steve Coulter, Andrew Astor, Jocelin Donahue, Garrett Ryan DATA USCITA: 10 ottobre 2013 PRODUZIONE: Alliance Films, Blumhouse Productions, FilmDistrict, IM Global, Room 101 DISTRIBUZIONE: Warner Bros. TRAMA: Sequel del film horror del 2011 che vede protagonista la famiglia Lambert alle prese con una casa infestata da inquietanti presenze. MENU: Si EXTRA: Si QUALITA: DVD9 Copia 1:1 SOTTOTITOLI: Si AUDIO: Ita, Eng FORMATO: Iso VALUTAZIONE: RECENSIONI: Mymovies Parole chiave: insidious 2 usa 2013 horror thriller james wan patrick wilson rose byrne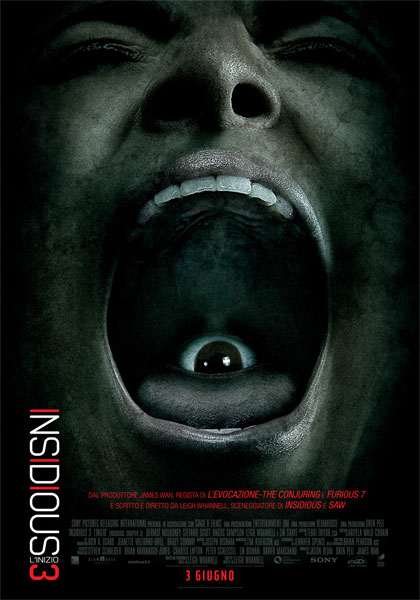 Language:
| Size: 1.19 GB | Seed: 221 | Leech: 81
Description:
Titolo originale: Insidious: Chapter 3 Nazione: U.S.A. Anno: 2015 Genere: Horror Durata: 97' Regia: Leigh Whannell Sito ufficiale: www.insidiouschapter3.com Social network: facebook Cast: Dermot Mulroney, Lin Shaye, Stefanie Scott, Leigh Whannell, Hayley Kiyoko, Michael Reid MacKay, Angus Sampson, Ele Keats, Ashton Moio, Anna Ross, Kara C. Roberts Produzione: Automatik Entertainment, Blumhouse Productions, Entertainment One Distribuzione: Warner Bros. Pictures Italia Data di uscita: 03 Giugno 2015 (cinema) Trama: Il capitolo più dark di Insidious riporta lo spettatore nel regno dell'oltretomba, rivelando come Elise Rainier (Lin Shaye) lo abbia affrontato combattendo coraggiosamente per salvare una giovane donna dalla possessione del Demonio. Il film è ambientato anni prima della maledizione che ha colpito la famiglia Lambert e la lotta di Elise contro gli spiriti, in Insidious e Oltre i confini del male: Insidious 2. In questo prequel, l'aspirante attrice adolescente Quinn Brenner (Stefanie Scott) sente che la defunta madre sta provando ad entrare in contatto con lei e per questa ragione si mette alla ricerca di una sensitiva - Elise. La donna si sente protettiva nei confronti della sensibile Quinn, ma la tragedia nel passato di Elise le ha lasciato in eredità una certa riluttanza a fare uso delle sue abilità. Ben presto un incidente scioccante costringe Quinn alla convalescenza in casa, mentre suo padre, il vedovo Sean (Dermot Mulroney) fatica a tenere unita la famiglia... Fonte Video: Bluray Fonte Audio: iTunes Tracce Audio: AC3 iTA Parole chiave: horror
Language:
| Size: 1.87 GB | Seed: 380 | Leech: 61
Description:
Titolo Originale Insidious: Chapter 3 Paese USA, Canada Anno 2015 Durata 97 Min Genere Horror, Thriller Regia Leigh Whannell Sceneggiatura Leigh Whannell Casa Di Produzione Automatik Entertainment, Entertainment One, Blumhouse Productions Distribuzione (Italia) Warner Bros. Italia Fotografia Brian Pearson Montaggio Timothy Alverson Musiche Joseph Bishara Scenografia Jennifer Spence Dermot Mulroney, Stefanie Scott, Lin Shaye, Leigh Whannell, Michael Reid MacKay, Ele Keats, Hayley Kiyoko, Angus Sampson, Ashton Moio, Tom Fitzpatrick, Steve Coulter. TRAMA La saga che ha terrorizzato milioni di spettatori continua con un altro inquietante capitolo. Esordio alla regia per lo sceneggiatore e produttore della saga di Saw, questo terzo episodio di Insidious esplora nuovamente "l'altrove", tornando indietro nel tempo e raccontando stavolta la terrificante storia di una teenager e della sua famiglia. Colpi di scena e fiato sospeso fino all'ultimo secondo.
Language:
| Size: 3.5 GB | Seed: 933 | Leech: 44
Description:
Title: Insidious Chapter 3 (2015) 1080p BDRip Country: USA Region: Hollywood movies Genre: Horror Duration: 01:37:00 Year: 2015 Language: EN Subtitle: English Director: Leigh Whannell Cast: Dermot Mulroney, Stefanie Scott, Angus Sampson Description: A prequel set before the haunting of the Lambert family that reveals how gifted psychic Elise Rainier reluctantly agrees to use her ability to contact the dead in order to help a teenage girl who has been targeted by a dangerous supernatural entity. Rating: Quality: Blu-Ray Disc Format: MP4 Video codec: 4500 Kbps, 1920*808 (2.40:1), 23.976 fps, x264 Audio codec: 640 Kbps, 48.0 KHz, 6 Channels, AC3
Language:
| Size: 1.46 GB | Seed: 107 | Leech: 5
Description:
Descripción: Título: Insidious. Capítulo 2 Título original: Insidious Chapter 2 País: USA Estreno en USA: 13/09/2013 Estreno en España: 25/10/2013 Productora: FilmDistrict, Alliance Films Director: James Wan Guión: Leigh Whannell Reparto: Rose Byrne, Patrick Wilson, Danielle Bisutti, Barbara Hershey, Ty Simpkins, Lin Shaye, Leigh Whannell, Michael Beach, Garrett Ryan, Jocelin Donahue, Andrew Astor, Priscilla Garita, Hank Harris, Jenna Ortega, J. LaRose Calificación: No recomendada para menores de 16 años Género: Terror | Sobrenatural. Casas encantadas. Secuela SINOPSIS: Josh (Patrick Wilson) y Renai Lambert (Rose Byrne) se han mudado con sus hijos a la casa de Lorraine (Barbara Hershey), la madre de Josh, esperando olvidar el pasado y comenzar una nueva vida. Pero pronto la familia empieza a experimentar extrañas visiones y fenómenos amenazantes que les obligarán a desentrañar el oscuro secreto que les ha dejado peligrosamente conectados con el mundo espiritual. Relaccionados
Language:
| Size: 1.62 GB | Seed: 615 | Leech: 29
Description:
Descripción: Insidious: Capítulo 3 Cartel Insidious: Capítulo 3 Recomendar: Titulo original: Insidious Chapter 3 Dirección: Leigh Whannell País: USA Año: 2015 Duración: 97 min. Género: Terror Guión: Leigh Whannell Producción: Jason Blum, Oren Peli ,James Wan Música: Joseph Bishara Fotografía: Brian Pearson Fecha Estreno: 05-06-2015 Estreno en España: 05-06-2015 Reparto: Dermot Mulroney, Lin Shaye, Hayley Kiyoko, Stefanie Scott, Leigh Whannell, Angus Sampson, Michael Reid MacKay, Anna Ross, Ashton Moio, Ele Keats, Steve Coulter, Tom Fitzpatrick. Sinopsis Precuela de la historia de la inquietante familia Lambert, que revela cómo a regañadientes Elise Rainier (Lin Shaye) aceptó usar sus dotes psíquicos para ponerse en contacto con los muertos, con el fin de ayudar a una adolescente (Stefanie Scott) que ha sido víctima de un peligroso ente sobrenatural.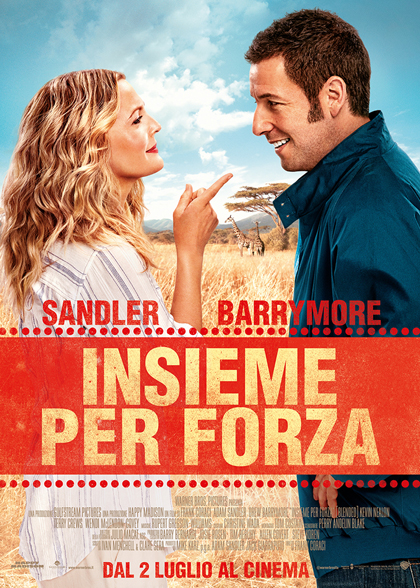 Language:
| Size: 1010.18 MB | Seed: 198 | Leech: 16
Description:
Titolo originale: Blended Nazione: U.S.A. Anno: 2014 Genere: Commedia Durata: 117 Regia: Frank Coraci Sito ufficiale: www.blendedmovie.com Cast: Adam Sandler, Drew Barrymore, Bella Thorne, Terry Crews, Lauren Lapkus, Wendi McLendon-Covey, Joel McHale, Anna Colwell, Kevin Nealon, Emma Fuhrmann, Alyvia Alyn Lind Produzione: Gulfstream Pictures, Happy Madison Productions, Karz Entertainment, Warner Bros. Distribuzione: Warner Bros. Pictures Italia Data di uscita: 02 Luglio 2014 (cinema) Trama: Il primo incontro tra Lauren (Drew Barrymore) e Jim (Adams Sandler) non poteva andare peggio: lei divorziata con due figli, lui vedovo con tre figlie si conoscono per la prima volta durante un rovinoso incontro al buio. Ma il destino non perde le speranze, i due infatti si incontreranno nuovamente durante un viaggio organizzato in Sud Africa. Anche il secondo incontro sembrerebbe cofermare la reciproca antipatia, ma qualcosa improvvisamente cambia le carte in tavola costringendo i due a rimettersi in gioco. Risoluzione - 1280x688 AC3 192 2ch Parole chiave: commedia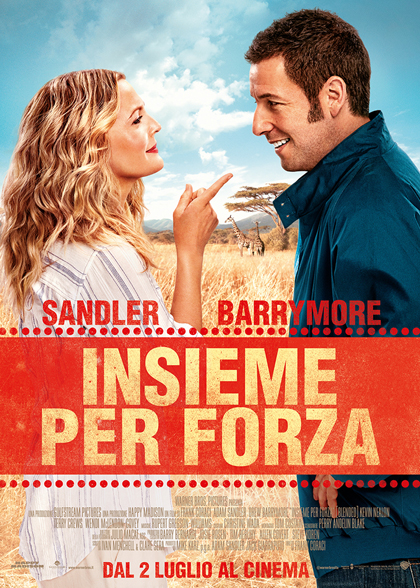 Language:
| Size: 2.87 GB | Seed: 193 | Leech: 37
Description:
TITOLO ORIGINALE: Blended DATA USCITA: 02 luglio 2014 GENERE: Commedia ANNO: 2014 REGIA: Frank Coraci SCENEGGIATURA: Ivan Menchell, Clare Sera ATTORI: Adam Sandler, Drew Barrymore, Terry Crews, Joel McHale, Wendi McLendon-Covey, Kevin Nealon, Bella Thorne, Lauren Lapkus, Anna Colwell, Emma Fuhrmann, Susan Yeagley FOTOGRAFIA: Julio Macat MONTAGGIO: Tom Costain MUSICHE: Rupert Gregson-Williams PRODUZIONE: Warner Brothers, Happy Madison Productions, Karz Entertainment DISTRIBUZIONE: Warner Bros. PAESE: USA DURATA: 117 Min TRAMA: Il primo incontro tra Lauren (Drew Barrymore) e Jim (Adams Sandler) non poteva andare peggio: lei divorziata con due figli, lui vedovo con tre figlie si conoscono per la prima volta durante un rovinoso incontro al buio. Ma il destino non perde le speranze, i due infatti si incontreranno nuovamente durante un viaggio organizzato in Sud Africa. Anche il secondo incontro sembrerebbe cofermare la reciproca antipatia, ma qualcosa improvvisamente cambia le carte in tavola costringendo i due a rimettersi in gioco. VIDEO: 1280 x 690 (1.85:1), 23.976 fps, AVC
[email protected]
~3046 kbps AUDIO: 48 kHz, AC3 Dolby Digital, 6 ch, ~384 kbps SOTTOTITOLI: Inglese Parole chiave: commedia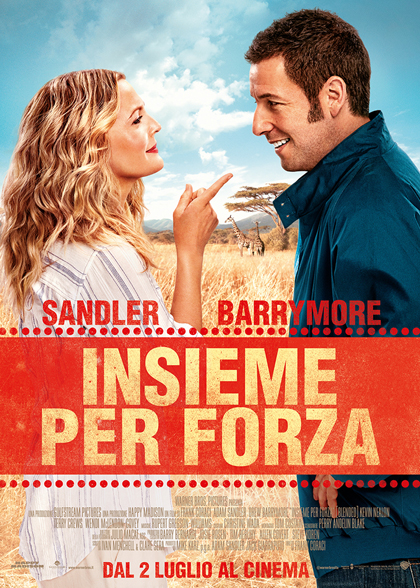 Language:
| Size: 1.46 GB | Seed: 634 | Leech: 78
Description:
TITOLO ORIGINALE: Blended DATA USCITA: 02 luglio 2014 GENERE: Commedia ANNO: 2014 REGIA: Frank Coraci SCENEGGIATURA: Ivan Menchell, Clare Sera ATTORI: Adam Sandler, Drew Barrymore, Terry Crews, Joel McHale, Wendi McLendon-Covey, Kevin Nealon, Bella Thorne, Lauren Lapkus, Anna Colwell, Emma Fuhrmann, Susan Yeagley FOTOGRAFIA: Julio Macat MONTAGGIO: Tom Costain MUSICHE: Rupert Gregson-Williams PRODUZIONE: Warner Brothers, Happy Madison Productions, Karz Entertainment DISTRIBUZIONE: Warner Bros. PAESE: USA DURATA: 117 Min TRAMA: Il primo incontro tra Lauren (Drew Barrymore) e Jim (Adams Sandler) non poteva andare peggio: lei divorziata con due figli, lui vedovo con tre figlie si conoscono per la prima volta durante un rovinoso incontro al buio. Ma il destino non perde le speranze, i due infatti si incontreranno nuovamente durante un viaggio organizzato in Sud Africa. Anche il secondo incontro sembrerebbe cofermare la reciproca antipatia, ma qualcosa improvvisamente cambia le carte in tavola costringendo i due a rimettersi in gioco. VIDEO: 720 x 384 (1.88:1), 23.976 fps, XviD ~1389 kbps AUDIO: 48 kHz, AC3 Dolby Digital, 6 ch, ~384 kbps SOTTOTITOLI: No Parole chiave: commedia
Language:
| Size: 1.45 GB | Seed: 698 | Leech: 54
Description:
DATA USCITA : 08 novembre 2002 GENERE : Poliziesco, Thriller ANNO : 2002 REGIA : Christopher Nolan ATTORI : Al Pacino, Robin Williams, Hilary Swank, Maura Tierney, Martin Donovan, Paul Dooley, Nicky Katt, Jonathan Jackson SCENEGGIATURA : Hillary Seitz FOTOGRAFIA : Wally Pfister MONTAGGIO : Dody Dorn MUSICHE : David Julyan PRODUZIONE : ALCON ENTERTAINMENT, SECTION EIGHT LTD., WITT/THOMAS PRODUCTIONS, INSOMNIA PRODUCTIONS, SUMMIT ENTERTAINMENT DISTRIBUZIONE : MEDUSA DISTRIBUZIONE PAESE : USA DURATA : 118 Min Trama Will Dormer è un detective della polizia inviato in un paesino dell'Alaska per investigare sull'omicidio di una ragazza. Accidentalmente Dormer uccide il suo collega con un colpo di pistola e, invece di ammettere la sua colpa, si costruisce un alibi. Nel frattempo i sensi di colpa aumentano mentre è impegnato a risolvere l'omicidio della ragazza. Ellie Burr, una detective locale, intanto conduce per conto suo le indagini sulla morte del collega... Parole chiave: poliziesco thriller
Language:
| Size: 60.7 MB | Seed: 0 | Leech: 0
Description:
Language:
| Size: 601.8 MB | Seed: 66 | Leech: 6
Description:
Film en VO Anglais sous titré en Français Instinct.de.Survie.2016.FANSUB.VOSTFR.WEBdl.x264.ac3-Hcar1 Nancy surfe en solitaire sur une plage isolée lorsqu'elle est attaquée par un grand requin blanc. Elle se réfugie sur un rocher, hors de portée du squale. Elle a moins de 200 mètres à parcourir à la nage pour être sauvée, mais regagner la terre ferme sera le plus mortel des combats…
Language:
| Size: 971.1 MB | Seed: 13 | Leech: 0
Description:
Año 2013 Duración 82 min. País [Estados Unidos] Estados Unidos Director Predrag Antonijevic (AKA Peter Antonijevic) Guión Jake Kennedy, Nissar Modi Música Tony Morales, Edward Rogers Fotografía Steve Mason Reparto Rebecca Da Costa, Milo Ventimiglia, Andie MacDowell, Johnathon Schaech, Logan Browning, Brianne Davis, Ketrenna Kirkland, Shannon Mayers, Michelle Mills Productora Cinemarket Films / TinRes Entertainment / Vitamin A Films Género Terror. Thriller | Sobrenatural Sinopsis Una entidad sobrenatural hostiga a una mujer embarazada, y teme por la vida del hijo que lleva en su vientre. Relaccionados
Language:
| Size: 75.92 MB | Seed: 387 | Leech: 83
Description: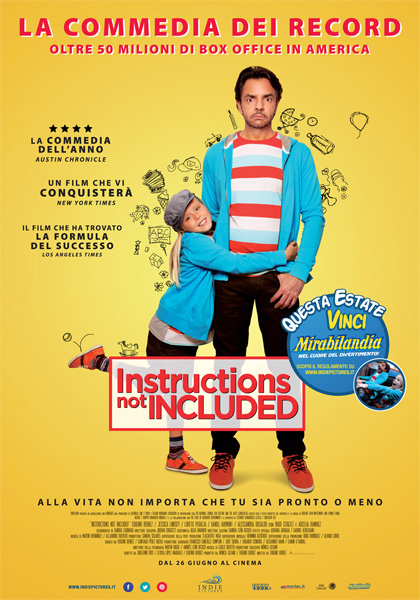 Language:
| Size: 1.44 GB | Seed: 741 | Leech: 47
Description:
Titolo originale: No se Aceptan Devoluciones Nazione: Messico Anno: 2013 Genere: Commedia, Drammatico Durata: 115' Regia: Eugenio Derbez Sito ufficiale: Cast: Eugenio Derbez, Jessica Lindsey, Loreto Peralta, Daniel Raymont, Alessandra Rosaldo, Karla Souza, Hugo Stiglitz, Sammy Pérez Produzione: Alebrije Cine y Video, Fulano Mengano y Asociados Distribuzione: Indie Pictures Data di uscita: 26 Giugno 2014 (cinema) Trama: Un'esilarante e commovente storia sulla paternità non voluta e su come può cambiarti la vita...in meglio! Valentin (Eugenio Derbez), un frivolo latin lover, senza radici né legami, riceve la visita di Julie (Jessica Lindsay), una vecchia e quasi dimenticata conquista amorosa, che si presenta alla sua porta con una notizia "in carne ed ossa": Maggie, un'incantevole bambina di un anno. Julie lascia Maggie nelle braccia di Valentin per andare a pagare il taxi e non fa più ritorno. La paternità è una delle cose che non faceva sicuramente parte dei piani di Valentin, il quale cerca disperatamente di fare in modo che la bimba torni tra le braccia della madre. L'unica pista che ha a disposizione è una vecchia foto nella quale Julie è ritratta mentre insegna aerobica in un hotel di Los Angeles. Inizia così una lunga odissea che porta Valentin a individuare finalmente il famoso hotel dove però non sono ammessi i bambini: Valentin è costretto a entrare dal retro e a "parcheggiare" la piccola Maggie addormentata nella sala della lavanderia. Valentin chiede aiuto a una giovane cameriera ma la ragazza parla solo inglese, lingua che Valentin non conosce in alcun modo. Nella grande confusione che si genera, Valentin bussa alla porta della suite presidenziale che si trova all'ultimo piano, dove alloggia Frank (Daniel Raymont), eccentrico produttore cinematografico di Hollywood. Frank è al telefono, in attesa che gli venga consegnata la fotografia dell'attrice del suo nuovo film. Quando apre la porta, Valentin gli mostra la foto di Julie. Frank infastidito quanto sorpreso la prende continuando a inveire al telefono. Valentin, credendo che gli possa fornire informazioni utili su Julie, lo segue, ma sporgendosi dal balcone, scopre che Maggie sta gattonando sul bordo di una profonda piscina. Maggie cade in acqua e Valentin, d'istinto, si lancia dall'ultimo piano per salvare la vita della sua bambina. Frank, sorpreso di tale audacia, offre a Valentin un allettante impiego come stuntman, per realizzare scene pericolose. Valentin accetta e decide di restare a vivere a Los Angeles con sua figlia Maggie. Trascorrono 7 anni e Maggie (Loreto Peralta) ha un profondo legame con il padre, lo accompagna sul set, lo sostiene e lo incoraggia. Valentin, dal lato suo, ha scoperto le gioie della paternità e si dedica a Maggie con amore. La vita sembra aver regalato a entrambi un sogno, fino a quando Julie riappare pentita di aver abbandonato la figlia e disposta a tutto pur di riaverla. Tutti gli sforzi fatti da inizialmente da Valentin per sbarazzarsi di Maggie, non sono nulla in confronto alle fatiche e follie che dovrà affrontare per tenerla con sé. 7,7/10 IMDB Risoluzione: 688 x 384 Parole chiave: commedia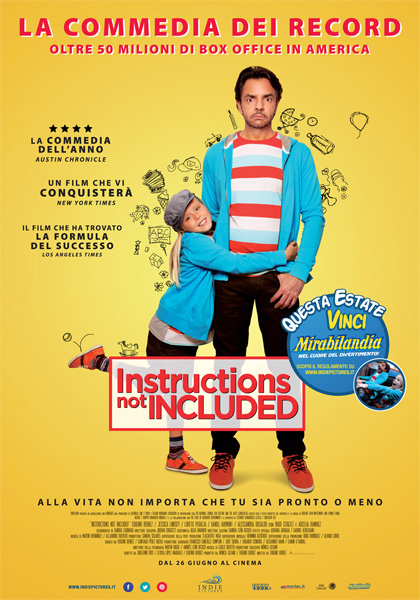 Language:
| Size: 1.37 GB | Seed: 495 | Leech: 51
Description:
TITOLO ORIGINALE: No se aceptan devoluciones LINGUA ORIGINALE: Spagnola PAESE: Messico ANNO: 2013 GENERE: Commedia, Drammatico DURATA: 02:01:57 REGIA: Eugenio Derbez ATTORI: Eugenio Derbez, Loreto Peralta, Jessica Lindsey DATA USCITA: 26 giugno 2014 PRODUZIONE: Alebrije Cine y Video, Fulano, Mengano y Asociados DISTRIBUZIONE: Indie Pictures TRAMA: Valentin è un playboy di Acapulco che vive una vita eccentrica e senza responsabilità. Un giorno sulla sua porta si presenta Julie, una sua ex scappatella che gli lascia la figlia stravolgendogli la vita. L'unico modo per Valentin di ritornare alla sua vecchia vita è quella di cercare Julie a Los Angeles e lasciarle la bambina. DATI TECNICI VIDEO: 656 x 368 (16:9), 23.976 fps, XviD ~1402 kbps AUDIO: 48 kHz, AC3 Dolby Digital, 2/0 (L,R) ch, ~192 kbps SOTTOTITOLI: No VALUTAZIONE: RECENSIONI: Mymovies Parole chiave: instructions not included messico commedia dramma eugenio derbez trl
Language:
| Size: 864.78 MB | Seed: 762 | Leech: 96
Description:
THE DIVERGENT SERIES: INSURGENT raises the stakes for Tris as she searches for allies and answers in the ruins of a futuristic Chicago. Tris (Woodley) and Four (James) are now fugitives on the run, hunted by Jeanine (Winslet), the leader of the power-hungry Erudite elite. Racing against time, they must find out what Tris's family sacrificed their lives to protect, and why the Erudite leaders will do anything to stop them. Haunted by her past choices but desperate to protect the ones she loves, Tris, with Four at her side, faces one impossible challenge after another as they unlock the truth about the past and ultimately the future of their world. Rated: PG-13 (for intense violence and action throughout, some sensuality, thematic elements and brief language) Genre: Adventure / Sci-Fi / Thriller Directed by: Robert Schwentke Written by: Brian Duffield, Akiva Goldsman Release Date: Mar 20, 2015 (USA) Runtime: 119 minutes Studio: Lionsgate Films Site Web: Official Site / Facebook / Twitter / Tumblr / Instagram
Language:
| Size: 97.48 MB | Seed: 645 | Leech: 98
Description:
Language:
| Size: 1.08 GB | Seed: 11 | Leech: 2
Description:
Interiors (1978).H264.Italian.English.Ac3.sub.ita.eng.iCV-MIRCrew [center] [color=red][b][img]http://extraimago.com/images/2016/07/16/oCo82IVa08d8.png[/img] [u]NO FOUND ONLY ORIGINAL RELEASE[/u] [img]http://i.imgur.com/GDNQx1Z.png[/img] My release is always in double track audio italian and Original audio for select it use VLC or dvd player home not use wmp Interiors (1978) [img]https://anonimag.es/i/w0d0ea.png[/img] [URL=http://www.imdb.com/title/tt0077742/][IMG]http://www.userlogos.org/files/logos/Sucka/imdb_new.png[/IMG][/URL] [img]http://i.imgur.com/Q5gAZRt.png[/img] Riconoscimenti 1979 - Premio Oscar Nomination Miglior regia a Woody Allen Nomination Miglior attrice protagonista a Geraldine Page Nomination Miglior attrice non protagonista a Maureen Stapleton Nomination Migliore sceneggiatura originale a Woody Allen Nomination Miglior scenografia a Mel Bourne 1979 - Golden Globe Nomination Miglior regia a Woody Allen Nomination Migliore attrice in un film drammatico a Geraldine Page Nomination Migliore attrice non protagonista a Maureen Stapleton Nomination Migliore sceneggiatura a Woody Allen 1979 - Premio BAFTA Miglior attrice non protagonista a Geraldine Page Nomination Migliore attore o attrice debuttante a Mary Beth Hurt 1979 - Kansas City Film Critics Circle Awards Miglior film Miglior regista a Woody Allen Miglior attrice protagonista a Geraldine Page Titolo originale Interiors Paese di produzione USA Anno 1978 Durata 93 min Genere drammatico Regia Woody Allen Soggetto Woody Allen Sceneggiatura Woody Allen Produttore Charles H. Joffe Fotografia Gordon Willis Montaggio Ralph Rosenblum Scenografia Mel Bourne [img]http://i.imgur.com/Jtvgw7x.png[/img] Diane Keaton: Renata Mary Beth Hurt: Joey Geraldine Page: Eve Richard Jordan: Frederick E.G. Marshall: Arthur Maureen Stapleton: Pearl Sam Waterston: Mike Kristin Griffith: Flyn [img]http://i.imgur.com/hL3n1m8.png[/img] Arthur è un avvocato sposato con Eve, decoratrice di interni. La coppia ha tre figlie: Renata, una poetessa sposata con Frederick, scrittore in difficoltà; Flyn, attrice emergente che si trova per lo più lontana da casa a fare film di basso costo; e infine Joey, moglie del giornalista Mike, che non riesce a costruirsi una carriera e risente dell'affetto eccessivo di sua madre nei confronti della sorella Renata................ [img]http://i.imgur.com/MTp7cO6.png[/img] The story of a very dysfunctional family and what happens when the parents divorce. Eve (Geraldine Page) and Arthur (EG Marshall) are a 60-something couple, recently separated. They have three adult daughters - Renata (Diane Keaton), Joey (Mary Beth Hurt) and Flyn (Kristin Griffith). Renata is a poet and is married to Frederick (Richard Jordan). Joey is (reluctantly) in advertising and is married to Mike (Sam Waterston)............... [img]http://i.imgur.com/6TgqSmf.png[/img] [img]https://anonimag.es/i/vlcsnap-2017-03-18-14h36m30s89673ea7.png[/img] [img]https://anonimag.es/i/vlcsnap-2017-03-18-14h37m01s295543dc.png[/img] [img]https://anonimag.es/i/vlcsnap-2017-03-18-14h37m12s723f79e0.png[/img] [img]http://i.imgur.com/t8N3Ia1.png[/img] [spoiler] General Unique ID : 13689229178070164168587512619449649946 (0xA4C731B89FEDBA3342D9BDE657B0B1A) Complete name : Interiors (1978).Ita.eng.sub.ita.eng.iCV-MIRCrew.mkv Format : Matroska Format version : Version 2 File size : 1.08 GiB Duration : 1h 31mn Overall bit rate : 1 679 Kbps Movie name : VISIT www.icv-crew.org Encoded date : UTC 2016-11-12 12:59:06 Writing application : Lavf54.63.100 Writing library : Lavf54.63.100 COPYRIGHT : robbyrs Video ID : 1 Format : AVC Format/Info : Advanced Video Codec Format profile :
[email protected]
Format settings, CABAC : Yes Format settings, ReFrames : 2 frames Codec ID : V_MPEG4/ISO/AVC Duration : 1h 31mn Bit rate : 1 290 Kbps Width : 688 pixels Height : 368 pixels Display aspect ratio : 16:9 Original display aspect ratio : 16:9 Frame rate mode : Variable Frame rate : 23.976 fps Color space : YUV Chroma subsampling : 4:2:0 Bit depth : 8 bits Scan type : Progressive Bits/(Pixel*Frame) : 0.213 Stream size : 829 MiB (75%) Writing library : x264 core 130 r2273 Encoding settings : cabac=1 / ref=2 / deblock=1:0:0 / analyse=0x1:0x131 / me=hex / subme=7 / psy=1 / psy_rd=1.00:0.00 / mixed_ref=0 / me_range=16 / chroma_me=1 / trellis=1 / 8x8dct=0 / cqm=0 / deadzone=21,11 / fast_pskip=1 / chroma_qp_offset=-2 / threads=12 / lookahead_threads=2 / sliced_threads=0 / nr=0 / decimate=1 / interlaced=0 / bluray_compat=0 / constrained_intra=0 / bframes=3 / b_pyramid=0 / b_adapt=1 / b_bias=0 / direct=3 / weightb=1 / open_gop=0 / weightp=2 / keyint=230 / keyint_min=23 / scenecut=40 / intra_refresh=0 / rc_lookahead=40 / rc=2pass / mbtree=1 / bitrate=1290 / ratetol=1.0 / qcomp=0.60 / qpmin=10 / qpmax=69 / qpstep=4 / cplxblur=20.0 / qblur=0.5 / vbv_maxrate=24000 / vbv_bufsize=24000 / nal_hrd=none / ip_ratio=1.40 / aq=1:1.00 Language : Italian Default : Yes Forced : No Audio #1 ID : 2 Format : AC-3 Format/Info : Audio Coding 3 Mode extension : CM (complete main) Codec ID : A_AC3 Duration : 1h 31mn Bit rate mode : Constant Bit rate : 192 Kbps Channel(s) : 2 channels Channel positions : Front: L R Sampling rate : 48.0 KHz Bit depth : 16 bits Compression mode : Lossy Delay relative to video : 1mn 5s Stream size : 126 MiB (11%) Title : Italiano Language : Italian Default : Yes Forced : No Audio #2 ID : 3 Format : AC-3 Format/Info : Audio Coding 3 Mode extension : CM (complete main) Codec ID : A_AC3 Duration : 1h 31mn Bit rate mode : Constant Bit rate : 192 Kbps Channel(s) : 2 channels Channel positions : Front: L R Sampling rate : 48.0 KHz Bit depth : 16 bits Compression mode : Lossy Delay relative to video : 1mn 5s Stream size : 126 MiB (11%) Title : English Language : English Default : No Forced : No Text #1 ID : 4 Format : ASS Codec ID : S_TEXT/ASS Codec ID/Info : Advanced Sub Station Alpha Compression mode : Lossless Title : Italiano Language : Italian Default : No Forced : No Text #2 ID : 5 Format : UTF-8 Codec ID : S_TEXT/UTF8 Codec ID/Info : UTF-8 Plain Text Title : English Language : English Default : No Forced : No Menu 00:00:00.000 : :00:00:00.000 00:08:55.657 : :00:08:55.657 00:18:02.412 : :00:18:02.412 00:27:03.410 : :00:27:03.410 00:40:10.780 : :00:40:10.780 00:50:58.219 : :00:50:58.219 01:03:34.057 : :01:03:34.057 01:14:41.098 : :01:14:41.098 01:28:01.481 : :01:28:01.481 [/spoiler] [/color][/b][/center]
Language:
| Size: 13.57 MB | Seed: 489 | Leech: 73
Description:
Internet Download Accelerator lets you to noticeably increase the speed of file download from the Internet using HTTP, HTTPS and FTP protocols. The acceleration is achieved by splitting a file being downloaded into several parts and downloading these parts at the same time. Internet Download Accelerator resumes broken downloads from where they left off from both HTTP, HTTPS and FTP servers. To increase usability Internet Download Accelerator integrates with Internet Explorer, Firefox, Mozilla, Opera, Nescape and others, replacing the standard download modules. Moreover, the program monitors the system clipboard and detects URLs in the clipboard. With IDA you can download and save video from popular video sharing services: YouTube, Google Video, Metacafe and others. The program also contains: FTP Explorer site manager for password and download folders management scheduler download speed control, automatic mode for the most comfortable browsing on the Web dial for dial-up connection search for files, programs, games, and music IDA Bar – a toolbar for Internet Explorer Possibility to save clips downloaded from YouTube as mp3 (in the Add download window choose "mp3" in the Desired quality menu); Smart Pause mode offers new ways to start downloads automatically; Improved integration with free video-converter Convertilla; Added ability to stop all downloads except those which do not support resume; Added ability to download clips from YouTube with minimal resolution 240p; YouTube downloads can be resumed for an unlimited time after start; Search for new downloads added to the toolbar; Improved plug-in management; Added support for the 4th and 5th mouse buttons in the embedded browser; Improved integration/disintegration into Internet Explorer, Opera, Chrome, Firefox, Safari; Improved download over HTTPS; Improved automatic detection of new file versions availability, Autoupdate folder; The descript.ion is updated when the download file name changes; Improved automatic IDA update; Fixed bugs in IDA Portable; Fixed bug with incorrect selection handling while changing categories; Fixed bug with renaming YouTube downloads; Other minor bugs fixed. Whats New: Updates: official site does not provide any info about changes in this version
Language:
| Size: 13.57 MB | Seed: 127 | Leech: 87
Description:
Internet Download Accelerator Pro 6.12.1.1542 Multilingual + Portable Internet Download Accelerator lets you to noticeably increase the speed of file download from the Internet using HTTP, HTTPS and FTP protocols. The acceleration is achieved by splitting a file being downloaded into several parts and downloading these parts at the same time. Internet Download Accelerator resumes broken downloads from where they left off from both HTTP, HTTPS and FTP servers. To increase usability Internet Download Accelerator integrates with Internet Explorer, Firefox, Mozilla, Opera, Nescape and others, replacing the standard download modules. Moreover, the program monitors the system clipboard and detects URLs in the clipboard. With IDA you can download and save video from popular video sharing services: YouTube, Google Video, Metacafe and others. The program also contains: FTP Explorer site manager for password and download folders management scheduler download speed control, automatic mode for the most comfortable browsing on the Web dial for dial-up connection search for files, programs, games, and music IDA Bar - a toolbar for Internet Explorer Possibility to save clips downloaded from YouTube as mp3 (in the Add download window choose "mp3" in the Desired quality menu); Smart Pause mode offers new ways to start downloads automatically; Improved integration with free video-converter Convertilla; Added ability to stop all downloads except those which do not support resume; Added ability to download clips from YouTube with minimal resolution 240p; YouTube downloads can be resumed for an unlimited time after start; Search for new downloads added to the toolbar; Improved plug-in management; Added support for the 4th and 5th mouse buttons in the embedded browser; Improved integration/disintegration into Internet Explorer, Opera, Chrome, Firefox, Safari; Improved download over HTTPS; Improved automatic detection of new file versions availability, Autoupdate folder; The descript.ion is updated when the download file name changes; Improved automatic IDA update; Fixed bugs in IDA Portable; Fixed bug with incorrect selection handling while changing categories; Fixed bug with renaming YouTube downloads; Other minor bugs fixed. Whats New: Updates: official site does not provide any info about changes in this version https://extraimage.net/images/2017/02/11/7f335f5f3d93f005fc3027eb1e42479a.gif
Language:
| Size: 7.18 MB | Seed: 540 | Leech: 14
Description:
Internet Download Manager (IDM) 6.26 Build 14 Multilingual Internet Download Manager (IDM) is a reliabe and very useful tool with safe multipart downloading technology to accelerate from internet your downloads such a video, music, games, documents and other important stuff for you files. IDM has a smart download logic accelerator and increases download speeds by up to 5 times, resumes and schedules downloads. Comprehensive error recovery and resume capability will restart broken or interrupted downloads due to lost connections, network problems, computer shutdowns, or unexpected power outages. Simple graphic user interface makes Internet Download Manager user friendly and easy to use. Unlike other download managers and accelerators, IDM segments downloaded files dynamically during download process and reuses available connections without additional connect and login stages to achieve best acceleration performance. Features: • All popular browsers and applications are supported! • Easy downloading with one click. • Download Speed Acceleration. • Download Resume. • YouTube grabber. • Simple installation wizard. • Drag and Drop. • Automatic Antivirus checking. • Advanced Browser Integration. • Built-in Scheduler. • IDM includes web site spider and grabber. • IDM supports many types of proxy servers. • IDM supports main authentication protocols: • Download All feature. • Customizable Interface. • Download Categories. • Download limits. • IDM is multilingual. What's new in version IDM 6.26 Build 14 (Released: Nov 30, 2016) • Fixed problems with video recognition for several types of web sites • Fixed bugs https://extraimage.net/images/2016/11/30/2ae476a0169557f3be2a6c2674cdf43f.png
Language:
| Size: 6.72 MB | Seed: 240 | Leech: 7
Description:
Internet Download Manager (IDM) 6.26 Build 7 Internet Download Manager (IDM) is a reliabe and very useful tool with safe multipart downloading technology to accelerate from internet your downloads such a video, music, games, documents and other important stuff for you files. IDM has a smart download logic accelerator and increases download speeds by up to 5 times, resumes and schedules downloads. Comprehensive error recovery and resume capability will restart broken or interrupted downloads due to lost connections, network problems, computer shutdowns, or unexpected power outages. Simple graphic user interface makes Internet Download Manager user friendly and easy to use. Unlike other download managers and accelerators, IDM segments downloaded files dynamically during download process and reuses available connections without additional connect and login stages to achieve best acceleration performance. Features: • All popular browsers and applications are supported! • Easy downloading with one click. • Download Speed Acceleration. • Download Resume. • YouTube grabber. • Simple installation wizard. • Drag and Drop. • Automatic Antivirus checking. • Advanced Browser Integration. • Built-in Scheduler. • IDM includes web site spider and grabber. • IDM supports many types of proxy servers. • IDM supports main authentication protocols: • Download All feature. • Customizable Interface. • Download Categories. • Download limits. • IDM is multilingual. • Fixed a problem with disabling of the Google Chrome extension • Fixed problems with video recognition for several types of web sites • Fixed a problem with disk space occupation • Fixed bugs https://extraimago.com/images/2016/10/01/c46b6ede7e2cb00a8db8208f759dd628.png
Language:
| Size: 6.72 MB | Seed: 500 | Leech: 93
Description:
Internet Download Manager (IDM) 6.26 Build 7 Internet Download Manager (IDM) is a reliabe and very useful tool with safe multipart downloading technology to accelerate from internet your downloads such a video, music, games, documents and other important stuff for you files. IDM has a smart download logic accelerator and increases download speeds by up to 5 times, resumes and schedules downloads. Comprehensive error recovery and resume capability will restart broken or interrupted downloads due to lost connections, network problems, computer shutdowns, or unexpected power outages. Simple graphic user interface makes Internet Download Manager user friendly and easy to use. Unlike other download managers and accelerators, IDM segments downloaded files dynamically during download process and reuses available connections without additional connect and login stages to achieve best acceleration performance. Features: • All popular browsers and applications are supported! • Easy downloading with one click. • Download Speed Acceleration. • Download Resume. • YouTube grabber. • Simple installation wizard. • Drag and Drop. • Automatic Antivirus checking. • Advanced Browser Integration. • Built-in Scheduler. • IDM includes web site spider and grabber. • IDM supports many types of proxy servers. • IDM supports main authentication protocols: • Download All feature. • Customizable Interface. • Download Categories. • Download limits. • IDM is multilingual. What's new in version IDM 6.26 Build 7 (Released: Oct 01, 2016) • Fixed a problem with disabling of the Google Chrome extension • Fixed problems with video recognition for several types of web sites • Fixed a problem with disk space occupation • Fixed bugs
Language:
| Size: 6.72 MB | Seed: 45 | Leech: 81
Description:
Internet Download Manager (IDM) 6.26 Build 7 Internet Download Manager (IDM) is a reliabe and very useful tool with safe multipart downloading technology to accelerate from internet your downloads such a video, music, games, documents and other important stuff for you files. IDM has a smart download logic accelerator and increases download speeds by up to 5 times, resumes and schedules downloads. Comprehensive error recovery and resume capability will restart broken or interrupted downloads due to lost connections, network problems, computer shutdowns, or unexpected power outages. Simple graphic user interface makes Internet Download Manager user friendly and easy to use. Unlike other download managers and accelerators, IDM segments downloaded files dynamically during download process and reuses available connections without additional connect and login stages to achieve best acceleration performance. Features: • All popular browsers and applications are supported! • Easy downloading with one click. • Download Speed Acceleration. • Download Resume. • YouTube grabber. • Simple installation wizard. • Drag and Drop. • Automatic Antivirus checking. • Advanced Browser Integration. • Built-in Scheduler. • IDM includes web site spider and grabber. • IDM supports many types of proxy servers. • IDM supports main authentication protocols: • Download All feature. • Customizable Interface. • Download Categories. • Download limits. • IDM is multilingual. What's new in version IDM 6.26 Build 7 (Released: Oct 01, 2016) • Fixed a problem with disabling of the Google Chrome extension • Fixed problems with video recognition for several types of web sites • Fixed a problem with disk space occupation • Fixed bugs
Language:
| Size: 6.72 MB | Seed: 298 | Leech: 43
Description:
Introduction: Internet Download Manager (IDM) is a tool to increase download speeds by up to 5 times, resume and schedule downloads. Comprehensive error recovery and resume capability will restart broken or interrupted downloads due to lost connections, network problems, computer shutdowns, or unexpected power outages. Simple graphic user interface makes IDM user friendly and easy to use.Internet Download Manager has a smart download logic accelerator that features intelligent dynamic file segmentation and safe multipart downloading technology to accelerate your downloads. Unlike other download managers and accelerators Internet Download Manager segments downloaded files dynamically during download process and reuses available connections without additional connect and login stages to achieve best acceleration performance. Internet Download Manager supports proxy servers, ftp and http protocols, firewalls, redirects, cookies, authorization, MP3 audio and MPEG video content processing. IDM integrates seamlessly into Microsoft Internet Explorer, Netscape, MSN Explorer, AOL, Opera, Mozilla, Mozilla Firefox, Mozilla Firebird, Avant Browser, MyIE2, and all other popular browsers to automatically handle your downloads. You can also drag and drop files, or use Internet Download Manager from command line. Internet Download Manager can dial your modem at the set time, download the files you want, then hang up or even shut down your computer when it's done. Other features include multilingual support, zip preview, download categories, scheduler pro, sounds on different events, HTTPS support, queue processor, html help and tutorial, enhanced virus protection on download completion, progressive downloading with quotas (useful for connections that use some kind of fair access policy or FAP like Direcway, Direct PC, Hughes, etc.), built-in download accelerator, and many others. Version 6.26 adds Windows 10 compatibility, adds IDM download panel for web-players that can be used to download flash videos from sites like MySpaceTV, and others. It also features complete Windows 8.1 (Windows 8, Windows 7 and Vista) support, video page grabber, redeveloped scheduler, and MMS protocol support. The new version also adds improved integration for IE 11 and IE based browsers, redesigned and enhanced download engine, the unique advanced integration into all latest browsers, improved toolbar, and a wealth of other improvements and new features. >Fixed a problem with disabling of the Google Chrome extension >Fixed problems with video recognition for several types of web sites >Fixed a problem with disk space occupation >Fixed bugs How to Install: ( Note: Please strictly follow the installation guide to avoid errors) 1. Install idm by running "idman626build7.exe" Note: no need to exit / close idm if running. 2. Run "32bit Patch build 7.exe" if you're using 32bit operating system or Run "64bit Patch build 7.exe" if you're using 64bit operating system 3. Done. Enjoy simplest IDM installation ever To uninstall this patch see text file added inside this torrent, please. Enjoy and Don't forget to visit our website for latest cracked/ patched software. Good Luck
Language:
| Size: 6.72 MB | Seed: 8 | Leech: 3
Description:
Introduction: Internet Download Manager (IDM) is a tool to increase download speeds by up to 5 times, resume and schedule downloads. Comprehensive error recovery and resume capability will restart broken or interrupted downloads due to lost connections, network problems, computer shutdowns, or unexpected power outages. Simple graphic user interface makes IDM user friendly and easy to use.Internet Download Manager has a smart download logic accelerator that features intelligent dynamic file segmentation and safe multipart downloading technology to accelerate your downloads. Unlike other download managers and accelerators Internet Download Manager segments downloaded files dynamically during download process and reuses available connections without additional connect and login stages to achieve best acceleration performance. Internet Download Manager supports proxy servers, ftp and http protocols, firewalls, redirects, cookies, authorization, MP3 audio and MPEG video content processing. IDM integrates seamlessly into Microsoft Internet Explorer, Netscape, MSN Explorer, AOL, Opera, Mozilla, Mozilla Firefox, Mozilla Firebird, Avant Browser, MyIE2, and all other popular browsers to automatically handle your downloads. You can also drag and drop files, or use Internet Download Manager from command line. Internet Download Manager can dial your modem at the set time, download the files you want, then hang up or even shut down your computer when it's done. Other features include multilingual support, zip preview, download categories, scheduler pro, sounds on different events, HTTPS support, queue processor, html help and tutorial, enhanced virus protection on download completion, progressive downloading with quotas (useful for connections that use some kind of fair access policy or FAP like Direcway, Direct PC, Hughes, etc.), built-in download accelerator, and many others. Version 6.26 adds Windows 10 compatibility, adds IDM download panel for web-players that can be used to download flash videos from sites like MySpaceTV, and others. It also features complete Windows 8.1 (Windows 8, Windows 7 and Vista) support, video page grabber, redeveloped scheduler, and MMS protocol support. The new version also adds improved integration for IE 11 and IE based browsers, redesigned and enhanced download engine, the unique advanced integration into all latest browsers, improved toolbar, and a wealth of other improvements and new features. What's new in version 6.26 build 7 (Released: Oct 01, 2016) >Fixed a problem with disabling of the Google Chrome extension >Fixed problems with video recognition for several types of web sites >Fixed a problem with disk space occupation >Fixed bugs How to Install: ( Note: Please strictly follow the installation guide to avoid errors) 1. Install idm by running "idman626build7.exe" Note: no need to exit / close idm if running. 2. Run "32bit Patch build 7.exe" if you're using 32bit operating system or Run "64bit Patch build 7.exe" if you're using 64bit operating system 3. Done. Enjoy simplest IDM installation ever To uninstall this patch see text file added inside this torrent, please. Enjoy and Don't forget to visit our website for latest cracked/ patched software. Good Luck
Language:
| Size: 7.19 MB | Seed: 71 | Leech: 92
Description:
Internet Download Manager (IDM) is a reliabe and very useful tool with safe multipart downloading technology to accelerate from internet your downloads such a video, music, games, documents and other important stuff for you files. IDM has a smart download logic accelerator and increases download speeds by up to 5 times, resumes and schedules downloads. Comprehensive error recovery and resume capability will restart broken or interrupted downloads due to lost connections, network problems, computer shutdowns, or unexpected power outages. Simple graphic user interface makes Internet Download Manager user friendly and easy to use. Unlike other download managers and accelerators, IDM segments downloaded files dynamically during download process and reuses available connections without additional connect and login stages to achieve best acceleration performance. Features: • All popular browsers and applications are supported! • Easy downloading with one click. • Download Speed Acceleration. • Download Resume. • YouTube grabber. • Simple installation wizard. • Drag and Drop. • Automatic Antivirus checking. • Advanced Browser Integration. • Built-in Scheduler. • IDM includes web site spider and grabber. • IDM supports many types of proxy servers. • IDM supports main authentication protocols: • Download All feature. • Customizable Interface. • Download Categories. • Download limits. • IDM is multilingual. What's new in version IDM 6.27 Build 3 (Released: Jan 26, 2017) • Added support for Firefox 52 • Added support for SeaMonkey up to 2.49
Language:
| Size: 7.19 MB | Seed: 263 | Leech: 38
Description:
Internet Download Manager (IDM) 6.27 Build 3 Multilingual Internet Download Manager (IDM) is a reliabe and very useful tool with safe multipart downloading technology to accelerate from internet your downloads such a video, music, games, documents and other important stuff for you files. IDM has a smart download logic accelerator and increases download speeds by up to 5 times, resumes and schedules downloads. Comprehensive error recovery and resume capability will restart broken or interrupted downloads due to lost connections, network problems, computer shutdowns, or unexpected power outages. Simple graphic user interface makes Internet Download Manager user friendly and easy to use. Unlike other download managers and accelerators, IDM segments downloaded files dynamically during download process and reuses available connections without additional connect and login stages to achieve best acceleration performance. Features: • All popular browsers and applications are supported! • Easy downloading with one click. • Download Speed Acceleration. • Download Resume. • YouTube grabber. • Simple installation wizard. • Drag and Drop. • Automatic Antivirus checking. • Advanced Browser Integration. • Built-in Scheduler. • IDM includes web site spider and grabber. • IDM supports many types of proxy servers. • IDM supports main authentication protocols: • Download All feature. • Customizable Interface. • Download Categories. • Download limits. • IDM is multilingual. • Added support for Firefox 52 • Added support for SeaMonkey up to 2.49 https://extraimage.net/images/2017/01/26/8a809f7ebd3d26753ee6c56331052362.png
Language:
| Size: 19.24 MB | Seed: 618 | Leech: 31
Description:
Internet Download Manager (IDM) is a tool to increase download speeds by up to 5 times, resume and schedule downloads. Comprehensive error recovery and resume capability will restart broken or interrupted downloads due to lost connections, network problems, computer shutdowns, or unexpected power outages. Simple graphic user interface makes IDM user friendly and easy to use.Internet Download Manager has a smart download logic accelerator that features intelligent dynamic file segmentation and safe multipart downloading technology to accelerate your downloads. Unlike other download managers and accelerators Internet Download Manager segments downloaded files dynamically during download process and reuses available connections without additional connect and login stages to achieve best acceleration performance. Version 6.27 adds Windows 10 compatibility, adds IDM download panel for web-players that can be used to download flash videos from sites like MySpaceTV, and others. It also features complete Windows 8.1 (Windows 8, Windows 7 and Vista) support, video page grabber, redeveloped scheduler, and MMS protocol support. The new version also adds improved integration for IE 11 and IE based browsers, redesigned and enhanced download engine, the unique advanced integration into all latest browsers, improved toolbar, and a wealth of other improvements and new features. > Fixed bugs in downloading several types of video streams > Fixed bugs How to Install: 1. Install idm by running "idman627build5.exe" Note: no need to exit / close idm if running. 2. Run "32bit Patch build 5.exe" if you're using 32bit operating system or Run "64bit Patch build 5.exe" if you're using 64bit operating system 3. Done. Enjoy simplest IDM installation ever