Language:
| Size: 1.62 GB | Seed: 79 | Leech: 4
Description:
Descripción: Insidious: Capítulo 3 Cartel Insidious: Capítulo 3 Recomendar: Titulo original: Insidious Chapter 3 Dirección: Leigh Whannell País: USA Año: 2015 Duración: 97 min. Género: Terror Guión: Leigh Whannell Producción: Jason Blum, Oren Peli ,James Wan Música: Joseph Bishara Fotografía: Brian Pearson Fecha Estreno: 05-06-2015 Estreno en España: 05-06-2015 Reparto: Dermot Mulroney, Lin Shaye, Hayley Kiyoko, Stefanie Scott, Leigh Whannell, Angus Sampson, Michael Reid MacKay, Anna Ross, Ashton Moio, Ele Keats, Steve Coulter, Tom Fitzpatrick. Sinopsis Precuela de la historia de la inquietante familia Lambert, que revela cómo a regañadientes Elise Rainier (Lin Shaye) aceptó usar sus dotes psíquicos para ponerse en contacto con los muertos, con el fin de ayudar a una adolescente (Stefanie Scott) que ha sido víctima de un peligroso ente sobrenatural.
Language:
| Size: 11.18 GB | Seed: 79 | Leech: 36
Description:
Metal Gear Solid V The Phantom Pain PS3-DUPLEX Genre: Action (Shooters, MMO FPS, TPS) Platform: Windows Multiplayer: No Year: 2015 Type of publication: Language of the game: EN Crack: Available Description : Date : 08/2015 Languages: English Platform : PS3 Genre : Action Release Info Part of the mysterious twin game projects that form part five in the Metal Gear franchise, Metal Gear Solid V: The Phantom Pain continues the complex saga of the Snake soldier line, connecting storylines from Metal Gear Solid: Peace Walker, Metal Gear Solid: Ground Zeroes, and the rest of the Metal Gear timeline System requirements: Size: 11 GB
Language:
| Size: 4 GB | Seed: 79 | Leech: 69
Description:
Title: World War Z (2013) 1080p BDRip Country: USA Region: Hollywood movies Genre: Action, Adventure, Horror Duration: 01:56:00 Year: 2013 Language: EN Subtitle: English Director: Marc Forster Cast: Brad Pitt, Mireille Enos, Daniella Kertesz Description: Former United Nations employee Gerry Lane traverses the world in a race against time to stop the Zombie pandemic that is toppling armies and governments, and threatening to destroy humanity itself. Rating: Quality: Blu-Ray Disc Format: MKV Video codec: 4269 Kbps, 1920*800 (2.40:1), 23.976 fps, x264 Audio codec: 448 Kbps, 48.0 KHz, 6 Channels, AC3 Size: 3.99 GB Uploaded date: 2016-08-28 15:28:26 Views: 1826
Language:
| Size: 1.44 GB | Seed: 79 | Leech: 6
Description:
SCHEDA :. DATA USCITA: 17 marzo 2016 GENERE: Commedia ANNO: 2016 REGIA: Sergio Colabona ATTORI: Monica Lima, Enzo Iuppariello, Francesco Cicchella, Pasquale Palma, Gennaro Scarpato, Maria Bolignano SCENEGGIATURA: Nando Mormone, Ciro Ceruti FOTOGRAFIA: Daniele Poli MONTAGGIO: Luca Montanari MUSICHE: Valerio Jovine PRODUZIONE: Tunnel Produzioni srl con Rai Cinema DISTRIBUZIONE: Tunnel Produzioni srl PAESE: Italia DURATA: 93 Min .: TRAMA :. Enzo e Monica sono due fidanzati trentenni della periferia di Napoli che conducono una vita fatta di routine e sistematica regolarità. Enzo lavora in un negozio di abbigliamento giovanile, è un ragazzo buono ma distratto, riesce a mantenere il suo posto di lavoro più per pietà del suo datore di lavoro che per le sue attitudini professionali. Monica invece lavora come parrucchiera ed estetista. Le loro giornate e quelle dei loro amici trascorrono tra piccole e semplici soddisfazioni. Ma un giorno la vita di Enzo e Monica viene stravolta. Enzo insieme al suo datore di lavoro vince al clandestino un terno a lotto. Ma la vincita di Enzo non viene liquidata tutta in denaro, infatti parte della vincita viene saldata regalandogli un viaggio culturale che prevede la visita di musei, monumenti, concerti lirici e incontri di meditazioni. Enzo accetta più per imposizione che per scelta, infatti con Don Ciro gestore del gioco clandestino di zona non c'è molto da discutere. Enzo e Monica partono per il loro viaggio ma le difficoltà non si fanno attendere. Sono continuamente due pesci fuor d'acqua, la loro semplicità ma soprattutto la loro ignoranza vano continuamente in contrasto con il contesto in cui si trovano. Ma anche se i due fidanzati cercano di defilarsi la loro inseparabile guida Gino, sistematicamente li rimette in riga, costringendoli a rispettare il programma. Ma il loro ritorno a Napoli non sarà un ritorno alla routine, al loro ritorno Enzo e Monica si rendono conto che la loro vita non sarà mai più la stessa...
Language:
| Size: 5.2 GB | Seed: 79 | Leech: 15
Description:
Anno: 2011-... Genere: fantascienza, drammatico, satira, distopico Paese: Regno Unito user posted image Black Mirror è una serie televisiva britannica, ideata e prodotta da Charlie Brooker, o meglio una serie antologica, in quanto scenari e personaggi sono diversi per ogni episodio. La fiction muove grandi critiche alle nuove tecnologie e il titolo si riferisce al freddo schermo nero di ogni televisore, monitor o smartphone. Il filo conduttore di ogni episodio è l'incedere e il progredire delle nuove tecnologie, l'assuefazione da essa ed i suoi effetti collaterali. Vengono immaginate e ricreate diverse situazioni del mondo moderno in cui una nuova invenzione tecnologica o un'idea paradossale ha in qualche modo destabilizzato la società e i sentimenti umani. Nel 2012, Black Mirror ha vinto l'Emmy Award come Miglior miniserie. user posted image 8,8/10 Top Rated TV #54 All-Time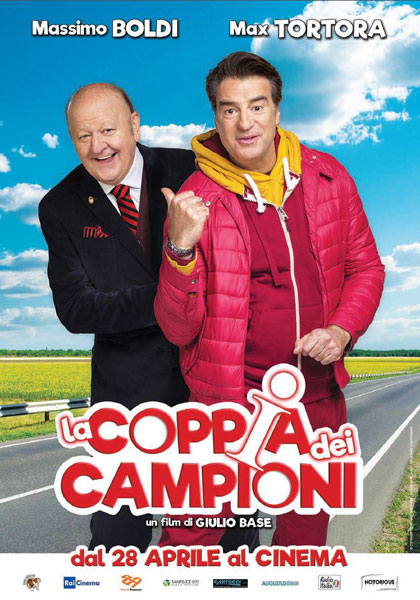 Language:
| Size: 2.55 GB | Seed: 79 | Leech: 10
Description:
Titolo originale: La coppia dei campioni Nazione: Italia Anno: 2016 Genere: Commedia Durata: 98' Regia: Giulio Base Cast: Massimo Boldi, Max Tortora, Anna Maria Barbera, Massimo Ceccherini, Loredana De Nardis, Pia Lanciotti, Carol Visconti, Flora Canto, Lucia Guzzardi, Matthew T. Reynolds, Enzo Casertano, Ria Antoniou, Valerio Base Produzione: Combo Produzioni, Notorious Pictures Data di uscita: 28 Aprile 2016 (cinema) Trama: Due dipendenti della stessa multinazionale vincono alla lotteria aziendale un paio di biglietti per la finale della Champions League. Uno milanese, l'altro romano, uno benestante e l'altro nullatenente si conoscono per la prima volta all'imbarco per Praga detestandosi a prima vista. Una turbolenza costringe l'aereo a un atterraggio di emergenza in Slovenia e da qui inizia la disavventura dei due che tra liti, vendette e armistizi diventeranno quasi amici.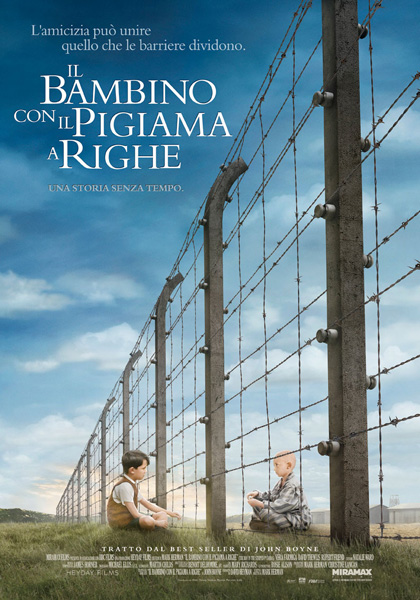 Language:
| Size: 6.26 GB | Seed: 78 | Leech: 73
Description:
Titolo originale: The Boy in the Striped Pyjamas Nazione: Regno Unito, U.S.A. Anno: 2008 Genere: Drammatico, Guerra Durata: 100' Regia: Mark Herman Sito ufficiale: www.boyinthestripedpajamas.com Sito italiano: www.ilbambinoconilpigiamaarighe.it Cast: David Thewlis, Vera Farmiga, Rupert Friend, Iván Verebély, Richard Johnson, Sheila Hancock, Jim Norton, David Heyman, Asa Butterfield Produzione: BBC Films, Heyday Films, Miramax Films Data di uscita: 19 Dicembre 2008 (cinema) Trama: Bruno è un tranquillo ragazzo di otto anni figlio di un ufficiale nazista, la cui promozione porta la famiglia a trasferirsi dalla loro comoda casa di Berlino in un'area desolata in cui questo ragazzino solitario non trova nulla da fare e nessuno con cui giocare. Decisamente annoiato e spinto dalla curiosità, Bruno ignora le continue indicazioni della madre, che gli proibisce di esplorare il giardino posteriore e si dirige verso la "fattoria" che ha visto nelle vicinanze. Lì, incontra Shmuel, un ragazzo della sua età che vive un'esistenza parallela e differente dall'altra parte del filo spinato. L'incontro di Bruno col ragazzo dal pigiama a strisce lo porta dall'innocenza a una consapevolezza maggiore del mondo degli adulti che li circonda, mentre gli incontri con Shmuel si trasformano in un'amicizia dalle conseguenze terribili. Parole chiave: drammatico guerra
Language:
| Size: 4.16 GB | Seed: 78 | Leech: 78
Description:
La serie, ambientata in Scandinavia durante l'alto medioevo, ripropone in chiave romanzata la storia del leggendario vichingo Ragnar Lodbrok, dei suoi compagni e della sua famiglia. Ragnar (Travis Fimmel) è presentato come un giovane guerriero vichingo che anela alla scoperta di nuove civiltà attraverso i mari, è infatti il primo della sua gente a voler salpare verso occidente, attraversando le acque del mare del Nord, convinto che vi sia altro per cui valga la pena rischiare. La prima caratteristica che distingue il protagonista dalla sua gente è la sete di conoscenza, addirittura superiore a quella di conquista, che possiede ugualmente. Con il suo amico, il geniale artigiano Floki (Gustaf Skarsgård), Ragnar costruisce in segreto una nuova generazione di Longships più veloci e sfida il governatore locale, lo jarl Haraldson (Gabriel Byrne), un uomo avido e di vedute altrettanto strette, per concedere incursioni nell'inesplorato sud-ovest, in Inghilterra, attirandone così una mal celata ostilità e l'invidia. Ragnar tenta ugualmente la sorte assieme a suo fratello Rollo (Clive Standen) ed un gruppo di compagni, ma quando torna portando con se oro e vari preziosi a testimoniare le sue corrette intuizioni e la sua abilità, diventa uno dei guerrieri più rispettati del villaggio, ma anche uno dei meno ben visti da Haraldson e da i suoi fedeli, con tutto ciò che ne consegue. AUTORE flint
Language:
| Size: 1.42 GB | Seed: 78 | Leech: 0
Description:
Descripción: Título: Espías Título original: Spy País: USA Estreno en USA: 05/06/2015 Estreno en España: 26/06/2015 Lanzamiento en DVD (alquiler): 21/10/2015 Estreno en DVD (venta): 28/10/2015 Estreno en Blu-ray: 28/10/2015 Productora: 20th Century Fox Director: Paul Feig Guión: Paul Feig Reparto: Melissa McCarthy, Rose Byrne, Jason Statham, Morena Baccarin, Jude Law, Allison Janney, Bobby Cannavale, Will Yun Lee, 50 Cent, Peter Serafinowicz, Miranda Hart, Zach Woods, Carlos Ponce, Alicia Vela-Bailey, Nargis Fakhri Calificación: No recomendada para menores de 16 años Género: Comedia | Espionaje SINOPSIS: Susan Cooper (Melissa McCarthy) es una analista sin pretensiones, atada a su escritorio de la CIA, y el héroe anónimo detrás de las misiones más peligrosas de la Agencia. Pero cuando su compañero (Jude Law) cae fuera de la red y otro agente superior (Jason Statham) se ve comprometido, ella se ofrece voluntariamente para ir de incógnito para infiltrarse en el bajo mundo de un traficante de armas mortales, y evitar un desastre global.
Language:
| Size: 1.44 GB | Seed: 78 | Leech: 1
Description:
Título: La entrega (The Drop) Título original: The Drop País: USA Estreno en USA: 12/09/2014 Estreno en España: 26/09/2014 Productora: Fox Searchlight, Chernin Entertainment Director: Michael Roskam Guión: Michael Roskam, Dennis Lehane Reparto: Tom Hardy, Noomi Rapace, James Gandolfini, Erin Darke, Elizabeth Rodriguez, Matthias Schoenaerts, James Frecheville, Jeremy Bobb, Chris Sullivan, John Ortiz, Patricia Squire, James Colby, Morgan Spector, Michael Esper, Michael Aronov Calificación: No recomendada para menores de 16 años Género: Thriller. Drama | Crimen. Mafia SINOPSIS: La Entrega sigue las huellas del solitario camarero Bob Saginowski (Tom Hardy) a través de un programa clandestino del submundo de los bares de Brooklyn –llamado "buzones de dinero"–, cuyo fin es canalizar dinero en efectivo hacia gánsteres locales. Bajo la pesada mano de su patrono y primo Marv (James Gandolfini), Bob se ve metido en medio de un robo que sale mal y enredado en una investigación que hurga muy hondo en el pasado de un barrio en el que amigos, familias y enemigos trabajan juntos para ganarse la vida… cueste lo que cueste. Relaccionados
Language:
| Size: 1.65 GB | Seed: 78 | Leech: 32
Description:
Warhammer 40000 Kill Team-FLT Genre: Action (Shooters, MMO FPS, TPS) Platform: Windows Multiplayer: No Year: 2014 Type of publication: Language of the game: EN Crack: Available Description : ABOUT THE GAME Jump into the rich world of Warhammer40,000 in this fast paced 3rd person action shooter. As one of the Emperor's Elite Space Marines, you have been sent on a vital mission to assault a gigantic Ork Kroozer headed for an Imperial ForgeWorld. Choose your Space Marine Chapter and weapons class and commence the purging of brutal Orks and vicious Tyranids on board. Team up to form a 2-man Kill Team in same screen co-op mode and benefit from multiple team pickups to help survive the onslaught. Kill Team allows players to choose from four unique classes, including ranged specialists the Sternguard Veteran and Techmarine, and more melee focused classes like the Vanguard Veteran and Librarian. With two-player same screen Co-operative play, multiple weapon upgrades and six iconic Space Marine chapters to select from, Kill Team is a must-play for fans of Warhammer 40,000. Players who complete the first mission in Kill Team will unlock the deadly Power Sword weapon for use in multiplayer in the upcoming Warhammer 40,000 Space Marine. Sheathed in a power field, it cuts through armor and flesh alike and features unique animations, combos and damage output. System requirements: Minimum: OS: Windows 7 / Windows 8 Processor: 2.0GHz Dual Core processor Memory: 2 GB RAM Graphics: Nvidia 8800 GTS or Radeon HD 4770 or Intel HD 4200 512MB DirectX: Version 10 Hard Drive: 2 GB available space Size: 1.6 GB
Language:
| Size: 1.01 GB | Seed: 78 | Leech: 92
Description:
Celestian Tales Old North - HI2U Genre: Role-playing (RPG) Platform: Windows Multiplayer: No Year: 2015 Type of publication: Language of the game: EN Crack: Available Description : Celestian Tales: Old North is a refreshing take on the classic turn-based Japanese style RPG, where your decisions in its dark and gritty storyline shape the world of tomorrow. When the future comes at last, is it what you hoped for? Experience what it's truly like to bear the responsibilities of a hero in the beautifully hand-drawn Old North. Take on the role of one among six young nobles, learning your way of knighthood and assisting the lords you serve. When an external force threatens the land, you find yourself swept in the tides of war where the deadliest enemies are those among your own ranks. Celestian Tales: Old North is a complex tale of human interactions where deception, intrigue, and betrayal stand side-by-side with loyalty, friendship, and personal growth. Scrapping away the clich of a destined person or a boy/girl-saving-the-world, the story is tailored for a mature audience and questions the bare morals of a human being. Will you do anything to survive? Will you be steadfast in defending your faith and beliefs? Or will you let yourself be corrupted, little by little, in the name of greater good? Featuring a turn-based combat system with plenty of character and party customization options, Celestian Tales allows you to play the game at your own pace in your own style. Enter the first decade of this epic series and see for yourself what sets it apart. Features * Moral Confrontations - Situations are presented to the player throughout the game that force players to face moral questions and beliefs. * Unique Story By avoiding genre cliches, the story brings a fresh approach to RPG storytelling by allowing players feel the weight of their character's actions. * Multiple Story Arcs - 6 Selectable Characters allow you to play the game from 6 different perspectives. Play through the game as all 6 characters for a full experience. * Traditional RPG Gameplay - Inspired by classic JRPGs with a turn-based RPG battle system, players can develop a personal combat style. * Beautiful Art - Lush hand-painted background visuals and environments with detailed emotive character portraits and animated pixel-art characters create a full and complete world experience. * Epic Music - A sweeping score that captures the pace and emotion of the story as it unfolds. Install: ~~~~~~~ Unrar, mount/burn, and pick which installer you need based on your Windows install: 32-bit or 64-bit. Install the game, copy crack and play! System requirements: Size: 1 GB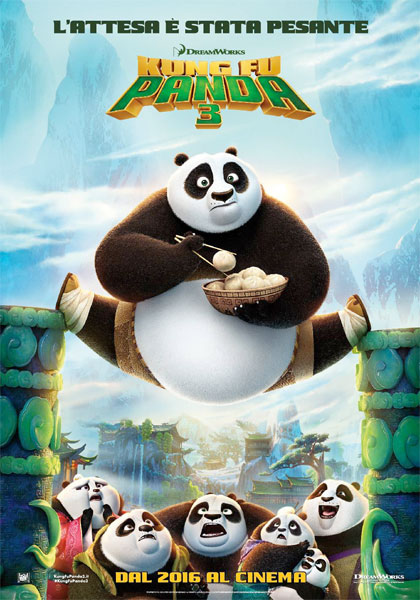 Language:
| Size: 2.14 GB | Seed: 78 | Leech: 23
Description:
Titolo originale: Kung Fu Panda 3 Nazione: U.S.A., Cina Anno: 2016 Genere: Animazione Durata: 95' Regia: Jennifer Yuh Nelson, Alessandro Carloni Sito ufficiale: www.foxmovies.com/movies/kung-fu-panda-3 Sito italiano: www.dreamworks.com/kungfupanda/it Cast (voci originali): Jack Black, Bryan Cranston, Mads Mikkelsen, Rebel Wilson, Angelina Jolie, Dustin Hoffman, Seth Rogen, Jackie Chan, Lucy Liu, J.K. Simmons, David Cross, James Hong, Krasen Belev Cast (voci italiane): Fabio Volo, Paolo Marchese, Roberto Draghetti, Francesco Vairano, Francesca Fiorentini, Angelo Maggi Produzione: DreamWorks Animation, Oriental DreamWorks Data di uscita: 12 Marzo 2016 (anteprima) 17 Marzo 2016 (cinema) Trama: Il padre di Po, scomparso da tempo, riappare improvvisamente, e il duo finalmente riunito si reca in un "paradiso segreto dei panda" dove incontrerà decine di esilaranti nuovi personaggi. Quando però il super-cattivo Kai comincia a espandersi in tutta la Cina sconfiggendo tutti i maestri di kung fu, Po dovrà fare l'impossibile e addestrarsi, in un villaggio pieno di amanti del divertimento, insieme ai fratelli maldestri, per riuscire a diventare la banda più imbattibile di Kung Fu Panda! Parole chiave: itunes
Language:
| Size: 142.69 MB | Seed: 78 | Leech: 55
Description:
Any DVD Converter Professional 6.0.4 Multilingual + Portable Any DVD Converter Professional is an all-in-one DVD ripper and video converter. With this program, you can rip DVD and capture video files from DV. Any DVD Converter customizes the output profile with formats adapted for iPod, iPhone, PSP, Zune, Apple TV and mobile phone. Besides DVD, Any DVD Converter also supports DV video and many types of video as source video, expanding its functionality to the realm of video converter. Any DVD Converter converts DVD to videos ready for use on portable devices like iPod, Zune, PSP, iPhone, xBox 360, Archos, Sony PS3, PDA, Creative Zen, and mobile phones such as Nokia N-series and Blackberry. Any DVD Converter Pro can helps you rip DVD movie to all popular video formats and convert video files between all popular video formats with fast converting speed and excellent video quality. Any DVD Converter is a DVD Ripper, i.e., rip DVD to all popular video formats such as AVI, MPEG, WMV, DivX, RM, MOV, 3GP, etc. It is also a video converter which converts almost all video formats including DivX, XviD, MOV, rm, rmvb, MPEG, VOB, DVD, WMV, AVI to MPEG or MPEG-4 movie formats for iPod, iPhone, Zune, PSP or other portable video device, MP4 player or smart phone. Any DVD Converter Pro. makes batch file conversion simple. Create a batch list of any different formats and convert them all to a single selected format. The converted files will be saved to a pre-selected directory folder and the original files will remain untouched. Any DVD Converter Pro. is a YouTube Video Converter which can download video from YouTube.com and convert YouTube videos to other formats. With the "downloading + converting" one-step solution, Any DVD Converter Pro. easily downloads and converts YouTube videos to play on your iPod, iPhone, PSP, Zune, 3GP mobile phone, Apple TV, etc. You could use Any DVD Converter to download FLV videos from YouTube.com or Google Video to your computer. You are also able to download and convert FLV files on YouTube or Google Video to other videos formats, such as AVI, MPEG, MP4, WMV, 3GP, H.264/MPEG-4 AVC, H.264/PSP AVC, MOV, RM, ASF, FLV, SWF, etc. Any DVD Converter is also the best iPhone converter software to convert all video files such as MOV, MP4, RM, RMVB, DivX, ASF, VOB, 3GP, WMV, MPEG, AVI to iPhone movies. Any DVD Converter helps you watch music video, movies on your iPhone and computer easily with great quality. As iPhone music converter software, Any DVD Converter can convert iPhone music MP3, WAV, M4A from popular music files, such as WMA, MP2, OGG, RA, AC3, APE, CDA. It can also extract audio from movies or music video; convert to iPhone music
Language:
| Size: 1.37 GB | Seed: 78 | Leech: 12
Description:
.: SCHEDA :. Uscita 7 dicembre 2016 Regia: Dominic Monaghan, Christopher N. Rowley Sceneggiatura: Tom Butterworth, Chris Hurford Musica: Peter Raeburn Scritto da: Georgia Byng Attori: Raffey Cassidy, Lesley Manville, Emily Watson, Celia Imrie, Anne-Marie Duff, Omid Djalili, Dominic Monaghan, Joan Collins Paese: Regno Unito Anno: 2015 Genere: Fantasy Durata: 98 min .: TRAMA :. L'orfana Molly Moon vive una difficile esistenza nel freddo e disastrato istituto gestito da Miss Anderstone, una donna di immane crudeltà. Un giorno, trovando un libro, Molly si convince di poter imparare l'antica arte dell'ipnosi e di poter migliorare la sua esistenza grazie a questa, ritrovando anche l'amico Rocky andato in adozione. I primi tentativi sul carlino Petula danno segni positivi e Molly si rende conto di poter far cose che non aveva nemmeno mai sognato. Scoprirà però che, nonostante l'ipnosi le faccia ottenere ciò che vuole, non sempre è facile tenere sotto controllo la situazione e che ci si può ritrovare in posti dove non si desidera essere.
Language:
| Size: 1.63 GB | Seed: 78 | Leech: 54
Description:
The Dressmaker - Il diavolo è tornato (2015).H264.Italian.English.Ac3.5.1.sub.ita.iCV-MIRCrew [center] [color=red][b][img]http://s23.postimg.org/b9yhws27f/0sc_Del1.png[/img] [u]NO FOUND ONLY ORIGINAL RELEASE[/u] [img]http://i.imgur.com/GDNQx1Z.png[/img] My release is always in double track audio italian and Original audio for select it use VLC or dvd player home not use wmp The Dressmaker - Il diavolo è tornato (2015) [img]http://extraimage.net/images/2017/01/12/2f43600b2e1c6bee52e9e0e9c13976d7.png[/img] [URL=http://www.imdb.com/title/tt2910904/][IMG]http://www.userlogos.org/files/logos/Sucka/imdb_new.png[/IMG][/URL] [img]http://i.imgur.com/fGu1rKv.png[/img] DATA USCITA: 28 aprile 2016 GENERE: Drammatico, Thriller ANNO: 2015 REGIA: Jocelyn Moorhouse SCENEGGIATURA: Jocelyn Moorhouse FOTOGRAFIA: Donald M. McAlpine MONTAGGIO: Jill Bilcock MUSICHE: David Hirschfelder PRODUZIONE: Apollo Media, Film Art Media, Screen Australia DISTRIBUZIONE: Eagle Pictures PAESE: Australia DURATA: 118 Min [img]http://i.imgur.com/W7kBqiE.png[/img] Kate Winslet, Liam Hemsworth, Judy Davis, Hugo Weaving, Sarah Snook, Caroline Goodall, Kerry Fox, Rebecca Gibney, Gyton Grantley [img]http://i.imgur.com/bFK3ggF.png[/img] The Dressmaker è ambientato nel 1951. Tilly Dunnage, affascinante e talentuosa stilista, dopo aver lavorato per anni per i più grandi atelier parigini di haute couture, decide di far ritorno a Dungatar, un piccolo paesino nel sud est dell'Australia..................... [img]http://i.imgur.com/48xHWWH.png[/img] A glamorous woman returns to her small town in rural Australia. With her sewing machine and haute couture style, she transforms the women and exacts sweet revenge on those who did her wrong [img]http://i.imgur.com/K8bfNTy.png[/img] [url=https://extraimage.net/image/2ykZ][img]http://extraimage.net/images/2017/01/12/398fcc2269e6dab09287676c67deca34.th.png[/img][/url] [url=https://extraimage.net/image/2ykJ][img]http://extraimage.net/images/2017/01/12/34b47e906c16767aeff01e5fac313244.th.png[/img][/url] [url=https://extraimage.net/image/2yk4][img]http://extraimage.net/images/2017/01/12/a41d8aaa0b57b45a1c6b9c70c6161e6a.th.png[/img][/url] [img]http://i.imgur.com/aVrMohH.png[/img] [spoiler] General Unique ID : 245172446017854786858711547991139910319 (0xB8727EDB36DD3BB88BF2D4AB4EF182AF) Complete name : The Dressmaker (2015).H264.ita.eng.sub.ita.iCV-MIRCrew.mkv Format : Matroska Format version : Version 2 File size : 1.63 GiB Duration : 1h 53mn Overall bit rate : 2 045 Kbps Movie name : www.icv-crew.org Encoded date : UTC 2017-01-06 21:11:40 Writing application : DVDFab 9.1.5.7 Writing library : libebml v0.7.8 + libmatroska v0.8.1 Video ID : 1 Format : AVC Format/Info : Advanced Video Codec Format profile :
[email protected]
Format settings, CABAC : Yes Format settings, ReFrames : 2 frames Codec ID : V_MPEG4/ISO/AVC Duration : 1h 53mn Bit rate : 1 236 Kbps Width : 720 pixels Height : 304 pixels Display aspect ratio : 2.35:1 Frame rate : 25.000 fps Color space : YUV Chroma subsampling : 4:2:0 Bit depth : 8 bits Scan type : Progressive Bits/(Pixel*Frame) : 0.226 Stream size : 1 006 MiB (60%) Writing library : x264 core Default : Yes Forced : No Color primaries : BT.601-6 525, BT.1358 525, BT.1700 NTSC, SMPTE 170M Transfer characteristics : BT.709-5, BT.1361 Matrix coefficients : BT.601-6 525, BT.1358 525, BT.1700 NTSC, SMPTE 170M Audio #1 ID : 2 Format : AC-3 Format/Info : Audio Coding 3 Mode extension : CM (complete main) Codec ID : A_AC3 Duration : 1h 53mn Bit rate mode : Constant Bit rate : 384 Kbps Channel(s) : 6 channels Channel positions : Front: L C R, Side: L R, LFE Sampling rate : 48.0 KHz Bit depth : 16 bits Compression mode : Lossy Stream size : 313 MiB (19%) Language : Italian Default : Yes Forced : No Audio #2 ID : 3 Format : AC-3 Format/Info : Audio Coding 3 Mode extension : CM (complete main) Codec ID : A_AC3 Duration : 1h 53mn Bit rate mode : Constant Bit rate : 384 Kbps Channel(s) : 6 channels Channel positions : Front: L C R, Side: L R, LFE Sampling rate : 48.0 KHz Bit depth : 16 bits Compression mode : Lossy Stream size : 313 MiB (19%) Language : English Default : No Forced : No Text ID : 4 Format : VobSub Codec ID : S_VOBSUB Codec ID/Info : The same subtitle format used on DVDs Language : Italian Default : Yes Forced : No Menu 00:00:00.000 : en:(01)00:00:00:000 00:09:49.120 : en:(02)00:09:49:120 00:18:38.960 : en:(03)00:18:38:960 00:26:10.520 : en:(04)00:26:10:520 00:38:39.360 : en:(05)00:38:39:360 00:46:59.280 : en:(06)00:46:59:280 00:57:39.480 : en:(07)00:57:39:480 01:06:19.840 : en:(08)01:06:19:840 01:18:16.680 : en:(09)01:18:16:680 01:24:38.920 : en:(10)01:24:38:920 01:34:26.200 : en:(11)01:34:26:200 01:44:11.640 : en:(12)01:44:11:640 01:53:50.480 : en:(13)01:53:50:480 [/spoiler] [/color][/b][/center]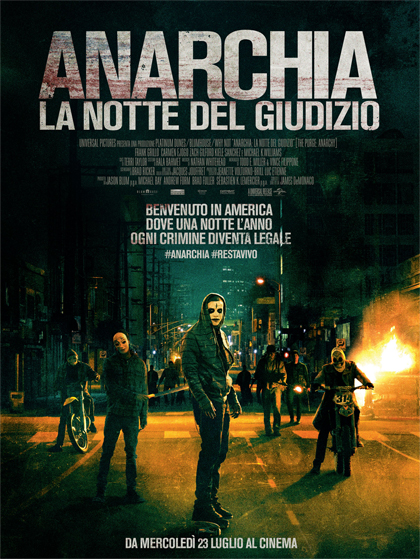 Language:
| Size: 1.92 GB | Seed: 77 | Leech: 11
Description:
Titolo originale: The Purge: Anarchy Nazione: U.S.A., France Anno: 2014 Genere: Horror, Fantascienza, Thriller Durata: 104' Regia: James DeMonaco Sito ufficiale: blumhouse.com/film/thepurgeanarchy Sito italiano: anarchia-lanottedelgiudizio.it Social network: facebook, twitter Cast: Frank Grillo, Kiele Sanchez, Zach Gilford, Michael K. Williams, Amy Paffrath, Cortney Palm, Carmen Ejogo, Edwin Hodge, Nicholas Gonzalez, Zoe Borde Produzione: Blumhouse Productions, Platinum Dunes, Universal Pictures, Why Not Productions Distribuzione: Universal Pictures Italia Data di uscita: 23 Luglio 2014 (cinema) Trama: Il film segue le vicende di un improbabile gruppo di cinque persone che, nel corso della notte si spingono ai limiti per proteggere le loro vite, e si battono per sopravvivere ad una notte piena di decisioni impensabili. La storia inizia con un uomo solitario e misterioso, Leo (Frank Grillo), un sergente che ha subìto la perdita di un figlio avvenuta prima della fatidica notte. Armato fino ai denti per poter combattere fino all'alba, appare come un uomo ossessionato... come colui che cerca chiaramente vendetta contro i responsabili del suo grave lutto. Eva (Carmen Ejogo) è una madre single che cerca di sbarcare il lunario, e che vive ai margini della città. Abita con la figlia adolescente, Cali (Zoë Soul), ma non può garantirle la sicurezza offerta dalla ricchezza. Quando vengono assalite da alcuni uomini mascherati per lo Sfogo nella propria casa dove cercano di nascondersi, Eva e Cali devono contare sull'aiuto dello sconosciuto Leo, che le salva da una morte certa. Quando Leo, al di là del proprio giudizio ed a scapito dei suoi piani di vendetta verso colui che ha offeso la sua famiglia, assiste al loro rapimento, non esita ad aprire il fuoco per proteggere Eva e Cali. Nel frattempo, una coppia sull'orlo della separazione, Shane (Zach Gilford) e Liz (Kiele Sanchez), sono vittime di una manomissione della propria auto, giusto all'inizio del film. Cercano quindi rifugio nell'auto blindata di Leo, e faranno squadra con questi altri tre estranei per sfuggire a coloro che cercano di esercitare il loro diritto alla purificazione, proprio dello Sfogo. I nuovi alleati, mettendo in discussione tutto ciò che è stato loro impartito, vengono inseguiti per tutta la città in uno scenario di sopravvivenza dove vige la regola dell'uccidi o sarai ucciso, che sta al confine tra vendetta e giustizia morale. 6,6/10 IMDB Risoluzione: 1920 x 800 Audio: Italiano Dolby 5.1, Inglese AAC 2.0 Sottotitoli: Italiano (Forced)
Language:
| Size: 1.86 MB | Seed: 77 | Leech: 56
Description:
"Mi rincresce informarvi che mi sono tolta la vita. Era una decisione che meditavo da tempo e di cui mi assumo tutta la responsabilità. So che vi addolorerà, e mi dispiace tanto per questo, ma dovevo porre termine alla mia sofferenza. Voi non c'entrate niente, è stata una mia scelta. Voi non avete nessuna colpa. Questa è la lettera che Cody riceve il giorno in cui Meg, la migliore amica di sempre, si toglie la vita bevendo una bottiglia di candeggina in una squallida stanza di un motel. Cresciute insieme, Meg e Cody erano inseparabili, non esistevano segreti tra loro, o almeno questo era quello che pensava Cody. Quando però va a recuperare le cose dell'amica nella città dove un anno prima si era trasferita per andare al college, scopre che c'è tutta una parte della vita di Meg da cui lei era stata esclusa: i coinquilini, gli amici del college e Ben. Il ragazzo con la chitarra, un sorriso strafottente e tanti, troppi lati oscuri. E poi c'è un file criptato sul computer dell'amica che una volta aperto sconvolgerà Cody: all'improvviso tutto quello che credeva di sapere su Meg sembrerà non avere più senso."
Language:
| Size: 349.61 MB | Seed: 77 | Leech: 88
Description:
Emily Thorne è nuova negli Hamptons. Ha incontrato alcuni dei suoi ricchi vicini, ha fatto un paio di amicizie nuove e, apparentemente, è riuscita ad ambientarsi in città. Tuttavia, c'è qualcosa di strano in una ragazza che vive da sola in una località riservata all'alta borghesia. In realtà, Emily non è nuova del quartiere. Aveva già vissuto in quei posti, finché qualcosa di orribile non è accaduto alla sua famiglia, distruggendo la loro reputazione. Ora Emily è tornata per vendicare i torti subiti. AUTORE flint CATEGORIA Serie TV INFOHASH C0D7DD584B4C73BBF4121EACA07554653ECB068E FILE(1) Files TRAKER Traker Non ci sono commenti
Language:
| Size: 106.84 MB | Seed: 77 | Leech: 20
Description:
Il programma ruota attorno alle avventure di Peter Griffin e della sua famiglia residenti a Quahog, cittadina immaginaria del Rhode Island. Peter è un operaio incompetente, obeso ed ottuso, ed il suo comportamento è particolarmente mutevole: a volte è un padre assente e dedito all'alcool, che non riesce a farsi rispettare dai propri cari, altre volte invece, seppur per poco, riesce a svolgere degnamente il ruolo di capo famiglia. Sua moglie, Lois Pewterschmidt, è una bella e brava casalinga, insegnante di pianoforte (anche se raramente la si vede praticare quest'attività) che dimostra talvolta velleità artistiche ed esibisce comportamenti disinibiti. La coppia ha tre figli: Meg è la tipica ragazza con problemi adolescenziali, come il non essere accettati o le difficoltà nei rapporti sentimentali; Chris è anche lui obeso, ingenuo e, per quanto tutt'altro che talentuoso, con la passione per il disegno; infine il diabolico Stewie, un neonato intelligentissimo, in grado di costruire fantascientifici strumenti per liberarsi della madre, considerata l'ostacolo alla conquista del mondo. Con la famiglia vive anche un cane antropomorfo, Brian, il miglior amico di Peter, che deve fare i conti con i suoi grossi problemi di dipendenza dall'alcool e, in alcuni casi, dalla droga.
Language:
| Size: 3.08 GB | Seed: 77 | Leech: 1
Description:
Titolo originale: Star Wars: Episode II - Attack of the Clones Nazionalità: USA Anno: 2002 (Remastered Blu-Ray 2011) Genere: Fantascienza Regia: George Lucas Cast: Ewan McGregor, Natalie Portman, Hayden Christensen, Christopher Lee, Samuel L. Jackson, Frank Oz, Ian McDiarmid, Pernilla August, Rose Byrne, Temuera Morrison, Daniel Logan, Jimmy Smits, Jack Thompson, Leeanna Walsman, Ahmed Best, Oliver Ford Davies, Ron Falk, Jay Laga'aia .: Trama :. Dieci anni dopo l'invasione sul pianeta Naboo, la Repubblica Galattica sta attraversando una nuova crisi. Il senatore Palpatine è divenuto Cancelliere della Repubblica Galattica. L'ex maestro jedi, il Conte Dooku, ora allievo dell'oscuro signore dei Sit Dartk Sidious, è divenuto il capo di un movimento separatista la Confederazione di Sistemi Indipendenti. Tale organizzazione si contrappone alla Repubblica rendendo difficile i tentativi del Consiglio dei Jedi per mantenere la pace nella galassia. La Repubblica inizia a considerare l'idea di creare un'arma in aiuto ai cavalieri, la senatrice Padmè viene quindi invitata a partecipare al voto sulla questione ma subisce un attentato. Il senatore Palpatine, scosso dal fatto, le assegna un cavaliere jedi e il suo apprendista per proteggere la sua incolumità. Obi-Wan Kenobi e Anakin Skywalker assumono questo r AUTORE admin
Language:
| Size: 1.45 GB | Seed: 77 | Leech: 0
Description:
Título: Blackhat (Amenaza en la red) Título original: Blackhat País: USA, Hong Kong, China Estreno en USA: 16/01/2015 Estreno en España: 30/01/2015 Productora: Legendary Pictures Director: Michael Mann Guión: Michael Mann, Morgan David Reparto: Chris Hemsworth, Viola Davis, Wei Tang, Leehom Wang, Holt McCallany, John Ortiz, William Mapother, Sara Finley, Jason Butler Harner, Ritchie Coster, Yorick van Wageningen, Tracee Chimo, Spencer Garrett, Archie Kao, Brandon Molale Calificación: No recomendada para menores de 16 años Género: Thriller. Acción | Crimen. Espionaje. Internet / Informática SINOPSIS: En el mundo global de la ciberdelincuencia, Blackhat (Amenaza en la red), de Legendary Pictures, sigue a un convicto liberado y a su equipo de colaboradores estadounidenses y chinos tras la pista de una red de ciberdelincuentes de alto nivel desde Los Ángeles a Yakarta, pasando por Hong Kong. Relaccionados
Language:
| Size: 1.18 GB | Seed: 77 | Leech: 0
Description:
Descripción: Título: Les doy un año Título original: I Give It a Year País: UK Estreno en USA: 09/08/2013 Estreno en España: 12/09/2014 Estreno en Reino Unido: 08/02/2013 Productora: Working Title, StudioCanal Director: Dan Mazer Guión: Dan Mazer Reparto: Rose Byrne, Anna Faris, Rafe Spall, Alex Macqueen, Stephen Merchant, Jane Asher, Terence Harvey, Minnie Driver, Jason Flemyng, Nigel Planer, Maisy Mazer, Matilda Thykier, Clare Higgins, Kevin Moore, Olivia Colman Calificación: No recomendada para menores de 12 años Sinopsis Desde que se conocieron en una fiesta, la ambiciosa Nat (Rose Byrne) y el novelista en ciernes Josh (Rafe Spall) han sido increíblemente felices a pesar de sus diferencias. Josh es más reflexivo, Nat es más activa, pero la chispa entre ellos es innegable. Su boda es un sueño hecho realidad, pero nadie – ni la familia, ni los amigos, ni si quiera el cura que les casa – está convencido de que vayan a durar. La ex novia de Josh, Chloe (Anna Faris), y el atractivo cliente americano de Nat, Guy (Simon Baker), podrían ser alternativas tentadoras. Relaccionados
Language:
| Size: 1.37 GB | Seed: 77 | Leech: 2
Description:
Descripción: Título: #chef Título original: Chef País: USA Estreno en USA: 09/05/2014 Estreno en España: 08/08/2014 Productora: Aldamisa Director: Jon Favreau Guión: Jon Favreau Reparto: Jon Favreau, John Leguizamo, Bobby Cannavale, Emjay Anthony, Scarlett Johansson, Dustin Hoffman, Sofía Vergara, Oliver Platt, Amy Sedaris, Robert Downey Jr., Russell Peters, Chase Grimm, Will Schutze, Gloria Sandoval, Jose C. Hernandez Sinopsis Cuando el chef Carl Casper (Jon Favreau) repentinamente deja su trabajo en un famoso restaurante de Los Ángeles, al enfrentarse a su controlador dueño (Dustin Hoffman) y negarse a renunciar a su integridad creativa, tiene que descubrir cuál es su siguiente paso. Por cosas de la vida se encuentra en Miami y se asocia con su exmujer (Sofía Vergara), su amigo (John Leguizamo) y su hijo (Emjay Anthony) para montar un puesto de comida ambulante. En la carretera, el chef Carl vuelve a sus raíces y recupera su pasión por la cocina y el entusiasmo por la vida y el amor. Relaccionados
Language:
| Size: 609.77 MB | Seed: 77 | Leech: 6
Description:
Language:
| Size: 6.33 GB | Seed: 77 | Leech: 49
Description:
Pillars of Eternity-FLT Genre: Role-playing (RPG) Platform: Windows Multiplayer: No Year: 2014 Type of publication: Language of the game: EN Crack: Available Description : Pillars of Eternity is a role-playing game created by Obsidian Entertainment. The player controls the actions of a hero traversing a vast, fantastical world alongside a team of independent characters. The game was created with the financial support gathered through the Kickstarter platform. The creators of Baldur's Gate, Icewind Dale and Fallout, among others, were involved in the production process Project Eternity is the first completely independent game from Obsidian Entertainment. The developers decided to use the experience gained in Black Isle Studios and create a role-playing game combining the best features of the genre classics such as Baldur's Gate, Icewind Dale Planescape Torment, and Fallout. Among the developers are Tim Cain (Fallout, Arcanum, Temple of Elemental Evil), Josh Sawyer (Icewind Dale and Icewind Dale II, Fallout: New Vegas), Scott Everts (Fallout Planescape: Torment, Icewind Dale, Icewind Dale II, Fallout: New Vegas) Brian Menze (Planescape: Torment), and Dan Spitzley (Planescape: Torment) The plot of Project Eternity is set in a vast fantasy world. The players can visit a number of realms, including Ruins of Eir Glanfath, Free Palatinate of Dyrwood, Pearl Coast, and Lake of the Drow Tombs. The various locations are characterized by considerable diversity, including different kinds of opponents. While traveling, the main character faces many NPCs, some of which may give him a quest or, in some cases, join his party The game is based on the classic role-playing game genre solutions. The creators decided to include real-time combat with the active pause option which allows the players to stop the fight and carefully plan the actions taken by the party members. The game also features a character development system based on the experience acquired during the game, and a considerable assortment of weapons, armor, and items that you can buy find, or acquire Graphics of Pillars of Eternity refers to the classics of the genre. The game offers an isometric view, characteristic of role-playing games from the turn of the century (e.g. the Baldur's Gate and Icewind Dale sagas) Installation Information: * Burn or mount * Install * Play the game NOTE: As usual, block the game exe in your firewall System requirements: OS: Windows Vista 64-bit or newer Processor: Intel Core i3-2100T @ 2.50 GHz / AMD Phenom II X3 B73 Memory: 4 GB RAM Graphics: ATI Radeon HD 4850 or NVIDIA GeForce 9600 GT Hard Drive: 14 GB available space Sound Card: DirectX Compatible Sound Card Size: 6.33 GB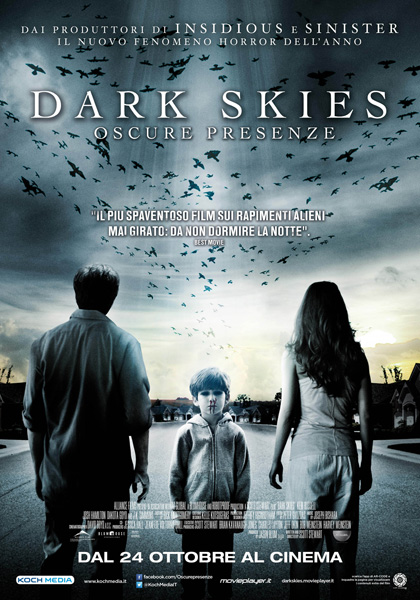 Language:
| Size: 1.89 GB | Seed: 77 | Leech: 41
Description:
Titolo originale: Dark Skies Nazione: U.S.A. Anno: 2013 Genere: Horror, Thriller Durata: 97' Regia: Scott Stewart Sito ufficiale: darkskiesfilm.com Cast: Keri Russell, Josh Hamilton, Dakota Goyo, Kadan Rockett, J.K. Simmons, L.J. Benet, Rich Hutchman, Myndy Crist, Annie Thurman, Jake Brennan, Ron Ostrow, Richard Klein, Tom Costello Produzione: Blumhouse, Robotproof Data di uscita: 24 Ottobre 2013 (cinema) Trama: Dal produttore di Paranormal Activity, Insidious e Sinister arriva Dark Skies – Oscure Presenze: un thriller soprannaturale che segue le vicende di una giovane famiglia che vive in periferia. I coniugi Daniel e Lacy Barrett sono testimoni di una fitta serie di eventi, sempre piu inquietanti, che colpisce la loro famiglia sconvolgendo rapidamente la sicurezza e la tranquillitа della loro casa. Quando diventa chiaro che i Barrett sono presi di mira da una forza incredibilmente terrificante e letale, Daniel e Lacy decidono di affrontare la questione in prima persona per proteggere la propria famiglia e risolvere il mistero che si cela dietro all'oscura presenza che li sta perseguitando. Parole chiave: horror thriller
Language:
| Size: 615.52 MB | Seed: 77 | Leech: 3
Description:
Language:
| Size: 4.63 GB | Seed: 77 | Leech: 68
Description:
Title: ATM Er Rak Error (2012) 1080p BDRip ENG Sub Country: Thailand Region: Asian movies Genre: Comedy, Romance Duration: 01:57:00 Year: 2012 Language: TH Subtitle: English Director: Mez Tharatorn Cast: Chantavit Dhanasevi, Preechaya Pongthananikorn, Anna Chuancheun Description: Sua and Jib are like any other couple in this world except for one exception: for the past 5 years they have kept their relationship a secret since the bank where they are employed has a strict "No Fraternization" policy. The couple will turn into no holds barred competitors. Who will literally "go big" in their career or "go home" in this romantic comedy about what two people won't do for each other in the name of love? It's the age old battle of the sexes but this time around how can victory be easily declared in a war where there are no more traditional "rules of engagement". Rating: Quality: Blu-Ray Disc Format: MKV Video codec: 5101 Kbps, 1920*1080 (16:9), 25.000 fps, x264 Audio codec: 448 Kbps, 48.0 KHz, 6 Channels, AC3
Language:
| Size: 4.86 GB | Seed: 77 | Leech: 59
Description:
Title: The Hateful Eight (2015) 1080p BDRip Country: USA Region: Hollywood movies Genre: Crime, Drama, Mystery Duration: 02:47:00 Year: 2015 Language: EN Subtitle: English Director: Quentin Tarantino Cast: Samuel L. Jackson, Kurt Russell, Jennifer Jason Leigh Description: In the dead of a Wyoming winter, a bounty hunter and his prisoner find shelter in a cabin currently inhabited by a collection of nefarious characters. Rating: Quality: Blu-Ray Disc Format: MP4 Video codec: 3500 Kbps, 1920*704 (2.727:1), 23.976 fps, x264 Audio codec: 640 Kbps, 48.0 KHz, 6 Channels, AC3