Language:
| Size: 4.03 GB | Seed: 39 | Leech: 16
Description:
The Hunger Games: Mockingjay – Part 2 is a 2015 American dystopian science fiction war film directed by Francis Lawrence, with a screenplay by Peter Craig and Danny Strong. the film features an ensemble cast that includes Jennifer Lawrence, Josh Hutcherson, Liam Hemsworth, Woody Harrelson, Elizabeth Banks, Julianne Moore, Philip Seymour Hoffman (in his final film role), and Donald Sutherland. With the nation of Panem in a full scale war, Katniss confronts President Snow in the final showdown. Teamed with a group of her closest friends – including Gale, Finnick, and Peeta – Katniss goes off on a mission with the unit from District 13 as they risk their lives to stage an assassination attempt on President Snow who has become increasingly obsessed with destroying her. The mortal traps, enemies, and moral choices that await Katniss will challenge her more than any arena she faced in The Hunger Games.
Language:
| Size: 4.09 GB | Seed: 853 | Leech: 16
Description:
Creed is a 2015 American sports drama film, directed by Ryan Coogler and written by Coogler and Aaron Covington. The film stars Michael B. Jordan as Adonis Johnson Creed, Apollo's son, with Sylvester Stallone reprising the role of Rocky Balboa. It also features Tessa Thompson, Phylicia Rashād, Tony Bellew, and Graham McTavish. It is the seventh Rocky film, both a spin-off from the original series and a sequel to 2006's Rocky Balboa. The film reunites Jordan with Fruitvale Station writer/director Coogler, and with Wood Harris, whom Jordan worked with on The Wire. Adonis Johnson (Jordan) never knew his famous father, world heavyweight champion Apollo Creed, who died before he was born. Still, there's no denying that boxing is in his blood, so Adonis heads to Philadelphia, the site of Apollo Creed's legendary match with a tough upstart named Rocky Balboa. Once in the City of Brotherly Love, Adonis tracks Rocky (Stallone) down and asks him to be his trainer. Despite his insistence that he is out of the fight game for good, Rocky sees in Adonis the strength and determination he had known in Apollo—the fierce rival who became his closest friend. Agreeing to take him on, Rocky trains the young fighter, even as the former champ is battling an opponent more deadly than any he faced in the ring. With Rocky in his corner, it isn't long before Adonis gets his own shot at the title…but can he develop not only the drive but also the heart of a true fighter, in time to get into the ring?
Language:
| Size: 1.8 GB | Seed: 583 | Leech: 16
Description:
Concussion is a 2015 American biographical sports medical drama film directed and written by Peter Landesman. The film stars Will Smith as Dr. Bennet Omalu, a Nigerian forensic pathologist who fought against efforts by the National Football League to suppress his research on chronic traumatic encephalopathy (CTE) brain damage suffered by professional football players. The film also stars Alec Baldwin, Gugu Mbatha-Raw, and Albert Brooks. Columbia Pictures released the film on December 25, 2015. Will Smith stars in Concussion, a dramatic thriller based on the incredible true David vs. Goliath story of American immigrant Dr. Bennet Omalu, the brilliant forensic neuropathologist who made the first discovery of CTE, a football-related brain trauma, in a pro player and fought for the truth to be known. Omalu's emotional quest puts him at dangerous odds with one of the most powerful institutions in the world.
Language:
| Size: 2.91 GB | Seed: 417 | Leech: 16
Description:
The Veil is a 2016 American supernatural horror film directed by Phil Joanou and written by Robert Ben Garant. Jason Blum serves as a producer through his production company Blumhouse Productions. The film stars Jessica Alba, Lily Rabe, Aleska Palladino, Reid Scott and Thomas Jane. The film was released on January 19, 2016, through video on demand prior to being released through home media formats on February 2, 2016, by Universal Pictures. Thirty years after members of a religious cult committed mass suicide, the lone survivor returns to the scene of the tragedy with a documentary crew in tow.
Language:
| Size: 705.88 MB | Seed: 45 | Leech: 16
Description:
All Roads Lead to Rome is a 2015 American romantic comedy film directed by Ella Lemhagen and written by Josh Appignanesi and Cindy Myers. The film stars Sarah Jessica Parker, Raoul Bova, Rosie Day, Paz Vega, and Claudia Cardinale. Maggie is an uptight, single mother and college writing teacher from New York City. In an effort to reconnect with her troubled teen daughter Summer, she decides to embark on a journey to a Tuscan village where she frequented in her younger days. Upon arrival, Maggie runs into Luca, a handsome former lover who is still a bachelor and lives with his eighty-year-old mother, Carmen. Summer (missing her "bad boy" boyfriend in NYC) and Carmen (secretly planning a wedding against Luca's wishes to Marcelino, her one true love in Rome) impulsively steal Luca's car and race off to Rome. Maggie and Luca quickly pursue allowing the two mismatched couples to spend some time together and develop a new understanding of each other.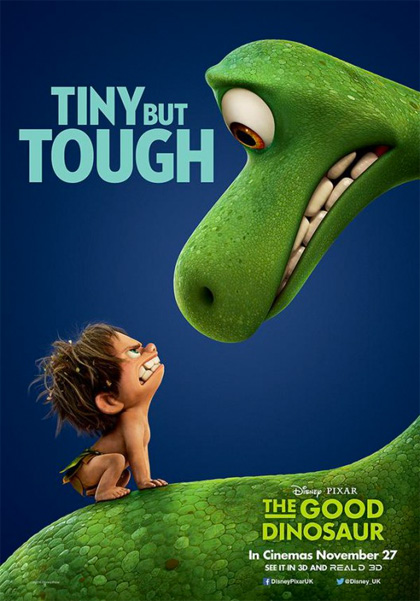 Language:
| Size: 6.12 GB | Seed: 751 | Leech: 16
Description:
Titolo originale: The Good Dinosaur Nazione: U.S.A. Anno: 2015 Genere: Animazione Durata: 100' Regia: Peter Sohn Sito ufficiale: aja.disney.com/the-good-dinosaur Sito italiano: www.ilviaggiodiarlo.it Cast (voci): Judy Greer, Neil Patrick Harris, John Lithgow, Bill Hader, Frances McDormand, Lucas Neff Produzione: Pixar Animation Studios, Walt Disney Pictures Data di uscita: 25 Novembre 2015 (cinema) Trama: Che cosa sarebbe successo se l'asteroide che ha cambiato per sempre la vita sulla terra non avesse colpito il nostro pianeta e i dinosauri non si fossero mai estinti? Un viaggio epico nell'era della preistoria, dove un coraggioso e curioso dinosauro di nome Arlo stringe un'insolita amicizia con un essere umano. Attraversando luoghi aspri e misteriosi, Arlo imparerà ad affrontare le sue paure e scoprirà ciò di cui è veramente capace. Subs iTA: Forced/Full Formato: 3D
Language:
| Size: 201.98 MB | Seed: 31 | Leech: 16
Description:
[img]http://i.imgur.com/4SQT5Pl.jpg[/img] Artist...............: Benito Di Paula Album................: Benito Di Paula Genre................: Samba Source...............: CD Year.................: 1988 Ripper...............: EAC (Secure mode) / LAME 3.92 & Asus CD-S520 Codec................: Free Lossless Audio Codec (FLAC) Version..............: reference libFLAC 1.3.1 20141125 Quality..............: Lossless, (avg. compression: 54 %) Channels.............: Stereo / 44100 HZ / 16 Bit Tags.................: VorbisComment Information..........: TntVillage Ripped by............: Leonenero on 25/02/2017 Posted by............: Leonenero on 25/02/2017 News Server..........: news.astraweb.com News Group(s)........: TNTVILLAGE Included.............: NFO, M3U, LOG, CUE Covers...............: Front Back CD --------------------------------------------------------------------- Tracklisting --------------------------------------------------------------------- 1. Benito Di Paula - Violão Não Se Empresta A Ninguém [03:02] 2. Benito Di Paula - Charlie Brown [04:18] 3. Benito Di Paula - Se Não For Amor [03:47] 4. Benito Di Paula - Que Beleza [03:13] 5. Benito Di Paula - Sanfona Branca [03:17] 6. Benito Di Paula - Alem De Tudo [03:48] 7. Benito Di Paula - Retalhos De Cetim [04:00] 8. Benito Di Paula - Tudo Está No Seu Lugar [03:22] 9. Benito Di Paula - Vai Ficar Na Saudade [04:13] 10. Benito Di Paula - Mulher Brasileira [03:51] Playing Time.........: 36:54 Total Size...........: 201,72 MB There's a surprisingly vigorous streak running through here, mostly from the funk-soul numbers, but it's balanced by plenty of cheesy pop... Still, Di Paula seems to have given a platform for artists whose music -- Brazilian soul music -- was outside the mainstream, which was dominated by the jazzy, classy MPB elite. Not much on here that I would listen to recreationally, but it's still a nice snapshot of a certain time in the Brazilian pop scene.
Language:
| Size: 1.98 GB | Seed: 440 | Leech: 16
Description:
Descripción: Título: Los miércoles no existen Título original: Los miércoles no existen País: España Estreno en USA: Estreno en España: 16/10/2015 Lanzamiento en DVD (alquiler): 10/02/2016 Productora: José Frade Producciones Cinematográficas Director: Peris Romano Guión: Peris Romano Reparto: Eduardo Noriega, Inma Cuesta, William Miller, Andrea Duro, María León, Alexandra Jiménez, Gorka Otxoa Calificación: No recomendada para menores de 12 años Género: Romance. Comedia | Comedia romántica SINOPSIS: Patricia (María León) sale con César (Gorka Otxoa), pero él no ha podido olvidar a Mara (Inma Cuesta), su novia de toda la vida, que le dejó justo después de pedirle que se casara con él. Hace ya unos meses de esto pero aún no se ha recuperado. Su mejor amigo, Hugo (William Miller), está decidido a animarlo y una noche de fiesta conocen a Paula (Andrea Duro), la hermana pequeña de Irene (Alexandra Jiménez), un antiguo ligue de Hugo y la mujer de Pablo (Eduardo Noriega). Acabaron juntos tras la despedida de soltera de ella y nunca más han vuelto a verse. A Pablo le han despedido. Lo mejor del día ha sido sin duda que ha conocido a Mara y han intercambiado teléfonos. Podría ser el comienzo de algo, si no fuera porque Pablo ya está casado con Irene.
Language:
| Size: 1.1 GB | Seed: 346 | Leech: 16
Description:
Título original: Riot Año: 2015 Duración: 87 min. País: Estados Unidos Estados Unidos Director: John Lyde Guión: John Lyde, Spanky Dustin Ward Música: James Schafer Fotografía: Airk Thaughbaer Reparto: Matthew Reese, Dolph Lundgren, Chuck Liddell, Danielle Chuchran, Michael Flynn, Renny Grames, Eve Mauro, Melanie Stone, Michaela McAllister, Amy Sturdivant, D.L. Walker, Andrew Troy, Paris Warner, Nikita Bogolyubov, Chris Rueckert Productora: Mainstay Productions / Matthew Reese Films / VMI Worldwide Género: Acción Sinopsis Cobre Jack Stone orquesta un atraco a un banco con el fin de ser enviado a la cárcel para coincidir con el peligroso capo Balam. Balam es algo más que un mafioso criminal; es un personaje muy astuto y peligroso que controla a la policía desde la cárcel. Balam maneja desde allí un gran poder: es el rey de la ciudad. Su celda es una habitación exclusiva y lujosa construída específicamente para él, inaccesible para los demás reclusos. Incluso los alcaides temen acercarse a su área de la prisión. Relaccionados
Language:
| Size: 1.84 GB | Seed: 855 | Leech: 16
Description:
Descripción: Título original Cuban Fury Año 2014 Duración 98 min. País Reino Unido Director James Griffiths Guión Jon Brown Fotografía Dick Pope Reparto Nick Frost, Rashida Jones, Chris O Dowd, Ian McShane, Olivia Colman, Rory Kinnear, Kayvan Novak, Wendi McLendon-Covey, Alexandra Roach, Tim Plester Productora Big Talk Productions Género Comedia | Baile Sinopsis Contará la historia de un hombre (Frost) que últimamente no está teniendo mucha suerte. Todo parece cambiar cuando recupera su afición por bailar salsa tras enamorarse de su jefa estadounidense (Jones). McShane interpretará al profesor que le enseñará a mejorar sus movimientos Relaccionados
Language:
| Size: 1.32 GB | Seed: 748 | Leech: 16
Description:
Descripción: Título: Maps to the Stars Título original: Maps to the Stars País: USA Estreno en USA: 27/02/2015 Estreno en España: 06/03/2015 Lanzamiento en DVD (alquiler): 24/06/2015 Estreno en VOD: 26/05/2015 Productora: Integral Film, Prospero Pictures, SBS Productions, Sentient Entertainment Director: David Cronenberg Guión: Bruce Wagner Reparto: Julianne Moore, Mia Wasikowska, Olivia Williams, Evan Bird, Sarah Gadon, John Cusack, Robert Pattinson, Kiara Glasco, Dawn Greenhalgh, Jonathan Watton, Jennifer Gibson, Gord Rand, Justin Kelly, Niamh Wilson, Clara Pasieka Calificación: No recomendada para menores de 16 años Género: Drama | Sátira. Comedia negra. Familia. Cine dentro del cine SINOPSIS: Maps to the Stars se centra en la familia Weiss, la cual se abre camino en un caluroso sur de California colmado de dinero, sueños, fama, envidias, angustias, ambiciones… y traumas sin fin. Sanford Weiss (John Cusack) es un famoso terapeuta televisivo cuya programa de auto-ayuda le ha traído una clientela de famosos de alto nivel. Entretanto, Cristina Weiss (Olivia Williams) tiene la agenda completa manejando la carrera de su malcriado hijo, la precoz estrella de cine Benjie (Evan Bird), quien acaba de salir de Desintoxicación con apenas 13 años. Pero lo que ninguno sabe es que otro miembro de la familia Weiss acaba de llegar a la ciudad: la misteriosamente deformada y atormentada Agatha (Mia Wasikowska), recién salida del hospital psiquiátrico y lista para volver a empezar. Ésta última pronto conoce y se hace amiga de un conductor de limusinas
Language:
| Size: 880.75 MB | Seed: 77 | Leech: 16
Description:
Ejecución Extrema (Force of Execution) (2013) [DVDRip] [Castellano] [Acción] Título original: Force of Execution Año: 2013 Duración: 98 min. País: Estados Unidos Director: Keoni Waxman Guión: Richard Beattie, Michael Black Música: Michael Richard Plowman Fotografía: Nathan Wilson Reparto: Steven Seagal, Ving Rhames, Danny Trejo, Bren Foster, Jenny Gabrielle, David House, Dylan Kenin, Jermaine Washington, Sarah Minnich Productora: Voltage Pictures Género: Acción. Thriller | Mafia SINOPSIS Thomas Douglas era el gángster mas respetado en su ciudad, hasta que un despiadado narcotraficante conocido como "The Iceman" entró en escena y lo apartó del negocio. Siendo duro, Douglas siguió adelante... hasta que amenazaron lo que más quiere: su familia. Entonces Douglas decide ponerse manos a la obra para proteger a los suyos y su legado. Relaccionados
Language:
| Size: 1.93 GB | Seed: 580 | Leech: 16
Description:
Descripción: Título: La teoría del todo Título original: The Theory of Everything País: Reino Unido Estreno en USA: 07/11/2014 Estreno en España: 16/01/2015 Productora: Working Title Films Director: James Marsh Guión: Anthony McCarten Reparto: Eddie Redmayne, Felicity Jones, Emily Watson, David Thewlis, Charlie Cox, Simon McBurney, Maxine Peake, Harry Lloyd, Adam Godley, Charlotte Hope, Anastasia Harrold, Tom Prior, Enzo Cilenti, Brian Woodward, Joelle Koissi Calificación: Apta para todos los públicos Sinopsis La teoría del todo es una historia tan extraordinaria como inspiradora en torno a una de las mentes contemporáneas más brillantes, el famoso astrofísico Stephen Hawking, y a dos personas capaces de superar las peores adversidades gracias al amor que sentían el uno por el otro. Relaccionados
Language:
| Size: 1.44 GB | Seed: 401 | Leech: 16
Description:
Descripción: Título original We Are What We Are Año 2013 Duración 105 min. País [Estados Unidos] Director Jim Mickle Reparto Julia Garner, Ambyr Childers, Bill Sage, Kelly McGillis, Michael Parks, Wyatt Russell, Nick Damici, Vonia Género Terror. Thriller | Crimen. Familia. Remake Sinopsis Los Parker son una familia aparentemente estable. El patriarca, decidido a mantener intactas las tradiciones familiares, gobierna con mano de hierro. Como si de la tempestad de lluvia torrencial que acecha la zona se tratase, la tragedia golpea a los Parker cuando las hijas, Iris y Rose, se ven obligados a asumir responsabilidades que van más allá de las de una familia típica. Su tarea más importante, a partir de ahora, será la de poner la carne en la mesa, pero no el tipo de carne que puede encontrarse en el supermercado local. Las autoridades locales empiezan a descubrir pistas que les acercan al secreto que los Parker han mantenido oculto durante años. Relaccionados
Language:
| Size: 1.47 GB | Seed: 390 | Leech: 16
Description:
Descripción: Título: La desaparición de Eleanor Rigby Título original: The Disappearance of Eleanor Rigby: Them País: USA Estreno en USA: 12/09/2014 Estreno en España: 03/10/2014 Productora: Unison Films, Division Films, Dreambridge Films Director: Ned Benson Guión: Ned Benson Reparto: Jessica Chastain, James McAvoy, Jess Weixler, Bill Hader, Viola Davis, Ciarán Hinds, Archie Panjabi, William Hurt, Isabelle Huppert, Nina Arianda, Jimmy Palumbo, Nikki M. James, Marta Milans, Li Jun Li, Will Beinbrink Género: Romance. Drama | Drama romántico Sinopsis Con una mirada única, el escritor y director Ned Benson captura en su totalidad la imagen de una relación de pareja en este elocuente relato de amor, empatía y honestidad que es LA DESAPARICIÓN DE ELEANOR RIGBY. Felizmente casados, Conor (James McAvoy) y Eleanor (Jessica Chastain) se sienten de repente como extraños que quieren comprenderse en un contexto trágico. La película abre una ventana a la subjetividad de las relaciones mediante la exploración de las dos caras de una pareja mientras pretenden recuperar la vida y el amor que una vez tuvieron. Relaccionados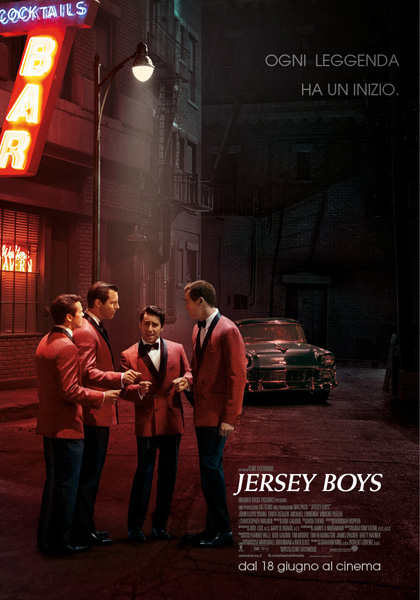 Language:
| Size: 1.37 GB | Seed: 824 | Leech: 16
Description:
Titolo originale: Jersey Boys Nazione: U.S.A. Anno: 2014 Genere: Drammatico, Musicale Durata: 134' Regia: Clint Eastwood Sito ufficiale: www.jerseyboysmovie.com Cast: Christopher Walken, Francesca Eastwood, Freya Tingley, James Madio, Billy Gardell, Kathrine Narducci, Mike Doyle, John Lloyd Young, Vincent Piazza Produzione: GK Films, RatPac Entertainment, RatPac-Dune Entertainment, Warner Bros. Distribuzione: Warner Bros. Pictures Italia Data di uscita: 18 Giugno 2014 (cinema) Trama: Il film narra la storia di quattro giovani che provengono dalla parte malfamata del New Jersey e che insieme formano il leggendario gruppo rock, The Four Seasons. La storia delle loro traversie e dei loro trionfi è accompagnata dalle canzoni che hanno influenzato una generazione, tra le quali "Sherry", "Big Girls Don't Cry", "Walk Like a Man", "Dawn", "Rag Doll", "Bye Bye Baby", "Who Loves You" e molte altre ancora. Successi che ancora oggi vengono apprezzati da una nuova generazione di fans grazie al successo del musical messo in scena a Broadway, le cui repliche vanno avanti da ben otto anni e che ha riscosso un notevole successo anche nel suo tour mondiale. 7,1/10 IMDB Risoluzione: 656 x 272 Parole chiave: biografico dramma
Language:
| Size: 1.14 GB | Seed: 263 | Leech: 16
Description:
Descripción: Título: Aviones: Equipo de rescate Título original: Planes: Fire and rescue País: Estados Unidos Estreno en USA: 18/07/2014 Estreno en España: 18/07/2014 Productora: Disneytoon Studios Director: Roberts Gannaway Guión: Jeffrey M. Howard Reparto: (Voces de) Julie Bowen, Jerry Stiller, Ed Harris, Dane Cook, Regina King, Stacy Keach, Anne Meara, Wes Studi, John Michael Higgins, Gabriel Iglesias, Fred Willard, Kari Wahlgren, Erik Estrada, Steve Schirripa, Dale Dye SINOPSIS: Aviones: Equipo de rescate, presenta un estrafalario equipo de aviones de bomberos de élite cuya misión es proteger el histórico Parque Nacional de Piston Peak de un violento incendio. Cuando el famoso piloto aéreo Dusty (voz de Cook) se da cuenta de que su motor está dañado y que quizás nunca vuelva a competir, cambia de carrera para dedicarse a la extinción de incendios. Dusty se une al veterano helicóptero de rescate y contraincendios Blade Ranger y a su valiente equipo que incluye al veterano Super Scooper Lil' Dipper (voz de Bowen), el helicóptero de carga Windlifter, el transporte exmilitar Cabbie y una divertida pandilla de vehículos todoterreno que no tienen miedo a nada conocido como Los Smokejumpers. Juntos, combatirán un incendio de enormes proporciones, y Dusty comprenderá lo que cuesta ser un héroe de verdad.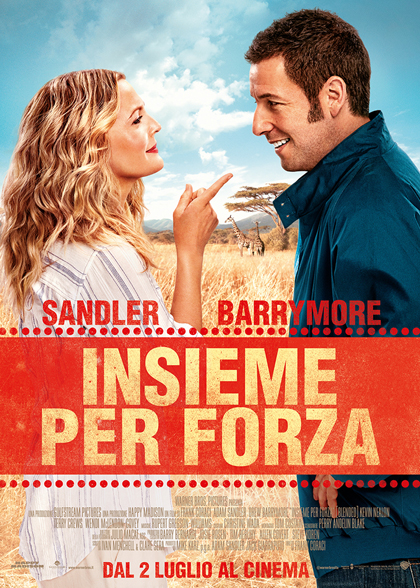 Language:
| Size: 1010.18 MB | Seed: 198 | Leech: 16
Description:
Titolo originale: Blended Nazione: U.S.A. Anno: 2014 Genere: Commedia Durata: 117 Regia: Frank Coraci Sito ufficiale: www.blendedmovie.com Cast: Adam Sandler, Drew Barrymore, Bella Thorne, Terry Crews, Lauren Lapkus, Wendi McLendon-Covey, Joel McHale, Anna Colwell, Kevin Nealon, Emma Fuhrmann, Alyvia Alyn Lind Produzione: Gulfstream Pictures, Happy Madison Productions, Karz Entertainment, Warner Bros. Distribuzione: Warner Bros. Pictures Italia Data di uscita: 02 Luglio 2014 (cinema) Trama: Il primo incontro tra Lauren (Drew Barrymore) e Jim (Adams Sandler) non poteva andare peggio: lei divorziata con due figli, lui vedovo con tre figlie si conoscono per la prima volta durante un rovinoso incontro al buio. Ma il destino non perde le speranze, i due infatti si incontreranno nuovamente durante un viaggio organizzato in Sud Africa. Anche il secondo incontro sembrerebbe cofermare la reciproca antipatia, ma qualcosa improvvisamente cambia le carte in tavola costringendo i due a rimettersi in gioco. Risoluzione - 1280x688 AC3 192 2ch Parole chiave: commedia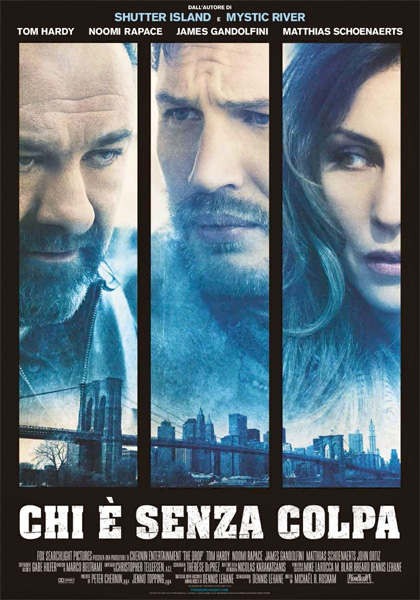 Language:
| Size: 1.37 GB | Seed: 368 | Leech: 16
Description:
Titolo originale: Animal Rescue Nazione: U.S.A. Anno: 2014 Genere: Drammatico Durata: 106' Regia: Michaël R. Roskam Sito ufficiale: www.thedrop-movie.com Cast: Tom Hardy, Noomi Rapace, James Gandolfini, Matthias Schoenaerts, Michael Aronov, Jack Dimich, Mike Houston, Chris Sullivan Produzione: Chernin Entertainment, Fox Searchlight Pictures Data di uscita: 19 Marzo 2015 (cinema) Trama: Basato sul racconto breve di Dennis Lehane, Chi è senza colpa racconta le vicende del solitario barista Bob Saginowski (Tom Hardy) coinvolto nel riciclaggio di denaro sporco da parte dei gangster che controllano alcuni bar di Brooklyn. Per colpa di suo cugino Marv (James Gandolfini), Bob si ritrova invischiato in una rapina e al centro di una indagine che scava nel passato di tutto il quartiere, dove amici, famiglie e avversari lavorano fianco a fianco per guadagnarsi da vivere, a qualsiasi costo. Parole chiave: drammatico
Language:
| Size: 1.21 GB | Seed: 596 | Leech: 16
Description: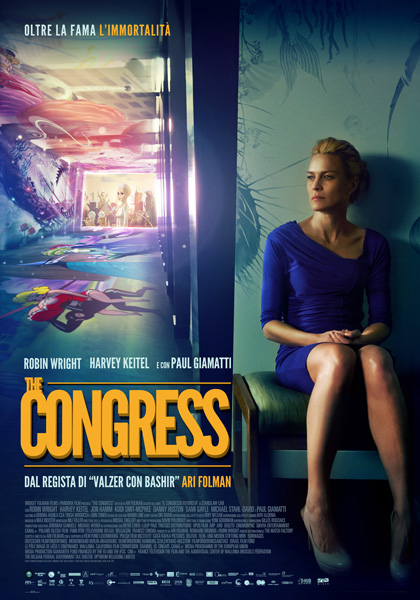 Language:
| Size: 2.12 GB | Seed: 33 | Leech: 16
Description:
Titolo originale: The Congress Nazione: U.S.A. Anno: 2013 Genere: Fantascienza, Animazione Durata: 122' Regia: Ari Folman Sito ufficiale: thecongress-movie.com/ Cast: Robin Wright, Harvey Keitel, Paul Giamatti, Kodi Smit-McPhee, Danny Huston, Sarah Sami Gayle, Michael Stahi-David, Michael Landes, Sarah Shani Cast (voci): Jon Hamm Produzione: Bridgit Folman Film Gang, Pandora Filmproduktion, Opus Film, Paul Thiltges Distributions, Entre Chien et Loup, Liverpool Distribuzione: Wider Films Data di uscita: 12 Giugno 2014 (cinema) Trama: Robin Wright, che interpreta se stessa, riceve da un grande Studio l'offerta di vendere la sua identità cinematografica: verrà scansionata e di lei verrà creato un campione così che lo Studio possa utilizzare la sua immagine a piacimento in qualsiasi tipo di film di Hollywood – anche i più commerciali da lei in precedenza spesso rifiutati. In cambio, Robin riceverà una cospicua somma di denaro, ma soprattutto, lo Studio promette di mantenere il suo alias digitale per sempre giovane – per l'eternità – in ogni film. Il contratto ha una validità di vent'anni. È a questo punto che Robin viene catapultata in un mondo animato; tutti i divi che come lei sono fatti scansionare, si riuniscono al Congresso di Futurologia dove viene presentata la formula chimica che dà la possibilità di assumere molteplici identità. Nome The.Congress (2013).mkv Data Sat, 28 Feb 2015 17:32:58 +0100 Dimensione 2,277,821,215 bytes (2172.29959 MiB) Magic Tipo file data Info generiche Durata 02:02:43 (7363.489 s) Contenitore matroska Totale tracce 4 Traccia n. 1 video (V_MPEG4/ISO/AVC) {und} Traccia n. 2 audio (A_AAC) [Surround] {ita} Traccia n. 3 audio (A_AAC) [Surround] {eng} Traccia n. 4 subtitle (S_VOBSUB) {ita} Muxing library Lavf55.12.0 Writing application HandBrake 0.10.0 2014112200 Dati rilevanti Risoluzione 720 x 552 Larghezza multipla di 16 Altezza multipla di 8 DRF medio 20.743615 Deviazione standard 5.647636 Media pesata dev. std. 5.573965 Traccia video Codec ID V_MPEG4/ISO/AVC Risoluzione 720 x 552 Display resolution 1024 x 552 (#undef#) Frame aspect ratio 30:23 = 1.304348 Pixel aspect ratio 64:45 = 1.422222 Display aspect ratio 128:69 = 1.855072 (~1.85:1) Framerate 25 fps Dimensione stream 1,564,002,397 bytes (1491.548917 MiB) Durata 02:02:40 (7360.48 s) Bitrate (bs) 1699.891743 kbps Qf 0.171084 Traccia audio nr. 1 Codec ID A_AAC Freq. campionamento 48000 Hz Canali 6 Dimensione stream 353,379,273 bytes (337.008737 MiB) Tipo di bitstream (bs) AAC LC (Low Complexity) Frames (bs) 345,158 Durata 02:02:43 (7363.370667 s) Chunk-aligned (bs) Sì Bitrate (bs) 383.932076 kbps VBR Freq. campionamento (bs) 48000 Hz Modo (bs) 6: front-center, front-left, front-right, back-left, back-right, LFE-channel Traccia audio nr. 2 Codec ID A_AAC Freq. campionamento 48000 Hz Canali 6 Dimensione stream 350,561,679 bytes (334.32167 MiB) Tipo di bitstream (bs) AAC LC (Low Complexity) Frames (bs) 345,156 Durata 02:02:43 (7363.328 s) Chunk-aligned (bs) Sì Bitrate (bs) 380.873082 kbps VBR Freq. campionamento (bs) 48000 Hz Modo (bs) 6: front-center, front-left, front-right, back-left, back-right, LFE-channel
Language:
| Size: 681.25 MB | Seed: 168 | Leech: 16
Description:
Section: Films/Séries/Vidéos Sous-Section: Films Titre: Capture The Flag Titre Original Capture The Flag Genre: Animation, Aventure, Famille, Année: 2015 Release: Capture The Flag 2015 FRENCH DVDRip x264 EXT MZISYS Qualité: DVDrip [Rip depuis DVD-R] Langue: Québécois (VFQ/French) Système: TV/PC/Platine/Lecteur Multimédia/etc Type: 2D (Standard) Taille: 681.25 MB Info Hash: c613ef734d5d0378186c25818c04f52e43744dfd Uploadeur: mzisys2008
Language:
| Size: 4.37 GB | Seed: 354 | Leech: 16
Description:
Section: Films/Séries/Vidéos Sous-Section: Films Titre: Regression Titre Original Regression Genre: Thriller, Année: 2015 Release: Regression 2015 FRENCH 720p BluRay x264 LOST Qualité: HDrip 720 [Rip HD depuis Bluray] Langue: Français (VFF/Truefrench) Système: TV/PC/Platine/Lecteur Multimédia/etc Type: 2D (Standard) Taille: 4.37 GB Info Hash: df57e9ff95f8848a525fdb68223e4180e6438173 Uploadeur: buitonio
Language:
| Size: 2.63 GB | Seed: 192 | Leech: 16
Description:
Section: Films/Séries/Vidéos Sous-Section: Films Titre: Alvin et les Chipmunks - A fond la caisse Titre Original Alvin And The Chipmunks: The Road Chip Genre: Animation, Aventure, Comédie, Famille, Année: 2015 Release: Alvin et les Chipmunks A Fond la Caisse 2015 FRENCH HDLight 1080p x264 AC3 Wita Qualité: HDlight 1080 [Rip HD-léger depuis source HD] Langue: Québécois (VFQ/French) Système: TV/PC/Platine/Lecteur Multimédia/etc Type: 2D (Standard) Taille: 2.63 GB Info Hash: 89b77cc10b5ea484adb197abaee271270758c8e8 Uploadeur: sniperstef
Language:
| Size: 3.59 GB | Seed: 49 | Leech: 16
Description:
Section: Films/Séries/Vidéos Sous-Section: Films Titre: Au Coeur de l'Océan Titre Original In the Heart of the Sea Genre: Aventure, Fantastique, Année: 2015 Release: Au coeur de l Ocean 2015 FRENCH HDLight 1080p x264 AC3 Wita Qualité: HDlight 1080 [Rip HD-léger depuis source HD] Langue: Québécois (VFQ/French) Système: TV/PC/Platine/Lecteur Multimédia/etc Type: 2D (Standard) Taille: 3.59 GB Info Hash: a1408fe949cb7ac1d022d048ebcf5d346866f8b2 Uploadeur: sniperstef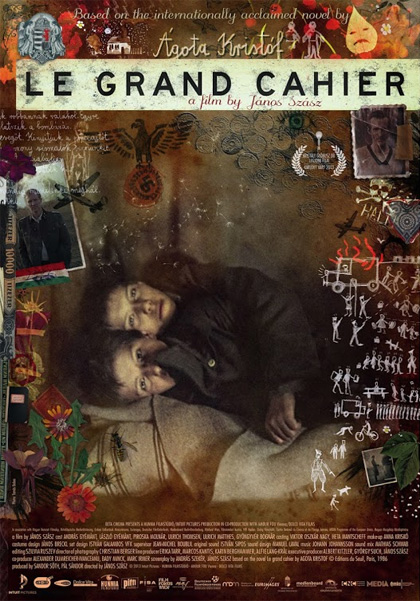 Language:
| Size: 1.37 GB | Seed: 179 | Leech: 16
Description:
Titolo originale: A nagy füzet Nazione: Ungheria, Francia, Germania, Austria Anno: 2014 Genere: Drammatico, Guerra Durata: 109' Regia: János Szász Sito ufficiale: www.sonyclassics.com/thenotebook Cast: László Gyémánt, András Gyémánt, Piroska Molnár, Ulrich Matthes, Ulrich Thomsen, Gyöngyvér Bognár, Sabin Tambrea, Péter Andorai, Diána Kiss Produzione: Intuit Pictures, Hunnia Filmstúdió, Amour Fou Filmproduktion, Dolce Vita Films Data di uscita: 27 Agosto 2015 (cinema) Trama: Verso la fine della seconda guerra mondiale, la gente nelle grandi città è in balia dei raid aerei e della carestia. Una giovane madre disperata lascia i suoi figli, due gemelli, a casa della nonna che vive in uno sperdutissimo paese, infischiandosene del fatto che questa donna sia una alcolista inumana e crudele. Gli abitanti del villaggio la chiamano "la strega" e si racconta che abbia avvelenato il marito tempo fa. Ben accolti all'inizio, con il passare dei giorni, i gemelli comprenderanno che dovranno imparare a cavarsela da soli nel nuovo ambiente. Si rendono conto che l'unico modo per affrontare il mondo degli adulti e la guerra assurda e disumana, è riuscire ad essere il più possibile insensibili e spietati. Parole chiave: drammatico guerra
Language:
| Size: 1.37 GB | Seed: 452 | Leech: 16
Description:
Titolo originale: Vacanze ai Caraibi - Il film di Natale Nazione: Italia Anno: 2015 Genere: Commedia Durata: 96' Regia: Neri Parenti Sito ufficiale: www.vacanzeaicaraibi.libero.it Cast: Christian De Sica, Massimo Ghini, Angela Finocchiaro, Luca Argentero, Ilaria Spada, Dario Bandiera Produzione: Wildside Data di uscita: 16 Dicembre 2015 (cinema) Trama: Giorgio (Christian De Sica) scopre che la sua giovane figlia intende sposare un attempato signore: Ottavio (Massimo Ghini). Giorgio e la moglie (Angela Finocchiaro) sono assolutamente contrari ma quando scoprono che Ottavio è ricchissimo e che potrebbe risolvere qualche loro problemino finanziario, cambiano idea senza sapere che il futuro genero è in realtà uno squattrinato. Tra Fausto (Luca Argentero) e Claudia (Ilaria Spada) scoppia un'irrefrenabile passione che li induce a mollare su due piedi i rispettivi partner. Forse avrebbero fatto meglio a conoscersi più a fondo perché tra loro c'è un'insormontabile incompatibilità. Cosa può succedere a un technological addict (Dario Bandiera) se naufraga su un'isola deserta col tablet che gli ha sempre regolato la vita e scopre che non c'è campo? Parole chiave: commedia
Language:
| Size: 440.8 MB | Seed: 595 | Leech: 16
Description:
Stagione 3/3 Episodi: 8 Italia: 08/01/2016 al (In Corso) Usa: 01/10/2015 al (In Corso) GENERE: Drammatico IDEATORE: Jon Bokenkamp ATTORI: James Spader, Megan Boone, Diego Klattenhoff, Harry J. Lennix, Ryan Eggold, Amir Arison, Mozhan Marnò, Hisham Tawfiq, Parminder K. Nagra ANNO: 2013 PAESE: USA PRODUZIONE: Sony Pictures Television, Universal Television DURATA: 45 Min STATO: In Lavorazione Per decenni, Raymond 'Red' Reddington è stato uno dei latitanti più ricercati. Ora ha deciso misteriosamente di consegnarsi all'FBI con un'offerta allettante: aiutarla a catturare la lunga lista di malfattori – politici, mafiosi, spie e terroristi internazionali – con cui ha avuto a che fare nel corso degli anni, a patto di farlo solo con Elizabeth Keen, una profiler appena uscita da Quantico. Quali sono le vere intenzioni di Red? Perché ha scelto Elizabeth, con la quale non ha nessun legame apparente? Anche lei ha qualcosa da nascondere? 2. Marvin Gerard - Marvin Gerard REGIA: Andrew McCarthy SCENEGGIATURA: J.R. Orci, Lukas Reiter, Daniel Knauf, Brandon Sonnier, Brandon Margolis DURATA: 45 Min Parole chiave: the blacklist
Language:
| Size: 3 GB | Seed: 289 | Leech: 16
Description:
Stagione 1/1 Episodi: 10 Italia: 03/03/2016 al (In Corso) Usa: 24/06/2015 al 02/09/2015 GENERE: Drammatico IDEATORE: Sam Esmail ATTORI: Rami Malek, Christian Slater, Portia Doubleday, Carly Chaikin, Martin Wallström ANNO: 2015 PAESE: USA PRODUZIONE: Universal Cable Productions DURATA: 45 Min STATO: In Lavorazione Elliot Alderson è un giovane programmatore che di giorno lavora come ingegnere informato per la Allsafe Security e di notte vigila la rete come hacker. Affetto da un disturbo antisociale di personalità che gli impedisce di condurre una vita normale, Elliot si ritrova a un bivio quando il misterioso leader della Fsociety, un gruppo clandestino di hacker, lo recluta chiedendogli di distruggere dall'interno l'azienda che ha garantito di tutelare. Anche se trattenuto dalle sue convinzioni, Elliot fatica a resistere all'occasione di far crollare gli amministratori delegati delle multinazionali che crede stiano controllando (e rovinando) il mondo. 4. Il demone - eps1.3_da3m0ns.mp4 REGIA: Nisha Ganatra SCENEGGIATURA: Adam Penn DURATA: 45 Min Risoluzione: 656 x 368
Language:
| Size: 539.69 MB | Seed: 691 | Leech: 16
Description:
Stagione 6/6 Episodi: 16 Italia: 12/10/2015 al (In Corso) Usa: 11/10/2015 al 03/04/2016 GENERE: Horror IDEATORE: Frank Darabont ATTORI: Andrew Lincoln, Steven Yeun, Chandler Riggs, Norman Reedus, Melissa Suzanne McBride, Lauren Cohan, Danai Jekesai Gurira, Sonequa Martin-Green, Alanna Masterson, Michael Cudlitz, Josh McDermitt, Christian Serratos, Seth Gilliam, Lennie James, Ross Marquand, Tovah Feldshuh, Alexandra Breckenridge, Austin Nichols, Emily Kinney, Chad Coleman, Larry Gilliard Jr., Andrew J. West, Scott Wilson, David Morrissey, Laurie Holden, Sarah Wayne Callies, Michael Rooker, Jon Bernthal, Jeffrey DeMunn ANNO: 2010 PAESE: USA PRODUZIONE: AMC Studios DURATA: 47 Min STATO: In Lavorazione Svegliatosi dal coma dopo essere rimasto ferito mentre era in servizio, il vice sceriffo Rick Grimes scopre che il mondo non è più come lo aveva lasciato. Un'apocalisse zombie ha devastato il pianeta e lui è uno dei pochi sopravvissuti. Disperato e disorientato, Rick cerca subito di ritrovare la moglie e il figlio scomparsi. Con loro, e un gruppo di sopravvissuti, viaggia attraverso il Paese in cerca di un nuova casa, lontano dalle orde di zombie. 16. L'ultimo giorno sulla Terra / Last Day on Earth REGIA: Gregory Nicotero SCENEGGIATURA: Scott M. Gimple, Matthew Negrete DURATA: 47 Min